Guitar Autograph Help
I had my guitar autographed by John Petrucci (look at my gear if you wanna see photo of it), but what do i need to put on it to make sure it doesnt smudge any more accidentaly (Petrucci smudged it after he signed it, i dont want it to get worse), whats the name of the stuff i put on the guitar to make sure it doesnt smudge away?
hairspray should do it. im not sure how that will affect the paint.
hairspray? really? so like i can put my arm there if i need to and nothing will happen? because i need something permanent that i dont have to spray a billion times a day
well, im not 100%, but i used to do chalk art, and wed spray it with hair spray very lightly, a few coats, and it wouldnt come off. is it with permenant marker? or a water?
what most guitars use for finishing is either a lacquer or a french polish. depending on what colour your guitar is (too lazy to look at pics), you could use either one, as they are both relatively clear. you should probably take it into a shop tho, then experienced people can deal with it.
yeah you can always spray it with clear coat, but youd have to do the whole guitar so there wouldnt be awkward spots. Spray it with a poly and it should be nice. im not gauranteeing you wont come back in 10 minutes and it would have killed the marker, so dont come on a suicide rampage for me and my family and my cat if it does.
hmm... i think ill take it into a guitar store

Join date: May 2006
90

IQ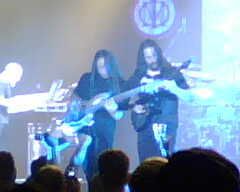 thats the closest I got to him.... damnit. Petrucci owns us all.

Join date: Feb 2006
180

IQ
John signed your guitar and you still wanna play it?Go frame your guitar man,the god just signed it.