FST: Perfect Fender Pro Jr. 15 Watt all TUBE!!!
I've started up a band now, and we need some extra cash for some stuff, so I have to get rid of my amp!
Here are some specs

"Although quite compact, the 15-watt, single-channel Pro Junior delivers big tone for studio and rehearsal work, and many players over the years have grabbed a pair of them for stage use. In tandem, they provide an easy way to warm up stereo multi-effects boxes, too. Two EL-84 Groove Tube output tubes and a pair of 12 AX7 preamp tubes push that one-and-only sound through a single 10" 8-ohm Fender Special Design Eminence speaker. The look is pure Fender—chrome panel with vintage pointer knobs, plus black textured vinyl covering and silver grille cloth."
This is a GREAT amp for many uses. In it's combo right now, it's plenty loud to practice around, and play with other guitarists. Depending on how heavy handed your drummer is, it can be loud enough for that too. If it isn't loud enough, these are great for powering a Cabinet. I always enjoyed the simplicity of this beast.
As for condition, it's pretty damned clean. There are no rips in the vinyl or scuffs. I've taken very good care of it, and gigged with it possibly 4 times at most. Some of the numbers on the control panel have worn off, somehow. It may be missing 2 or 3 letters/numbers on the whole panel, but it is in good shape. The tubes are original, I am unsure on how many hours are on them, but they sound alright. I can send another set of tubes with it that I got with it when I bought the amp, they are unused.
I'm looking for either cash, or Trades. Shipping will be around 50ish, depending. Local pickup is good also. I live in North East Ohio, 44667.
Cash:
200 obo +Shipping
Trades:
2x12 or 4x12 Cab
12" 8 ohm Speakers
Wah Pedal
H2O Pedal
Tele Pickups
Guitar Bodies/Necks
Tuner Pedal
Big Muff
Basically anything of Equal Value!

Contact Info
Email:
ohspyro89@gmail.com
AIM: ohspyro89
And here are the pictures. I apologize for fuzzy pictures, but my brothers camera isn't exactly top of the line...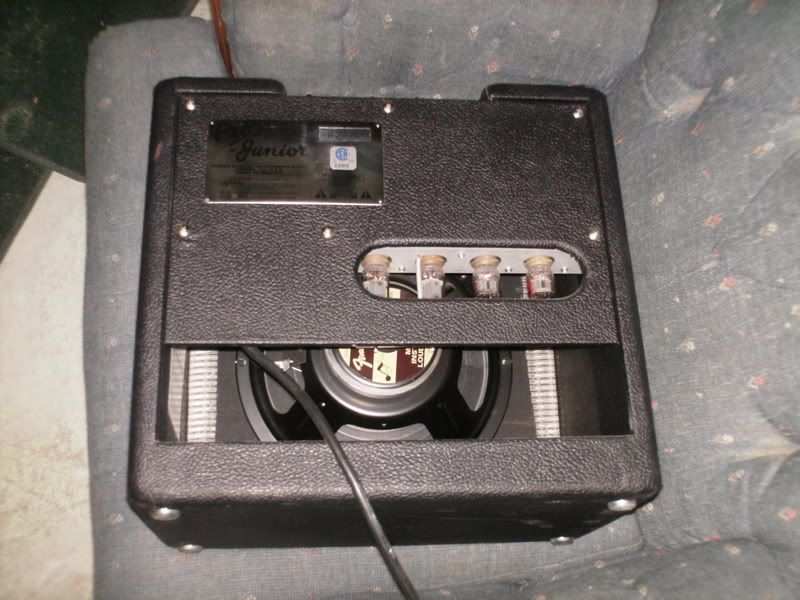 Join date: Aug 2007
51

IQ
i might be interested can i ask how you'd prefer payment?
Miggy01: I am about 40 minutes from cleveland, we can meet around there if possible. Where are you located?

Livingontheedge: Paypal, Money order, anything like that. However you'd like, just run it past me!
great amp...I paid the same amount for mine