Jack socket on my guitar

Join date: Mar 2007
30

IQ
Hi all,

I'm having trouble with the jack socket on my guitar (thus the title). It seems as if it's slightly too big for the cable or something as it drops out fairly easily. It isn't a problem when I'm stood up as I have it through my strap as most people do but when I'm sat down it's a right pain in the arse.

Any suggestions?

Thanks,

Join date: Sep 2006
22

IQ
type of guitar and cable?

Join date: May 2006
60

IQ
have you got a really havy cable or something?
solution s put it through the strapwhen you sit down. also maybe try tightening it up bit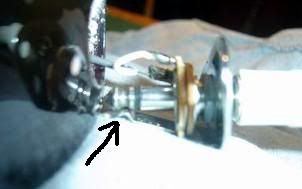 remove the jack, insert the plug and
carefully
bend the arm in a bit, so it clicks the plug in place.

Join date: Mar 2007
30

IQ
Thats my guitar, Blue Moon Amber GR5524A. I use Venom leads mostly. My guitar's socket can't be tightened.
Thanks