BC Rich NJ Virgin refin.
I love refinishing. Simple mods and repairs along with some custom airbrushing I get to be pretty creative. So anyway I picked up this BC Rich NJ Virgin and decided to play with it a little. It's a long way from finished but I figured I'd start a thread now instead waiting until I lost pics or miss taking them in progession.
BEFORE:
Had some pretty good dings it it to start. None horrible and all of which were fillable with CA and sanded smooth. I had to do a couple of minor repairs on the horns as well. I shot primer and a flat black basecoat with a mini HVLP. I then taped off a few metal plate lines and sprayed with a color I mixed in Createx Auto Air. It is a med. grain aluminum base with a pearl black and a pearl yellow to get a pretty cool gunmetal gray with a slight green tint.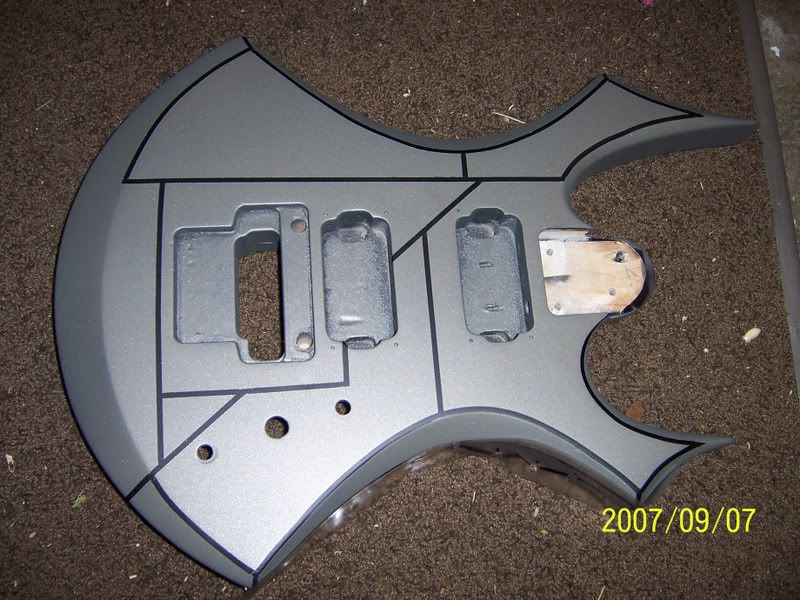 up next will be some shading in the plates and rivets added with the airbrush. I will also most likely ass some battle scars (painted not relic'd). I may even make the horn tip a little more Steel colored with a touch of blood spatter...not sure.
The neck got a makeover too. I used frisket to cover and save the original logo and serial number. I am doing everything I can to maintain the original integrity of the guitar like logos and electronics. It got a nice satin black finish and is now 90% complete. Though I may add some hash marks in the back of the headstock somewhere.
More to follow...