Probably the most amazing thing ever
Today after a long anticipated (2 days) trip to Alpha Music, the best music store ever, I finally met Tweedy, the pedal guy's strat that he bought from some guy in the south that did this. He pretty much took the strat body, covered it in tweed and lacquered it, popped in some lace sensors and put on a Warmoth birdseye maple neck. The volume knob is a knob off of a EHX Q-Tron and the others are a chicken head and something else I can't remember the name of. The pickguard is metal and I think it's just spray painted. Without further ado, I present to UG, "Tweedy"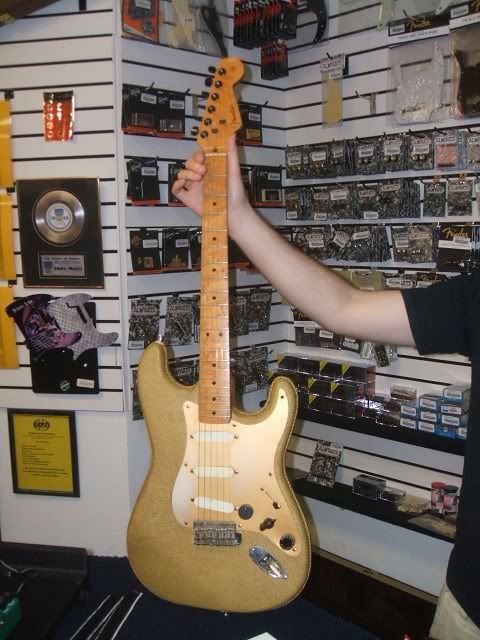 Join date: Nov 2006
60

IQ

Join date: Dec 2006
20

IQ
wow. That is one damn good looking guitar.

Join date: Mar 2005
162

IQ
hey! i know that store!!! I'm from Va Beach too
hey! i know that store!!! I'm from Va Beach too
Haha sweet. I'm in there all the time.
It actually sounds pretty darn good considering it's...ya know...covered in tweed.

Join date: Sep 2005
210

IQ
its unique...
its stylish...


its own thing to own a guitar...
its another to own one thats unique like that, atleast in looks.

thumbs up
i find it very ugly, but i would still play it. lace sensors are quite tasty
...Can't say i like it to be honest- Never been a fan of tweed

Join date: Nov 2006
1,192

IQ
that's pretty awesome, the only thing I don't like is the middle knob, looks out of place, other wise, pretty sexy.
Here's the band of the guy that uses it. He was telling us stories of how he spilled all kinds of alcohol and what not on it and it still doesn't smell. I personally smelled it and it doesn't have any odor to it at all lol.
And another cool thing about it is if you hit it big, instant signature strat.
Oh yeah, here:
http://www.myspace.com/superock
The color is pretty boring i think.

Join date: Mar 2007
20

IQ
Well, if it's lacquered, then of course it wouldn't absorb liquid, right?

The only I think is off are the volume knobs. Could do with some similarity, but that's just me. All chicken heads would be cool, and paired with an amp that has chicken head knobs, and is covered in tweed.
it actually smelled nice.

Also, the third knob is a gibson speed knob. And the pckguard is anodized not spray painted.

The pickups are the lace sensor blue, gold and red combination, and it is actually a great sounding guitar considering it's covered in tweed. Micah said he might swap out the pickups for a dimarzio virtual vintage blues in the neck and a JB jr or lil 59 in the bridge.