Maverick X1
Howdy, just went to my local music shop and to my surprise, I discovered a second hand Maverick X1. I saw this guitar in a magazine ages ago and thought it looked awesome. I had a little muck about on it and everything seemed to be in check (bar a couple of little nicks in the paintwork). £250 was the price...did I just pass up a great opportunity?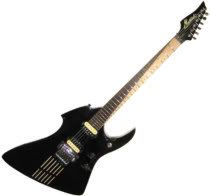 Oh and also, I've heard that the volume and tone controls can't be replaced if they break...is this bs?
Yeah you did cos Maverick just closed. although they can go for as little as £150 on ebay but thats always a risk.
Thanks nathhan. I've just got word that the shop has had the guitar for a while so hopefully it won't be sold anytime soon...I'll go back and buy it as soon as I've been paid. I'll contact the place and try to reserve it. Free hardcase!
Well if it hasnt been sold in a while - make sure you ask for there best price you can usually get around 10% off if you use your charms.
I would, but it's a local business so I'm not too bothered about paying the full price for it and also the guitar belongs to someone else but asked the guy who owns the shop to sell it for him.
get it.
maverick guitars are supposed to be really nice, but very niche. I'd love to own one though..