BC Rich NJ Strat?
hey guys my mum randomly picked me up one of these for cheap on ebay because she liked it and i wanted to know a little about it. So yeah what can you tell me?

Join date: Feb 2006
100

IQ
BC Rich mainly do meanlooking metal guitars which imo don't sound very good so I don't think they could do a strat better... does it have any model name or anything?
uh none yet will take when it gets here....i was told it needs a nut and truss rod and it looks like it possibly needs new pickups since it only haas one but i'd be replacing those anyways so its no big deal. but yeah it was like $50 so w/e if if sucks no big deal it was just a random kind jesture lol
BC Rich mainly do meanlooking metal guitars which imo don't sound very good so I don't think they could do a strat better... does it have any model name or anything?
This is a typical example of someone who knows nothing about BC Rich :P.
BC Rich gets its current reputation from a company that they licenced production out to in the late 80s/early 90s. Before that they had an excellent reputation, and made guitars for some of the best in the business, such as Tony MacAlpine (who plays alongside Satch and Vai, amongst others). Post up a pic or two and I'll try and help you work out what it is, I know a little bit about them having researched mine to death already!
EDIT: Sorry, that came out a little harsher than I meant...
EDIT2: If it was from ebay, do you have the page link for it?
Last edited by Crimson_tornado at Sep 14, 2007,

Join date: Feb 2006
100

IQ
perhaps the older models but you can't say the new ones sound good? Atleast not the "average" BC Rich, only the more expensive ones...?
True, tbh I haven't played a new one

Just gets on my nerves a bit when people class all BC Richs as crap, when they really aren't! Yes, you can guess I own one lmao. Tbh though I don't know when they stopped doing start shape guitars, but I don't think it was that recent. A NJ one is likely to be better quality as well.
thanks bud but lol i still dont know what to expect...
ok... i got pics their not good but you can see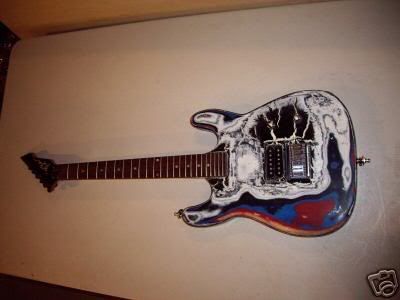 Wow that's messed up haha.
You can't argue for $50 though

Oh, quick BC Rich lesson for the uninitiated:
80's BC Rich's = good
2006ish onwards BC Rich's (NJ upwards) = good
Inbetween = hit or miss miss miss

Join date: Sep 2007
20

IQ
yea my BC Rich warlock bass is ****in awsome and plays well.so i totally agree if you get some stuff for it the guitar will be real nice

Join date: Jul 2006
40

IQ
for the price they're decent
the NJ series BC rich strats were entry-level overseas models, they are made of plywood and generally arent awesome. good to start out on it though. ive had 2 of these and played a few at local pawnshops.
For some reason the pics won't load for me, can you PM me a link to them please?

Join date: Jun 2006
150

IQ
it NEEDS new paint, repaint it man! its fun.
Aha they loaded now... a paint job is definately in order!! But still, for $50, you can't complain lol.
hah i kindah like the trashed look of it...but i may repaint it. it looks like its missing a pickup...so i'll prolly buy a set of duncans if thats the case i'll post pics when i'm done with it =) that'll prolly be a while though
Join date: Jun 2006
80

IQ
i'll probly get flamed for this but whatever...
i think the finish looks alright. yeno, its sort of unique i guess!


You could also leave it with a single pickup?

Join date: Jul 2007
470

IQ
I see a lot of this type of distressed finishes lately. It's an easy way to hide a lot of chips and wear on a guitar and you don't have to be an expert to get a decent result. I still don't know if I like it or not. For $50.00 you can't complain and really you got it for free. I think it's great your Mom even thought of buying you a guitar. I don't agree with a lot of the BC Rich bad rap. I have had several and I own three and all sound good to me. I have no problem buying BC Rich guitars even the low end ones usually with a few bucks they can be upgraded. There are guitars manufacturers I don't like that people think are the best but I wouldn't own one if it was given to me. If you get a chance post some better pics.

Join date: Sep 2007
30

IQ
I've got a limited edition (colour) B.C Rich N.J V which is almost half a decade old now.
Plays like a dream and I wouldn't argue with the distorted sound or clean sound. I would certainly say that the guitar is very dynamic whilst peaking in all genres as an all rounder guitar.
Would love to play your strat though, can we be friends


I'm jelous

Join date: Jul 2007
70

IQ
repaint that and it'll be decent. i was pretty impressed when i picked up a bc rich NJ mockingbird

Join date: Oct 2004
170

IQ
It seems that BC Rich's reputation is improving again.

Join date: Aug 2007
90

IQ
T-Mac's BC Rich is sooo sick!
T-Mac's BC Rich is sooo sick!
I have one thats supposed to have been owned by him

I have what was once a NJ Strat. I have replaced the pups with Ultrasonics. HSS with a coil tap. Being able to turn on and off each pup independently and having a coil tap helps this guitar achieve more sounds than any strat or LP. I have changed all of the electronics with the exception of the pup's on/off switches. I changed the bridge to an Ibanez FR, so the neck and body are the only remaining BC Rich parts, and I have no complaints about either...

Join date: Nov 2007
30

IQ
That looks like an 80's-era Gunslinger to me, other than the fact that the bridge pickup isn't slanted.
Do you have a serial number? It should be on either the neck oplate or on a sticker on the back of the headstock.