Pickup(s) for my epi G400
Hey guys, I've been loving my setup lately but, the pickups in my guitar aren't the greatest. They are decent but I wanted some pickups that could handle/give distortion better than the stock epi pickups on my guitar. Right now I've been experimenting with some sounds from my amp to get total saturation for metal with my od pedal and while it sounds good I would like some pickups that might have some more definition and maybe better harmonics. Sooo basically I'm thinkin that I would need somewhat high output pickups and I even looked at the emg active pu's but i don't want to have the hassle of maybe mixing active/passive pickups if i only get one pu. Also I do want to be able to play heavy metal and overdriven blues stuff with a sort of searing tone. Really all I need the bridge for is distortion,that is why I might just keep the neck pu the same for clean stuff.

Some of the pickups I was looking at were:
Dimarzio Tone Zone
Dimarzio Evo - not sure which would be good
Dimarzio X2N
Seymor Duncan sh5 custom or sh14 custom 5 as recommended
Gibson Burstbuckers/ 500T
Maybe even EMG's but i'm not sure if maybe EMG's would only be good together to not mix the pots or whatever.

Join date: Jul 2007
10

IQ
well most sets of emg's I have seen comes with a new set of pots and switch, so I'd say emg's or duncans
But wouldn't I have to get a set of emg's, I thought it wasn't a good idea to mix active and passive pickups.

Join date: Jul 2007
10

IQ
oh ok if your mixing then no emg, stick with the duncans
If you want to get the best bang for your buck look into GFS pickups, ive got the crunchy paf/vintage split combo in my g400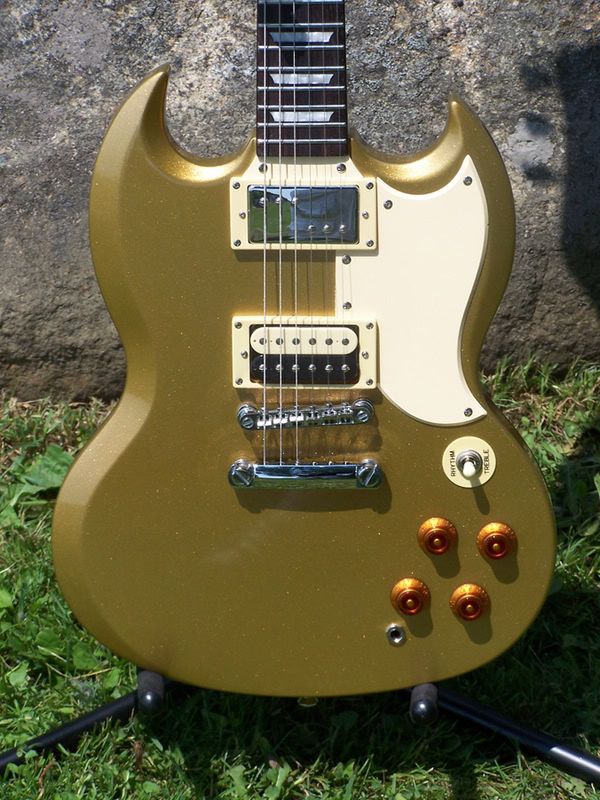 I was looking at GFS pickups because I kno they are inexpensive and good, but i'm not sure if duncans/dimarzio... other brand names might be better. Also it seems like other brands have more options. Those power rail pickups look nice and so do the crunchy pafs tho..
Btw that pic is schweeeeet!
Last edited by yoyodunno at Sep 18, 2007,
Ya i dig the crunchy paf/vintage split combo a lot, honstly cant beat um for the price though, can get a set for the price of one "name brand" pup
Those custom pickups look pretty cool but most of them don't look too high output so i'm not sure.
Alright I think here's what i'm gonna do. I think that for the neck pu i'll get the GFS vintage '59 humbucker. And for the bridge I might go for either the GFS Power rails or the crunchy paf's. Seems like some good pickups and not very expensive.