What we wear is what we want
share with me about your wears and punk uniform
I wear what everybody else wears.

Doc Martens, black Leather, black jeans, moth eaten t shirts, spiked hair and a hat in the shape of a christmas turkey.

Join date: Oct 2006
627

IQ
i wear alot of different kind of things from different cultures but i never think of it as uniforms.
i may wear a studded jacket, bondage pants, black pants, patched torn pants (all skinny and drainpipe btw), i wear S sized black t-shirts, vans and draven shoes.
but i've always have the ideology that punk isnt how you dress.

Join date: Nov 2006
30

IQ
Now that's a uniform. I wear normal clothes, though.

Join date: Mar 2006
147

IQ
When did punk rock become a uniform?
I always thought uniforms were for the army.

I usually wear some jeans, a band shirt, and a pair of Converse.
blank tees, band tees, slim jeans when I'm feeling casual and skinny jeans when I'm feeling sexy.And for shoes I wear chucks or an old pair of diodoras
Tshirts, jeans, and un punx nikes
Join date: Jan 2007
252

IQ
meh i think that standard punk uniform is complete crap.

i do wholeheartedly enjoy the Newsboy cap.

Oi! fans have a cool style.

but me, myself what i wear is not what i want, if i could choose what clothes i owned i'd look like if Bowie went grunge.

Join date: Sep 2007
70

IQ
I wear my work uniform most of the time.
so ****in there.
I dress like a normal person, just a bit more black

Black jumper, black jeans (it's harder to notice when they're dirty XD), band t-shirt. Occasionally, I wear my dads tr00 p0nx leather jacket. He got it in the 70s *-)

Join date: Sep 2004
210

IQ
I wear dressing gowns. You can never go wrong with one of them.
I wear dressing gowns. You can never go wrong with one of them.
Abso-spliffing-lutely, dear boy.
Care for a smoke?
* Noel Coward reference for you there.
yellow teeth, greasy hair, underarm perspiration......the rest is equal
Troo punx like Bo Selecta, so I always wear a Mel B face mask.
Emma watson will be really jealous
Emma watson will be really jealous
Are you implying that My Mel B face would be pretty than Emma Watsons?
good idea....much more profound....but it was just, that you don´t wear a mask of her face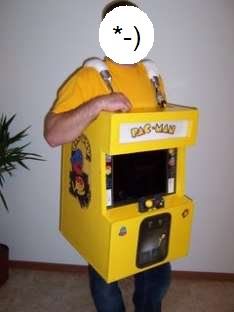 PUNK-MAN
Oh and my dog on a string wears this

Join date: Apr 2005
30

IQ
my jeans, my PF Flyers, a band tee my jacket and my scally cap

its pretty pUnX...
I wear nothing. Tru p0nx are naked!!1
^that´s why Scandinavia has no tru p0nx, but just Black Metal with body hair and Skate punks