What kind of pickups are in this?
I got this showmaster yesterday for my bday, it sounds really nice, and I know that the pickups are seymore duncan , but do you guys have any idea what kind of duncans they are?
I've read people saying that showmasters have had everything from vintage pickups to pearly gates. Its a korean showmaster.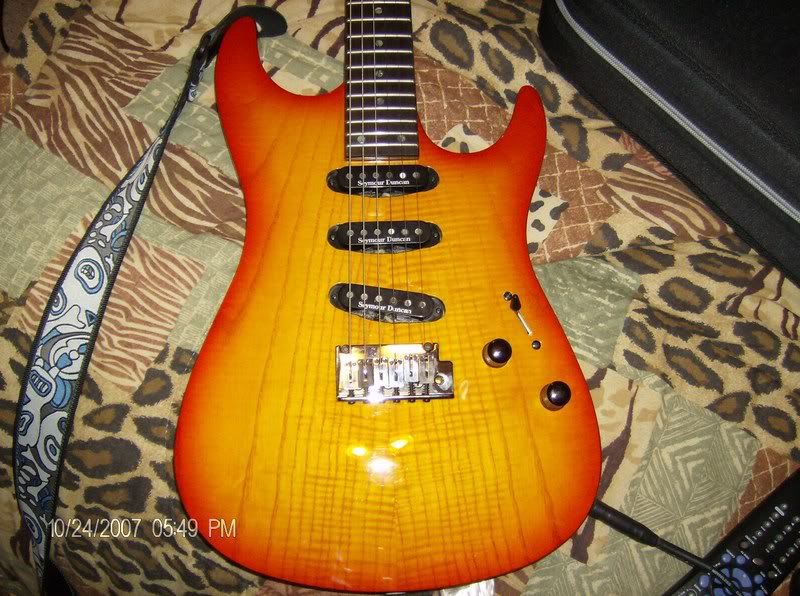 I'm going to guess either Alnico Pro II's or Hot Single Coils from Seymour Duncan. The one at the bottom could be a Staggered Hot Single Coil as well.
"The awesome tone comes from a trio of Seymour Duncan® pickups—an SSL52-1 5-2 at the neck, an SSL52-1 5-2 RWRP in the middle and an SSL52-1B 5-2 at the bridge, plus five-position switching."
Source
In other words, three of
these
, the middle reverse wound/reverse polarity.
Last edited by Fast_Fingers at Sep 29, 2007,
You're welcome, and thanks for the golf-clap.
golf clap?


The purposely quiet clapping that usually happens at the PGA...you use your fingers of one hand and hit your palm, instead of hitting the entire hand to applaud.