guitar action
this may seem like a daft question but i think my action is wrong on my guitar.

im getting buzzing on my 2 highest strings ( E, B) at the 10th - 15th fret and i dont know why.

there isnt a guitar shop near me so i was wondering if u guys had any advice on this type of thing.

ive got an epiphone tony iommi sg and im using ernieball hybred strings.

btw.....what do people think of that guitar......its only my second guitar (my first 1 was from argos....lol) and i think its pretty good, but my mate wants a guitar around the same price range, £330, is there anything better for a metal sound?

thanks in advance.
fret the Low E first fret. at the same time,
fret the Low E last fret, where the neck and body meet.

with both places held, look at the middle frets. 7-9th.

if the string lays on the fretwire there, then you dont have enough bend.

measure and repost.
nope...the string does not touch the frets.

Join date: Aug 2002
310

IQ
Backbend is known as "relief" in the Luthier industry. You want a bit.

Assuming your guitar is straight out of the shop, it probably came off the assembly line in Korea (most likely site of manufacturing,) faced a long boat ride across the humid, salty ocean to a port in the US and then shipping in a box that was thrown from boat to truck, truck to warehouse, back on a truck at 85mph, bumping and thumping ever so gently to your favorite store.

Consequently it needs work.

A good setup will take at least an hour with an experienced tech. An SG is a rather simple model, and quite a solid hunk of wood at that, so it's a bit easier to deal with than, say, a Floyd Rose (AAARRRGH!!), but you have two choices:

Take the time to learn to do it yourself and become your own amateur tech...

or go and pay to have it set up professionally.
Iommi SGs are nice imo. ESP makes some good metal guitars, and so does Ibanez.

As far as ur strings, a playing card should be able to fit between the string and the fretboard, but just barely. it might be ur frets are filed wrong or worn, or maybe ur action is too low.
first off, thanks for the fast responses

and yes....a playing card can fit under all the strings....but......do the strings need to be held down at the first and last frets....or just left open?
and i take it that the action is deturmined by the hight of your bridge?
try raising the bridge slightly. If you don't know how to do that google for a tutorial with pictures. if that doesn't solve the problem you might need truss rod adjustment, and you should have that done by a pro if you don't know how to do it yourself 'cause it might damage your guitar.
if a playing card fits under the string (and nothing more than a card) when both places are held. you could probably do with a little more bend in ur neck.
but first try raising the bridge a little. detune a little, loosen the bridge screws on the top of the bridge posts, then spin the thumbscrews halfway down the posts, raising the posts, then tighten it all up again.
thumbscrews are pointed to by red arrows.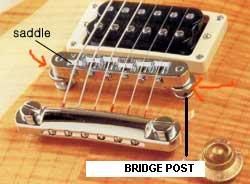 Join date: Jul 2007
70

IQ
ive got a personal question.
when i got my guitar set-up, i didnt get my F**KING ACTION LOWERED!
its a guitar with a floyd rose, and i know what to do.....but i dont know which way to turn
the screwdriver lol

counterclockwise or clockwise?
i can fit 3 playing cards under it.....its so fudgin high.
and i need it lowered, because i like to solo and need a lower action for easier, and
faster movement from fret to fret while hitting the notes and getting a good tone.
well....im not sure how but ive cracked it.
ive just but some new strings on cause i wanted some slightly thicker/heavy ones, and theres no buzzing

which makes no sense to me.
thanks for all your responses though
thicker strings, pulled harder at the headstock, arched the neck a little more, and cleared the frets.
ah right.......i understand now....thanks


no problem. 1 gauge thicker strings, are an easy and safe way to naturally adjust a guitar's neck.