New Edwards Guitar Day
My Edwards E-LP-98LTS (Lacquer Taste Series) came in on Monday, courtesy of Ishibashi. Here's a quick review and some pics.
It was extremely well packaged. There were a couple of knocks on the outside, but they didn't seem to make it through to the guitar. Enough bubble-wrap that I could start a business selling it.
Anyway, it made it here safely from Japan- 2 days from Japan to England, and then about another 5 days to Northern Ireland (though to be fair there was a weekend in there).
Anyway, basically it's great. Plays well, and sounds really good. Very resonant unplugged tone too. I tried a gibson les paul classic antique (whatever the heck it's called) about a week or two ago, they were looking almost £1200 ($2400). This. Is. Nicer. For between 1/3-1/2 of the price (more like a quarter of the price if you're japanese... o_O). The only thing the Gibbo had on this Edwards was nicer electronics, and a nicer bridge pickup. Both of which are easily and inexpensively correctable, for much less than the price difference between the two.
It's not just as nice as that badass £1000 ($2000) Tokai relic I tried a week or two ago, but it's darn close. Closer to the Tokai than the Gibson, at any rate.
The Duncans actually sound good- the '59 is very nice, great vintage tone, though it does struggle a little when the gain gets well up, while the JB sounds better than I've heard in most other guitars. It's still bright, and way too hot (for this style of guitar), but it's usable… its problem is it has two settings, "scream" and "scream harder"… I suspect the pickup covers are helping to tame them a little too.
But yeah, I'm in no rush to upgrade. Not to say I couldn't get better, but it wouldn't be the best use of my available (and shrinking

) funds.
Just so this doesn't appear to be a fanboi review, here are some negatives:
- cheapest looking gig bag ever. My £12 stagg jobby looks like a bespoke version compared to it.
- strap buttons are very small. To be honest, I'm a bit wary of playing at home with it strapped on, let alone a gig.
- the tone and volume pots could do with being upgraded.
-the aging is very rudimentary. It looks like they've just put orange paint over the binding at the sides, while leaving it as it is on the top (you can kinda see this on the close-up of the neck). I'm biased because I don't like aging or relicing at all, but this probably wouldn't fool anyone. Also, from what i hear, if i take the stickers off the humbuckers, they aren't aged underneath, so there's a rectangle of unaged pickup. o_O also the aged binding just looks like it's been painted- and it's only painted at the side, so along the top it's white, and it actually goes along the side of the nut too. o_O
If you ask me, it'd have been cheaper, and looked better, if they didn't bother.
- the setup was good, but the bridge is a bit high on the bass side, and I don't think they stretched the strings too well, as they didn't hold tune well for the first day. But it's fine now. Bending behind the nut whacks it out of tune, but there's so little room there, it's not really a useful technique anyway, you can barely bend up a semitone…
- you can see a little of the maple in the cutaway- the binding should have covered that, I thought. You can see it vaguely in one of the pics. Also it's not the best book matching job (on the veneer) that I've ever seen. Not horrible, but not amazing either. It's definitely off by a millimetre or two.
-I still suck royally at taking pics.
Anyway, obviously none of these are deal breakers, especially when it plays and sounds as good as this, but it's just to let you know.
Anyway, it's great, plays really well, appears to be one-piece mahogany back and neck, good quality rosewood (Indian I presume, but very nice Indian rosewood), quality fretwork etc. etc. Sounds very resonant unplugged, and sounds great plugged in. Very versatile, though obviously if you want single coil tones you're kinda out of luck. But it does most humbucker tones, from clean through to modern, really well. Loses a little tightness for the really modern stuff, but still usable.
I'd buy another one (or at least, a different model, and I probably will before long).
I think I worked out that with postage and customs it came to about £500 ($1000)... If you're somewhere where there aren't customs charges, that'd be more like £400 ($800). I know in the UK, it's excellent value. So, er, yeah. I'm extremely happy. I got to try a second hand Edwards les paul double-cut with p90's a while back, so I wasn't buying just as blind as some others were, but if anything, mine is nicer.
Anyway, some pics (yes, my pic-taking technique sucks, I'm a guitarist, not a photographer):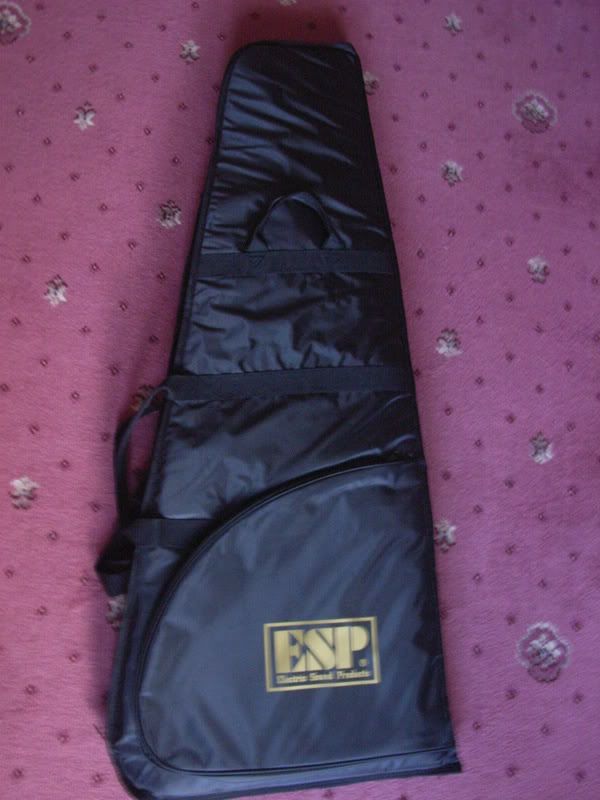 (worst gig-bag ever)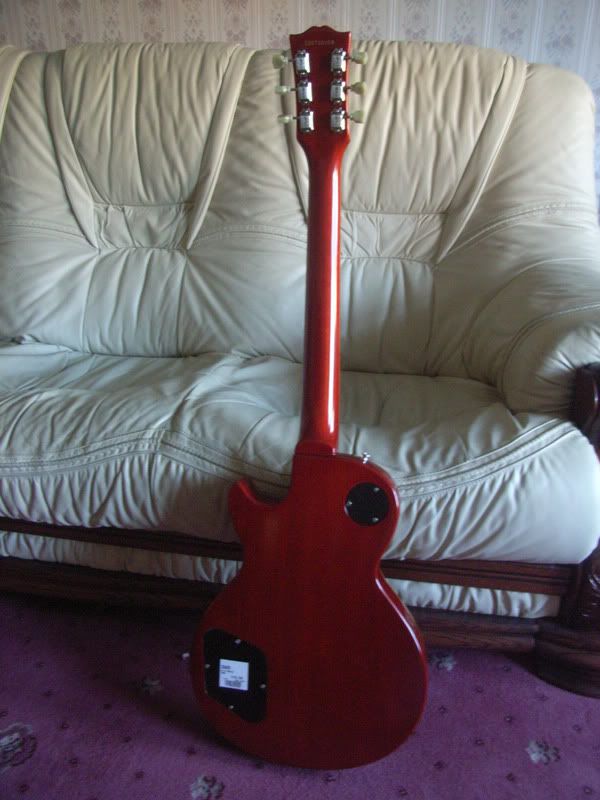 (an arty one for good measure)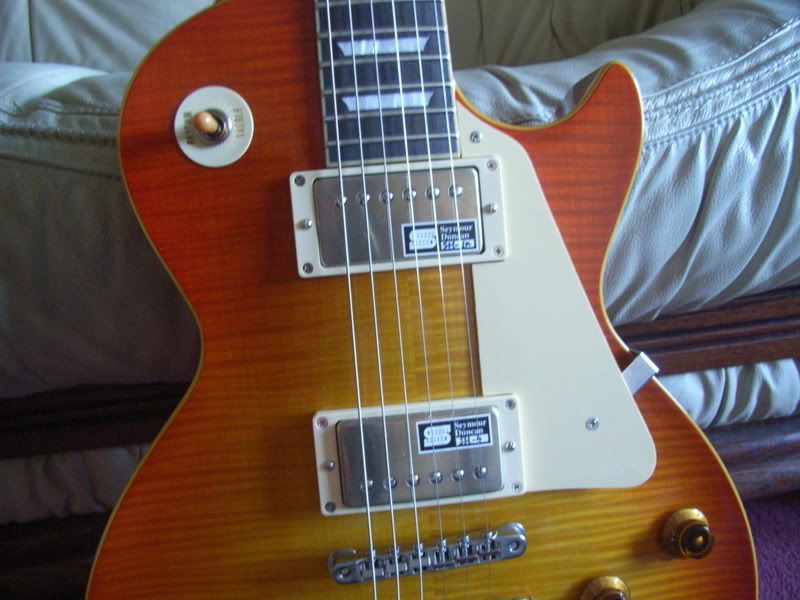 (close up)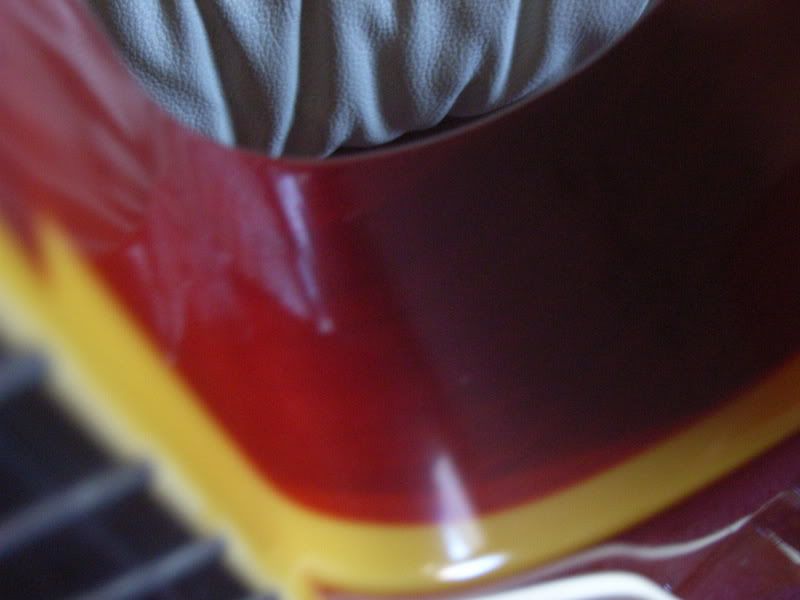 (you can kinda see the maple not totally covered with the binding. Hard to see, but I tried)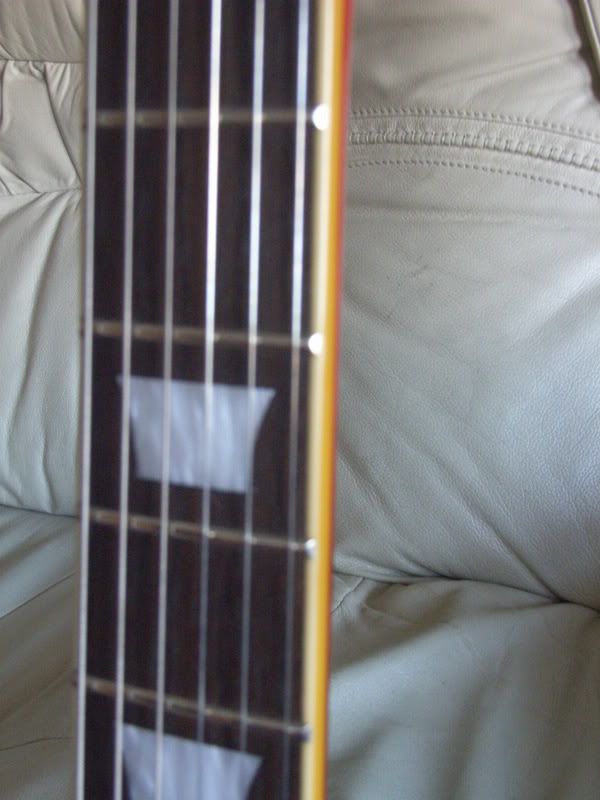 (Dodgy aging, notice how it's cream on the front and orange on the side)
Seriously. Buy one.