Help identifying a bass

Join date: Aug 2006
191

IQ
I just stumbled upon this picture of Jeff Ament (pearl jam, green river, and three fish), and he is playing one of the nicest basses i have ever laid eyes on. any idea of what brand, model, etc it is?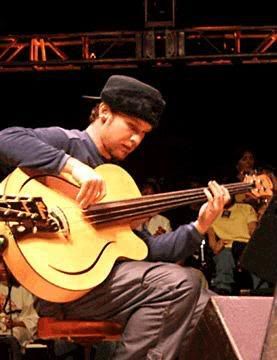 it might be a custom one built for him. I have never seen any semi-hollow bass with what looks like a completely maple body. its very traditional jazz. and alot of ppl make jazz guitars/basses.

Join date: Aug 2007
30

IQ
it aint custom, ive seen flea use one before
i think it's a ribbicke halfling made by roscoe basses. at least it looks like a halfling

Join date: Sep 2006
30

IQ

Join date: Aug 2006
191

IQ
Oh wow thanks! it even says his name on the bottom, so theres no doubt that thats it.
and their Jazzman's look awesome