Yakult: The Man, The Myth, The Legend... Well, one out of three 'aint bad.
Dearest Pit,
My name is
Yakult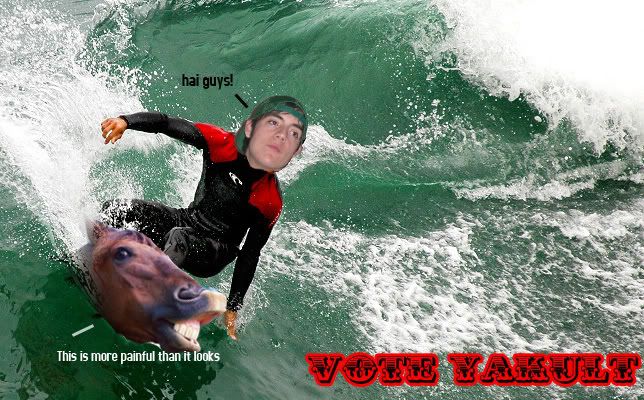 If that's not enough to get your vote, I have prepared a short list of why people should vote for me:
Having served as UG president for the 2006 - 2007 period, I have instigated a whole host of changes to the way the site is run. Before I took over, the place was a mess. Paedophiles were lurking round every corner, and in every thread. Old ladies were being mugged en route to the Metal forum by roaming gangs of trolls and then having their pension money stolen, which, if you ask me, is a little harsh.
I'll add my campaign aims tomorrow, so stay tuned!
I'd like to take this moment to introduce my First Lady, cagnius: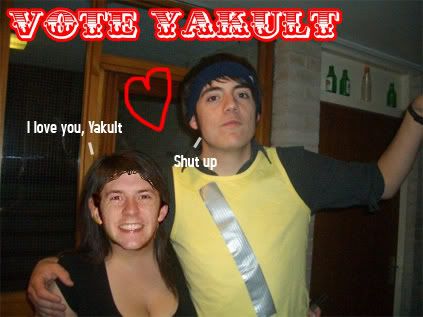 We're very much in love.
The current staff:

General of EVERYTHING: MOTHERF*CKING

JamieB

PEOPLE
POPE of all things Yakult related:

KENSAI


Commander in Beef:

DAFT
Vice President:
Rworsl
Secretary
: Mistress_Ibanez
Secretary's Secretary
: cabby
Scandal Officer (very much needed)
: Deliriumbassist
Head of Sexual Security (very important to be safe)
: glm
Head of Security
: bequickorbedead
Duke Of Essex
: treflip
Olive-skinned Foreign Bastard-child
: H(i)SS
Security
: Count Seanula
and
panterarocker
and
joeymaxx
Leader of Pre-pubescent Schoolgirl Security
: blackflag49
Head Fluffer (nude pictures secured this position)
: RageAgainst...
Fluffy Fluffer
: rockownsyou
Presidential fluffer
: element4433
Head of Smear Campaigns
: flambe chicken
Janitor
: Oasis-fanatic
White House Correspondent (aka BS Spreader) Pleasure2kill
Truth Knower
: Cal UK
Official Presidential Groomer
: -February-Star-
I will add more positions as the vacancies arrive, but anyone who wants to be on the team should post in the thread with their proposed title and I'll add them to the list. Anyone that makes a campaign poster will be added to my personal staff.
And last, but definitely not least...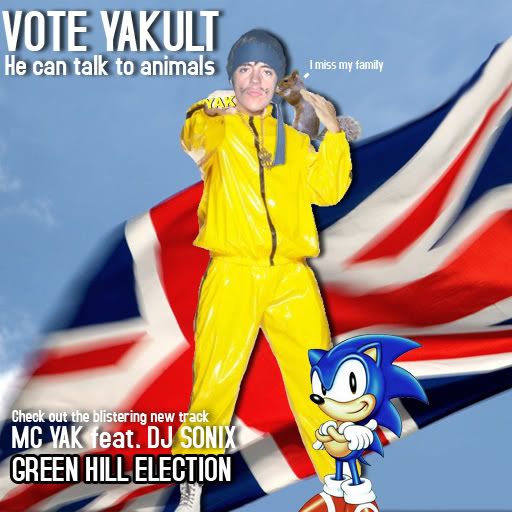 MC YAKMAN feat. DJ SONIX - Greenhill Election
Listen
, and learn why you need to VOTE YAKULT
Love,
Yakult
Last edited by Yakult at Oct 7, 2007,