Briefcase... pedalboard!
So, I saw my Dad's briefcase being neglected and un-used, so I asked if he needed it.
Turns out he didn't: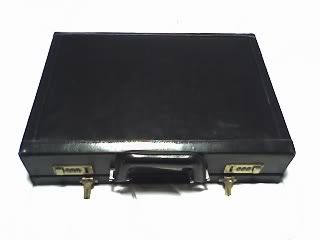 So I opened it up, it has some pockets and things in it, I'll think I'll remove them, but I put some of my pedals inside to get an idea for the size: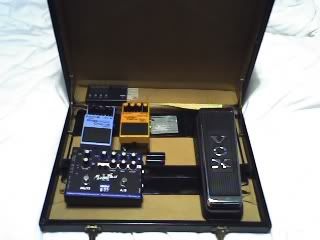 Now what I need to do is remove all the interior extra bits, then I was thinking about raising the base a little with some mdf or something so I could put the wiring underneath, fitting some sort of power supply, and putting input/output sockets on the outside of the briefcase just to make it spiffy.
Thoughts, comments, adivce?
EDIT: Just so you know, the wah, and ds-2 won't be in there when this is done, I will probably try to fit a BBE sonic stomp, and some sort of delay in there, maybe a whammy and a TB box too.
Last edited by fortysix&2 at Oct 9, 2007,
I Think It's A Cool Idea!

Join date: Aug 2006
50

IQ
Very innovative,Well done!
thats awesome... yuo should put some reinforcement to that briefcase...

btw... is it thick enough?... i dont think the wah would fit there... but that can be fixed
The wah fits when closed, but I doubt I'll keep that and the dist pedal in there, as this is hopefully just going to be my bass case :P
I'll probably add a whammy, some sort of true bypass box and a nice delay, the main thing I'm worried about is not being able to get the to balanced XLR out on my preamp, I might have to make a socket for that on the outside of the briefcase too...
Use plywood to raise the base. MDF is quite heavy.
Thanks, I don't really have much wood experience yet, so I took a random guess.
What sort of supply should I use? A dc brick or just daisy chain a boss adapter?
I suppose if I get a whammy I'll need two different supplies anyway...
Well, if you have any electronics experience, you could build this:
I was just thinking about a circuit like that, but then I'm both scared of hum from AC and not actually having an access to a socket...
Would it be feasible to rig a whole lot of 9v batteries (parrellel) into a box, and run a daisy chain from that? It sounds like it'd work, still not sure though.
EDIT: Was just reading about BOSS' adapters, the dc jacks are designed for regulated DC

And I guess my microbass works the same, and I'm not modding it... I'll think about building a circuit...
Last edited by fortysix&2 at Oct 9, 2007,
I dunno what a daisy chain is, but cramming a bunch of big, heavy, expensive batteries into a box isn't very practical imo. This circuit already has a filter in it anyway. See the grounded 1000uF cap from the bridge rectifier?
I missed that, I have no clue what having a transformer so close my pedals would do noise-wise either, do they make a lot of noise in pedals?
I heard something about transformers being near wahs being noisy...
Ah, and where does one acquire a nice 240v-25v tranny? I'm assuming that'll work here (EU on 240v not 110v?). Are they in anything that I'd find around the house?