Customizing My Jackson Dinky. Come See Day By Day Progress!
This is my first customizing job so make sure to follow this thread. It will probably be fun.
Well, I have been contemplating the idea of modding my jackson dx10d for about a week now, and today i decided to take advantage of the first good weather we have had in quite some time.
My plans are:
1. New Paint: Probably EVH (I know you have seen too many here but in Louisiana, ther aren't many people with them and I will be the first where I live.) Suggestions and Comments are appreciated.
2. New Pickups and Wiring: Ordering duncan 59 Neck and deciding now on the Bridge.
3. Kill Switch: following the guide in these forums.
4. Possibly an OFR to replace my LFR. Not a must right now but it will eventually get done.
Here are pics of my progress from day one:
Guitar as it was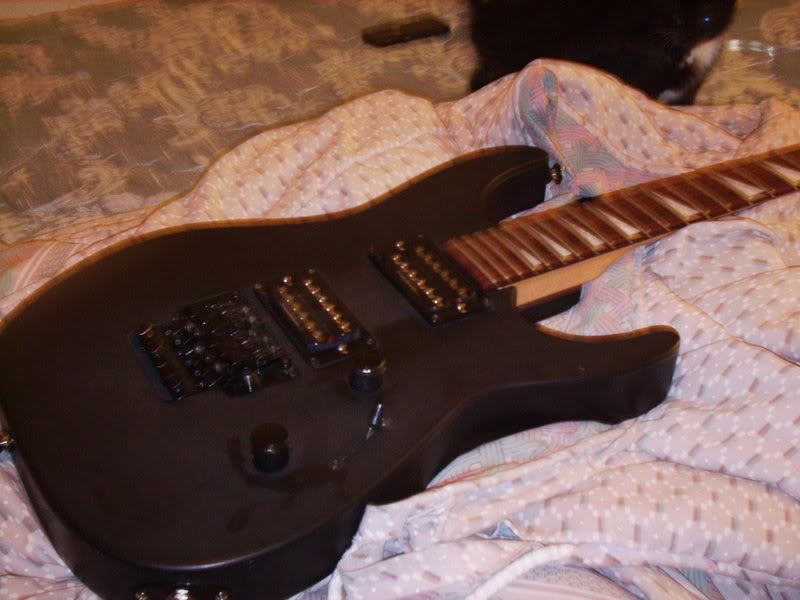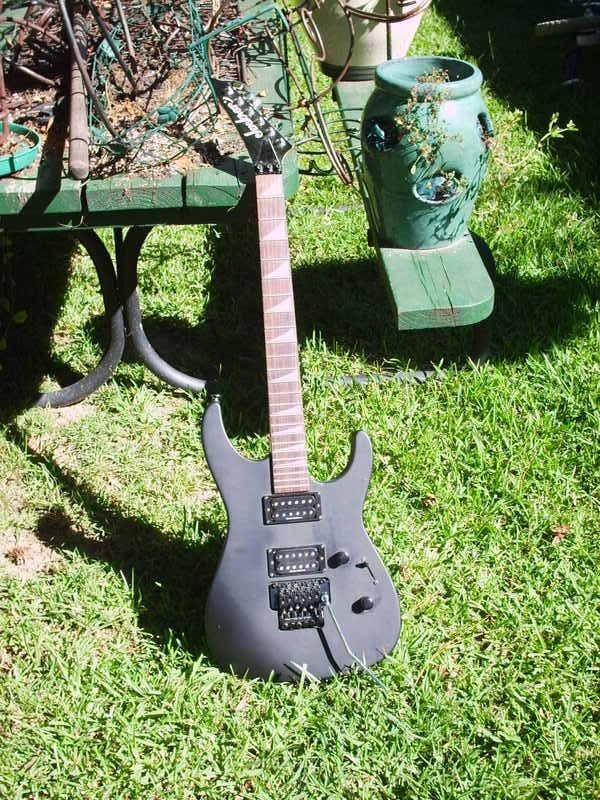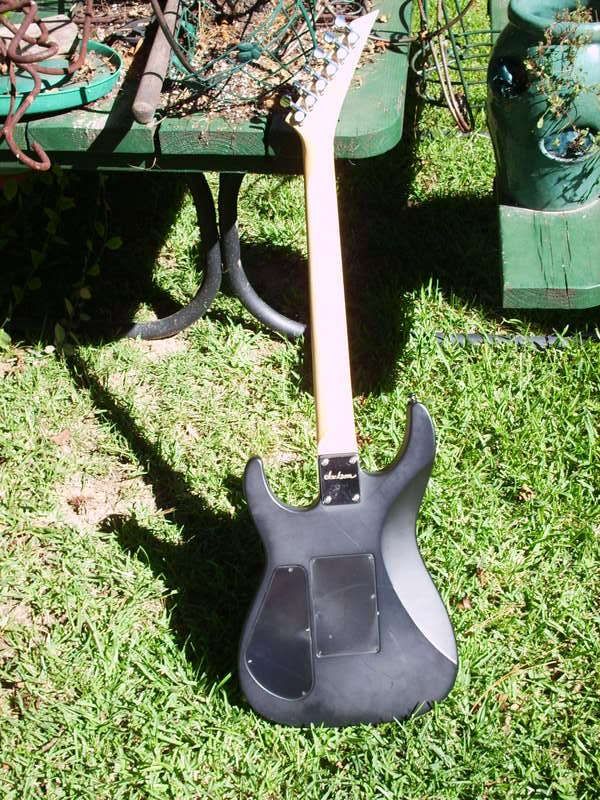 Disassembled(sp*) Paint is in bad condition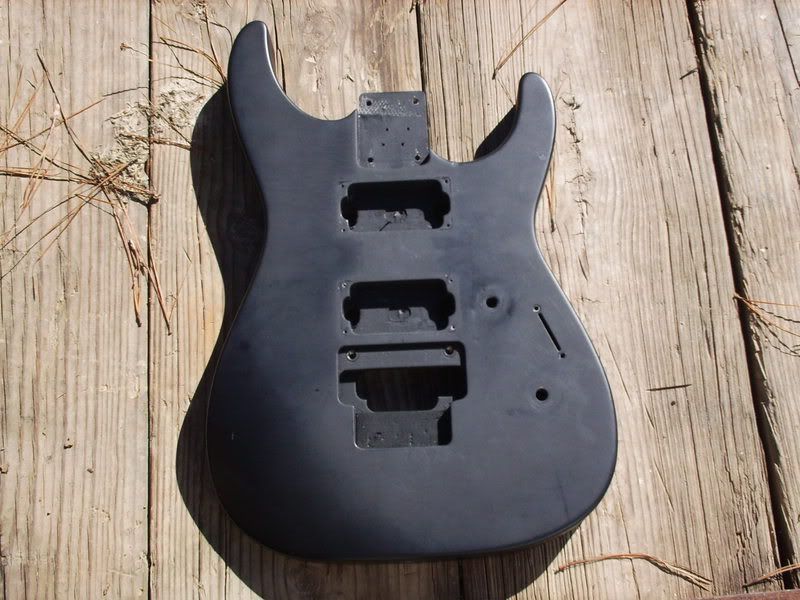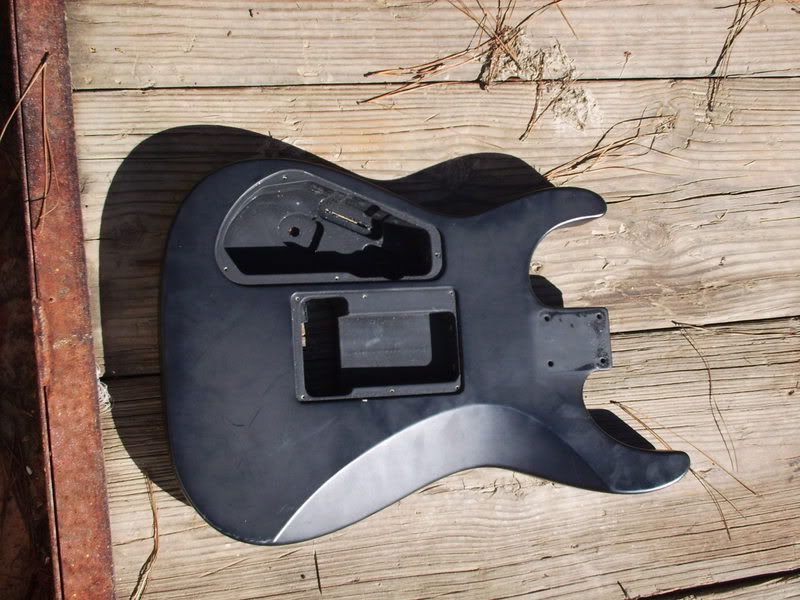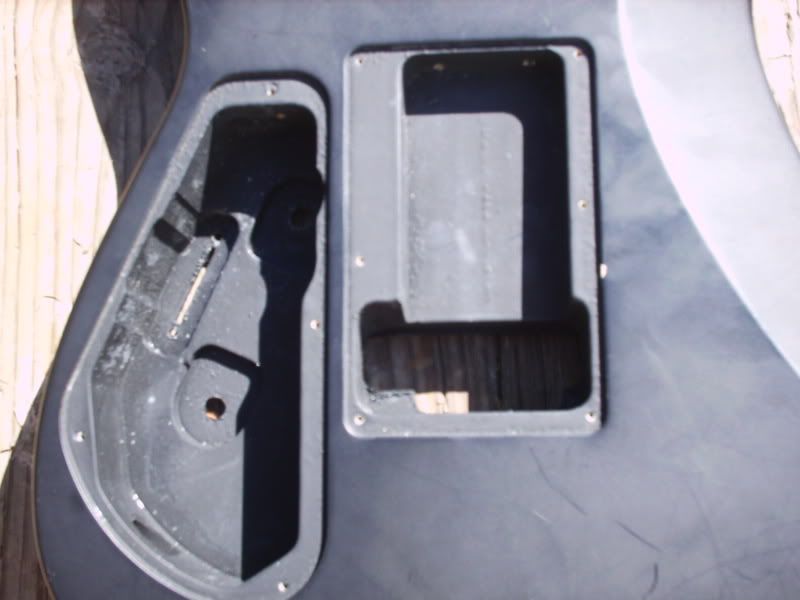 After Sanding The top (today's work)
Accidently sanded through sealer.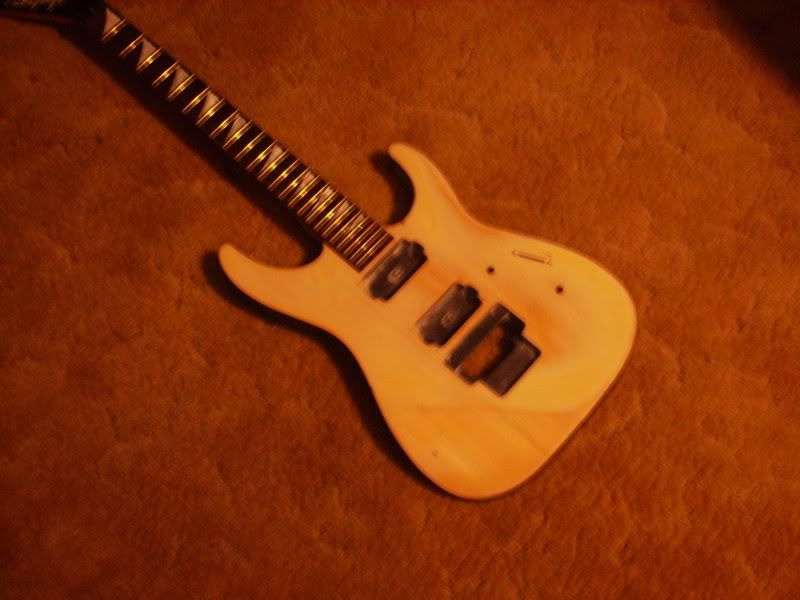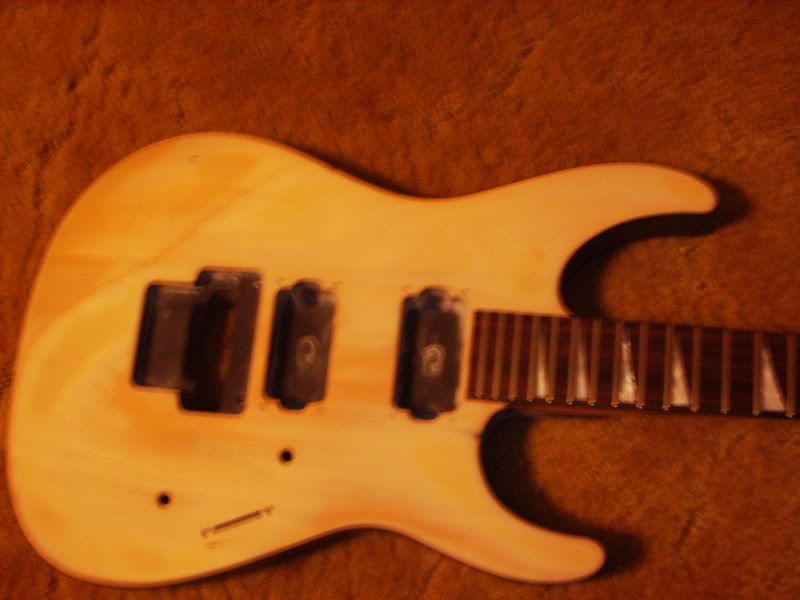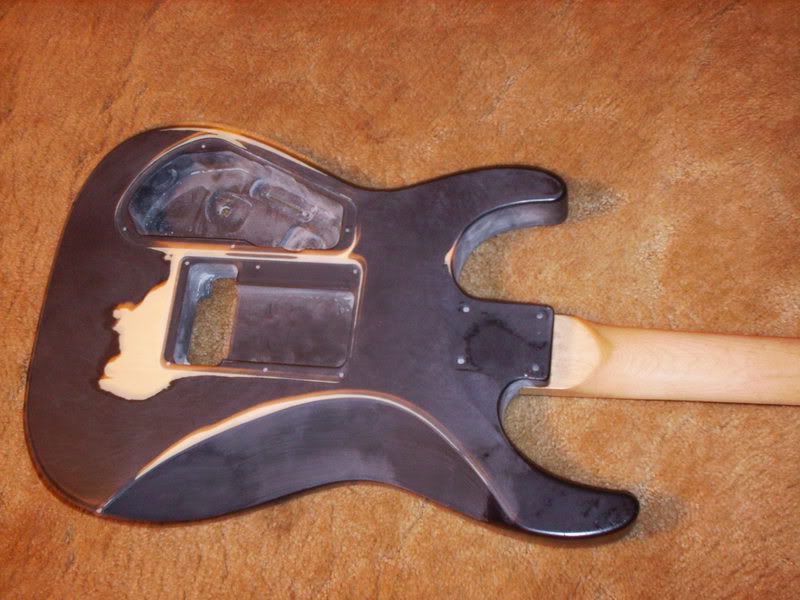 Questions:
Where can I get more grain filler/sealer.
Any tips on painting will be greatly appreciated.
for the neck pickup check out the one that joe satriani uses... his guitar is made out of basswood, just like the dx10d, so using the same kind of pickups might be good for ur tone
thanks. you are the first person to say that. everyone else has been telling me to use a 59.
ill subscribe to this thread just to watch this progress. i used to have a dx10d
k, off to get 60 grit sandpaper to help things move a little bit quicker. i was using 150 with a power sander yesterday and it took forever. hoping this will speed up the process a lil. i'll post pics when i finish todays work. hope to be painting by this weekend. can't wait.
Lookin' good and make sure that if you do an EVH paintjob make it an exact one or an original one. Those are the only types that make me like an EVH paintjob.

But good otherwise, also for the neck pickup I'd suggest looking around, check some DiMarzios out, more Seymour Duncans, hell if you care about it enough, save for some boutique pickups, you could try Bareknuckle.

Join date: Sep 2006
120

IQ
Lookin' cool. It'll be nice coming from a Louisianian.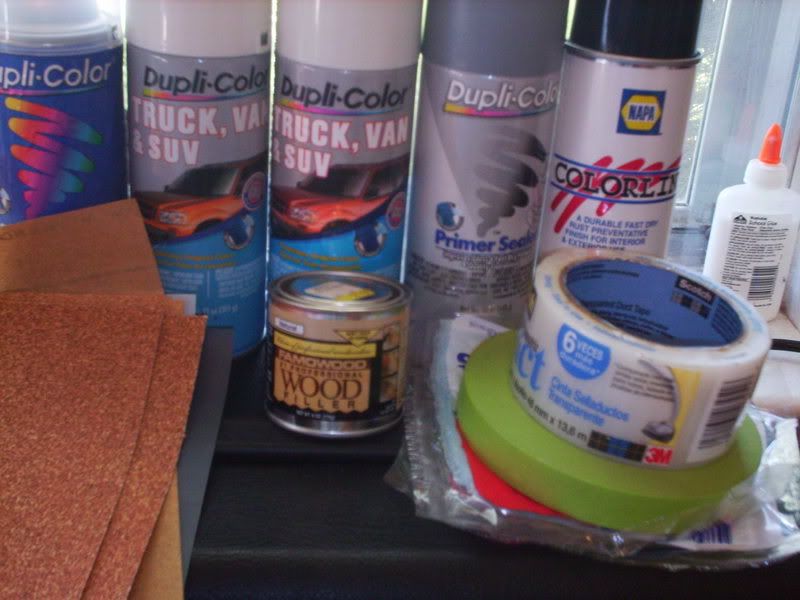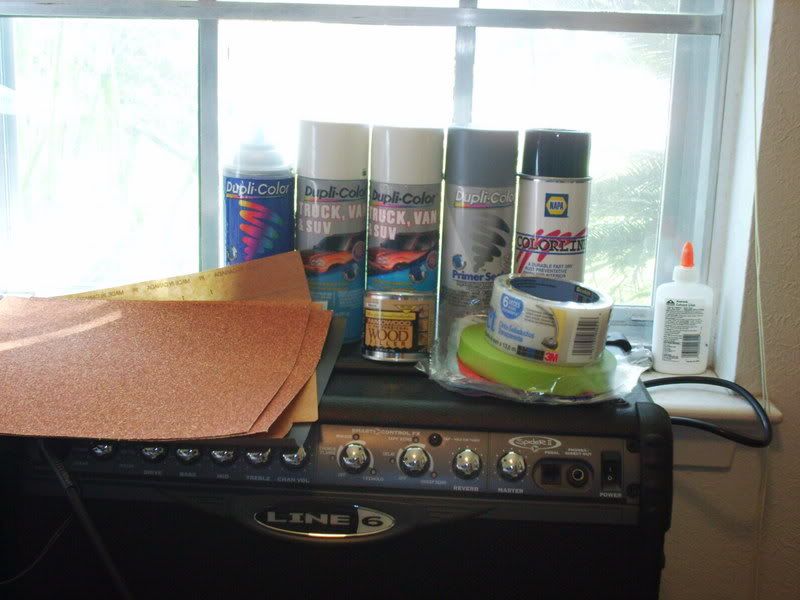 got everything i need to paint the guitar now. gotta finish sanding but i got filler, primer, clear coat, paint, sand paper, and tape. i just like to post pics i guess. shows all progress. can't wait to paint.
Also, my dad said that clearcoat from a can will haze. what can i do to prevent this? thanks.
owh the dreaded spider 2 amp!# lol looking good so far! as for a hot bridge pickup get a bill lawrance l500xl or a dimarizo xn2 or super distorton! and you MUST Put Some Groover locking Tuners or some type of locking tuners to replace the ****y ones jackson has and get a graphtech trem nut! it will make the guitar stay in tune longer and make strings last a hell of a lot longer.
Grover locking tuners are redundant on a guitar with a lockign trem, get some nice regular grovers or schallers.
Those are the same... Check your links.
i was thinking about doing that for another project. i have a t15 that i sanded down and it think i will just satin it.
the second link shouldve been his Yellow/Black one. i like that one alot more than the red/black/white and the blck and white one. the third EVH is just awesome. doing some other color instead of the black would be cool.
The one from the back of "Van Halen II"? Guess where that guitar is now...
his Charvel w/ one pickup, a black knob, and no pickguard?? where? and it wasnt rly a pic of his exact one. it was a pic of a replica. but where??

Join date: Dec 2006
420

IQ
i believe its buried with dimebag. someone at some stage must have contemplated digging that up - but come on to do that u have to be a big guitar fan, and what guitar fan could do that to dimebags grave?
True.....some1 having to exume Dime's body legally or otherwise would be desecrating to Guitar players everywhere.
Last edited by qotsa1998 at Oct 11, 2007,
yeah, i am shooting for the original black/white evh. (already got paint. no yellow.) That last one is kindof cool, just not my style really.
good idea. some1 has already built a near-exact replica of EVH's Frankenstrat, and anytyhing else would be disappointing.Alot of ppl dont do the Black and White ones. Are u gonna get a Strat pickguard for it?
nope, no pickguard. i just really like the black and white. i guess at the end of the day, it is what i like. i dont really care about what other people like. trying to build my dream guitar.
i believe its buried with dimebag.?
Yup. Mr. EVH himself stepped up to the casket and placed it next to Dime. That's pretty amazing.
well, couldn't do much today with work and all. I decided to plot out the paint. tell me what you think. i also got the killswitch materials. here's pics. lmk what you think about the paint job plot. i added a bird as a certain touch to make it my own.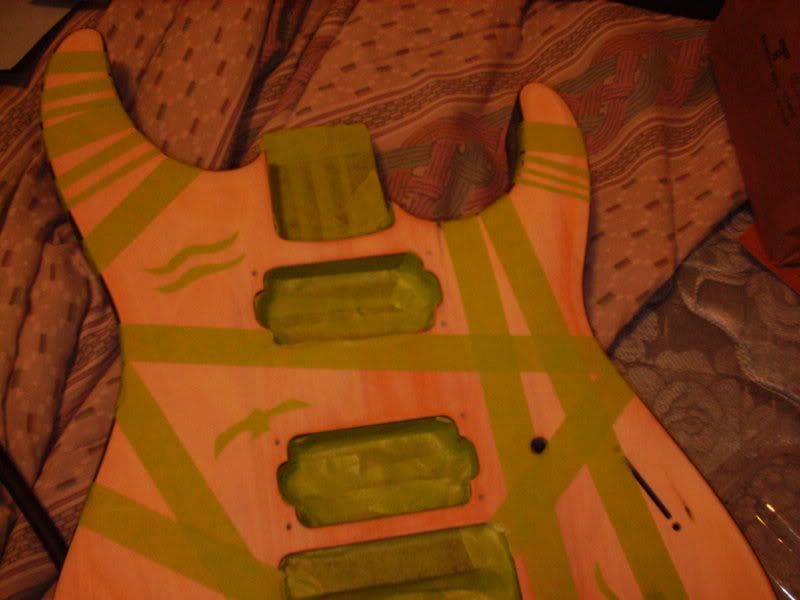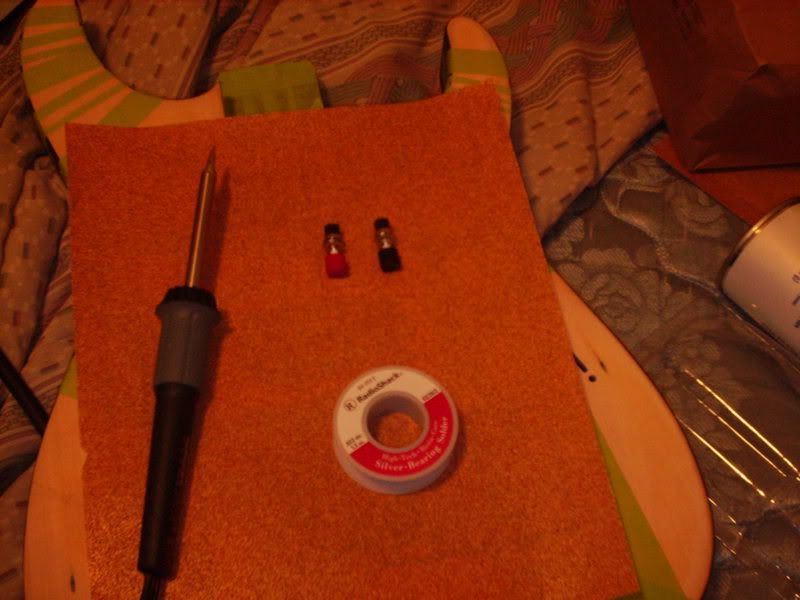 Join date: Oct 2007
270

IQ
i think its gonna look pretty awesome

thanks. can anyone tell me how to keep the clearcoat from hazing over. i want it to be really clear.
sorry for double post but hooray!!! New Pics. I finished sanding today. I decided it was time to prime. Glad I did. This is with 2 coats of primer. Beautiful weather for painting.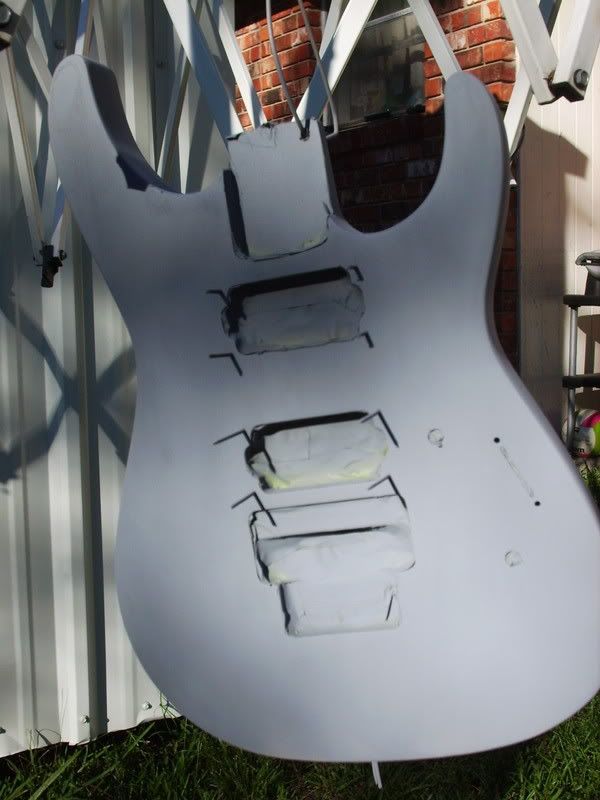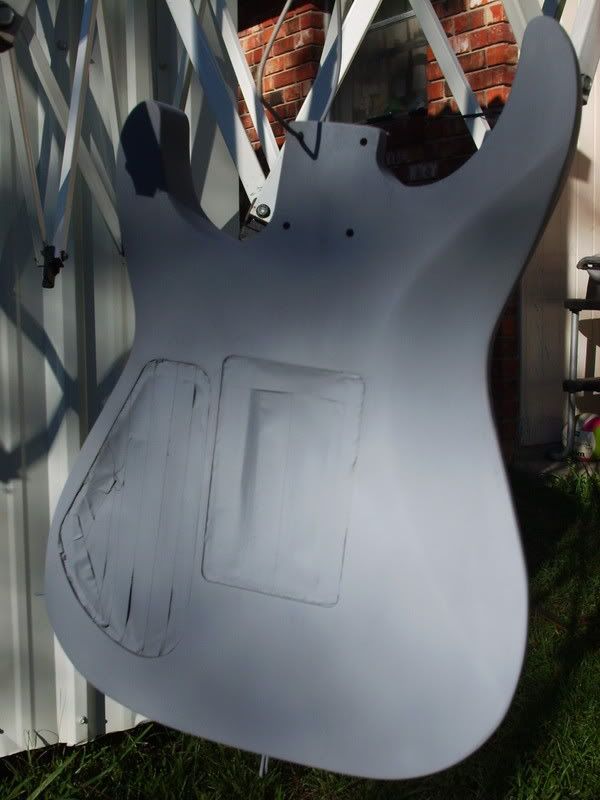 looks like its coming along smoothly.

but shouldnt you have put the tape for the stripes down after putting down a basecoat? i would have laid down the stripe color first, then taped over it and then put the main color.
As far as I can tell, he did yank the tape off. As he should...

Now, the coat on the upper horn (front side) seems a tad thin, doesn't it?

Join date: Apr 2007
10

IQ
You should have left it with a natural finish. The sanded pics looked killer.

Good luck!
well, the shadow kindof makes it look iffy but the coat is even everywhere. i did remove the tape beforehand. i will primer the body, paint the black coat, mask off the lines, and paint the white coat then clearcoat..
I should note the guitar that Eddie put wiht Dime is not the guitar from VHII but a replica. From wiki:
The black and yellow guitar on the back of the album is buried with Dimebag Darrell. Eddie Van Halen placed it in his casket at his funeral because Dimebag had said it was his favorite. [1] However, Edward himself stated in interviews that the guitar itself was not actually used on the Van Halen II album; as it had only been completed just in time for the photo shoots for the second album. David Lee Roth is shown in a cast in the inner liner notes, he allegedly broke his leg making the leap on the back cover. [2]
As for the build, I bet its going to look sweet!
hopefully. thanks. and guys, i like fun facts as much as the next guy but if you dont mind, i'd like to stick to the topic in this thread please. not bashing anyone but ther are like 15 posts in here about van halen's guitar being burried with dimebag and i dont want any extra spam that doesn't have to be here. thanks guys.
Awesome, I have that same guitar but in the trans blue finish. I'm not going the lengths you are though, I'm just putting it back together (bought the body alone on eBay). Looking forward to seeing the paint done.

I like the bird as an added touch. Simple yet effective.
I should note the guitar that Eddie put wiht Dime is not the guitar from VHII but a replica. From wiki:

Nono, read it again, it just says that the guitar wasn't used on the album. See, they recorded the album, then the guitar was finished. Eddie
did
play
that
guitar, and it
is
the one from the back cover.
yeah, last night i was actually trying to do one of the little wavy lines and it came out like a bird and i liked the look so bird it is. hope to have paint done this weekend. depends on work tomorrow.

Join date: Aug 2005
120

IQ
i have a dx10 dinky, mine is an older model though and has an ebony fretboard and i THINK it has an alder body as well

can't wait to see how it turns out, id be too scared to touch mine unless i had a new guitar, even though i modded my squire heaps with a fair bit of success.
That looks pretty good, you may impress me with this

sorry i haven't posted in a while but........THE PAINT IS DONE!!!!!!!!!!!!!!!
(cheap camera does the paintjob no justice. makes it look all pixelated)
ALL LINES ARE ACTUALLY STRAIGHT. I DONT KNOW WHY THE CAMERA MAKES THEM LOOK ALL MESSED UP.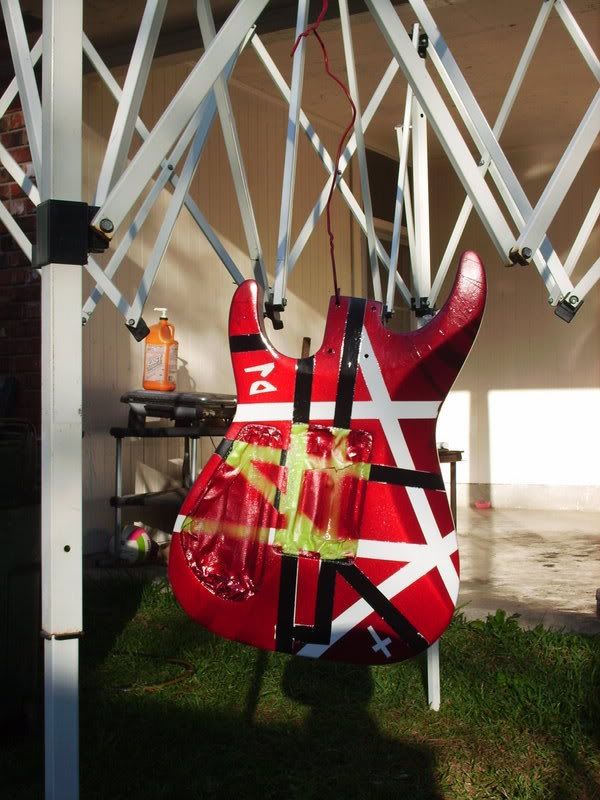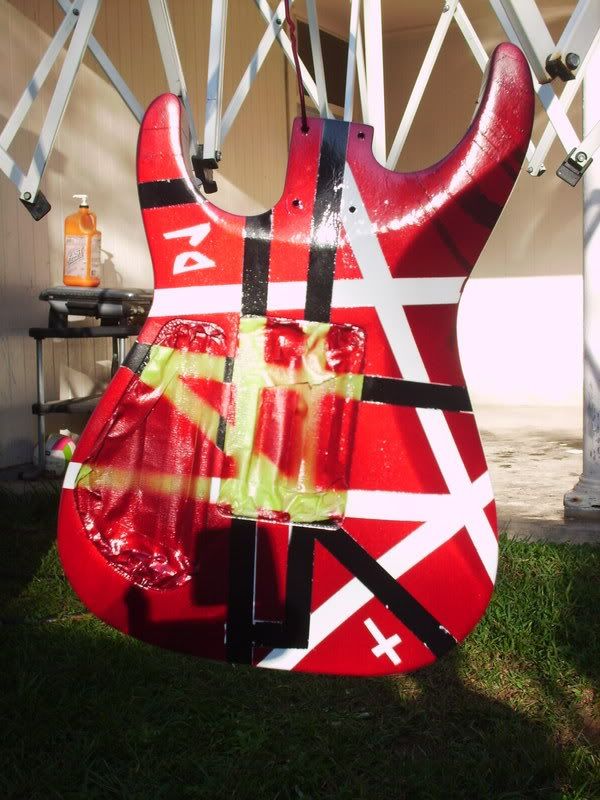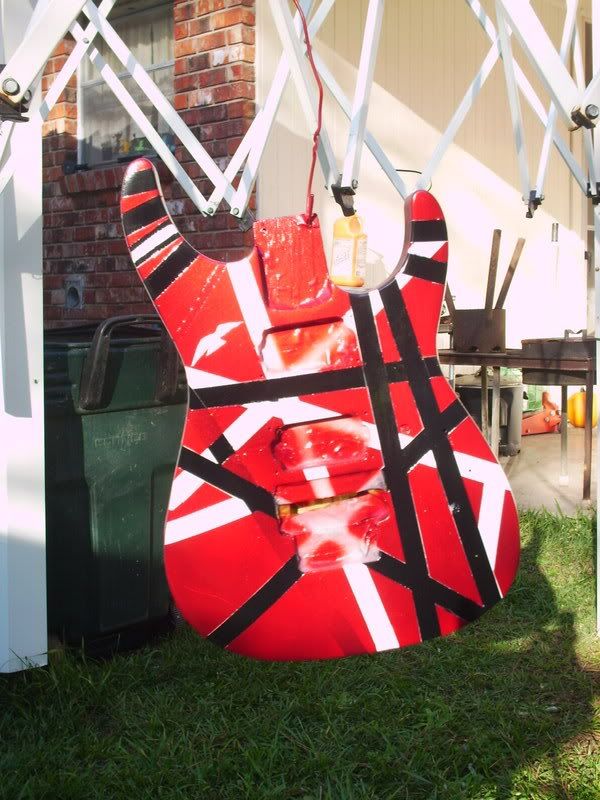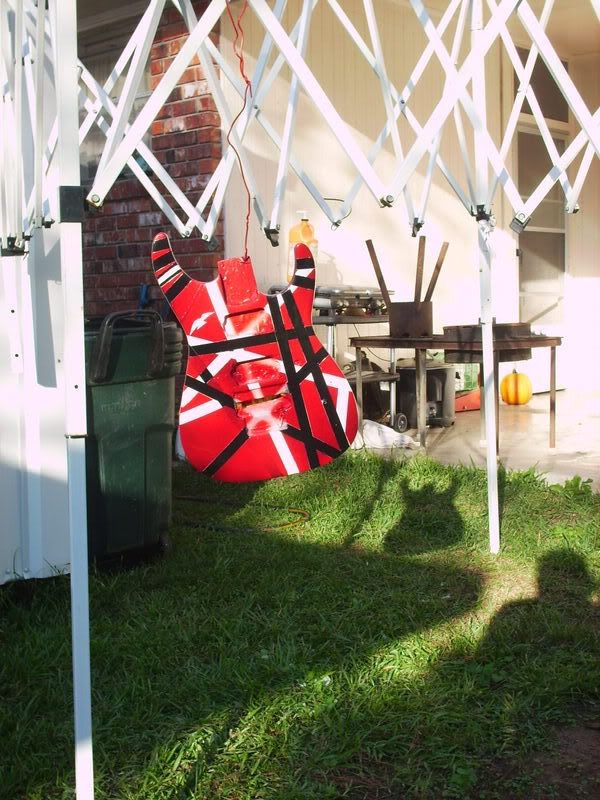 That looks crazy...really good job