do you have tattoos?
if you have [a] cool tattoo post a picture of it on this thread
and answer these questions, if you don't mind: where is it on you, and how much $$

cool?
Last edited by not Jason at Oct 20, 2007,
I have a cool one which can not be posted here. It is just above my genitals, and it reads in fancy lettering "lick my balls"
the mighty triforce
and it was around $100, and its on my forearm
Last edited by zerohero at Oct 20, 2007,
i want one really bad but i dont even have a job right now so I cant justify spending the $. I want an eagle on my back/left shoulder area. like flying the same direction i would be facing. I thikn that would be sick

Join date: Oct 2005
40

IQ
i have two
Ones the Volcom logo: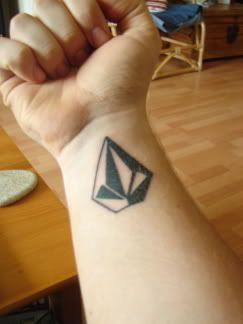 and a lotus flower with Om mani padme hum written in it designed by brandon boyd from incubus:
thinking of getting a jagermeister tattoo when im in amsterdam in two weeks
edit: prices: £50 for the volcom and £95 for the lotus design