WTB: Cheap Project guitar.
Hey,
I'm looking for a cheap (yet not overly crappy) solid body electric.
I would like to stay under the 100 dollar mark (i'll pay for shipping if reasonable).
I really don't care what the brand is, but it must have solid wood body.
Also, I won't take an SSS strat unless you gave me a really good deal on it.
I would prefer a humbucker-equipped guitar or maybe a tele.
And as always, I'll need pics.
I might want to sell my SG copy. I'll get back to you on that if you're interested.
Wow, that was quick.
Sure, what brand is it so I can research it a bit?
You probably won't find anything on it. It's a G. Burton.
what about a jay turser LP

its actully really nice

nice sound and the thing almost never goes out of tune

i actully dont know if i would sell it
Hmm... thats fine.
Pics?
And how do you like it? By that I mean, is there anything wrong with it, does it have a fat or thin neck, and would you know the body wood?
tension: Maybe, send me pics.
Last edited by darkarbiter7 at Oct 21, 2007,
the neck feels great

im not sure about the wood though its not mahognany for sure

its very light

the action is great the pickups are alright but through my behringer v-tone 1200 it sounds great

sustain isnt so great though

but overall its a really nice copy
the neck feels just slightly thinner than a regular LP neck BTW
Ok, do you have pics? and what model is yours?
Oh, and color.
I can have pics later, but I would like to know the model and the color.
here it is on the left i'll get more detailed pics in a while this is just a beuty pic i did for myspace HAHA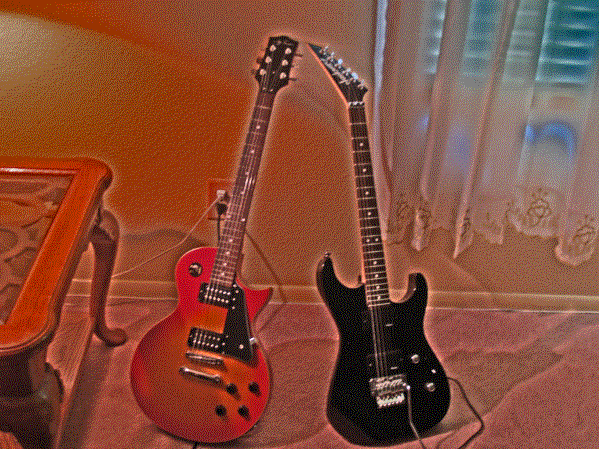 Is it just me, or does it look thin?
I can't tell from the picture, but is that poly finish (regular paint) or does it have a maple cap?
Also, the polepieces on the pickups seem a bit fatter. Did you upgrade them?
Just give me the history/specs of it (upgrades, dings, etc.).
actully i never upgraded it ever

i did adjust the action

oh and i did take off the original left strap knob and i put it on the back

above the pickup switch cover

just because i wear my guitars low and the strap would keep falling off

as of dings i dont think there is any noticeable ones
i will check but i will post more pics of like action

pickups headstock and everything in a while i need to get my camera out in a while and no the body isnt thin its the same as a regualr LP

just alot lighter

Join date: Jan 2004
60

IQ
I have just the body to an Epiphone Les Paul Special II. So, that means it's plywood. I already used it as a project guitar. I added front and back maple binding and repainted it. I didn't do a stellar job, but it included the bridge, tailpiece, electronics (which need to be hooked up again, though) and a diamond plate pickguard I made. Just find a cheap Epi bolt-on neck and you are pretty much set. Check out my thread, its called "Gear Blowout"
eewwww

my Jay turser sounds way better than almost all new style Epifonys

i never liked epiphone

the action is always horrible the bodys are cheap

my jay isnt ply im pretty sure because the wood shown is the burst looks to solid
Hey man Epi's aren't all that bad, you can sometimes score a good sounding one. I had a really good sounding SG special but I traded it in because it had a huge laquer crack and the frets were too small for my liking. That was all the fault of the previous owner because I literally bought it randomly on the street. Some guy pulled up in a van and sold it to me for $120. I kinda do but don't miss that guitar. Anyways TS I'm not sure if you'd like my SG. It's the epitome of project. It needs the holes to be filled and the paint could use re-finishing. I was gonna do all the stuff necessary to make it a good working guitar but I figured I'd see if anyone would want to do it themselves. I don't have the money for it currently. I can get pics if you want but it does have it's issues.
Last edited by CM_X5 at Oct 21, 2007,
and exactly what i mean by cheap bodys

you can never have everything at least ok with a epiphone
Oh, do you know what model number it is?
If it's lighter than a LP, then it's probably an alder body, not mahogany. (which i'm cool with).
actully im not sure what model it is

it came with a little amp too

it was in a begginer pack which i looked for on their site and they dont sell it anymore

they have a similar one though
and exactly what i mean by cheap bodys

you can never have everything at least ok with a epiphone
Read my edit. Previous owners fault. I'm not trying to pick at you for something but it seems like you're trying to make this Jay Turser sound better than it might be. Nice looking guitar though I'd buy it off you if I could.
i could make a video if you guys want me

too

seriously this guitar is pretty nice for a begginer pack guitar
All right guys, don't fight in my thread.
It's just personal preference on which is better..
im making a video right now
Don't worry I'm not arguing, just don't like people to be biased because they played a lemon. But yeah personal preferance. I'd say go for his guitar but he did say he may not want to sell it so PM me if this current deal doesn't go through.
All right, but I might end up getting an SX or something if nothing works out here.
Hey man ive got a Squier 51 neck and body if you're interested?
Ok well just in case you may be interested I'll say everything that's wrong.

It has holes that are covered by electrical tape due to the whole bridge being moved to correct intonation.
No strap buttons
Needs re-wiring
No neck pickup
slight fret buzz but can easily be fixed
somewhat high action from the nut

I have a video of it if you want to see it in action but it's gonna need some work before it's perfect.
umm i hope the quality aint to bad i had to convert it to real media because the file was to big
all right heres the vid

*Nvrmind the vids syncing is all off and it dosent even seem like im playing its that bad i need to make a new vid
i didnt read all this but just asking are u still looking for a project i might have something if u are
Yeah, i'm still looking, what you got?
well i have a jackson guitar project that i put together its a blue dinky body, with a cheap suzuki neck i would sell it together or just the body if you wanted it that way has double hums, its playable and all just looks kinda odd with the neck,
i also have a 1980's era aria pro 2 dinky copy has a cheap floyd H/s/s pickups (kinda crappy but work) but the neck is sweet sharktooth inlays plays nice was a project i put together to have a vintage work look but you could easily redo it if your interested i can think of prices and get pics also i have a friend at school who has a squire strat he says its a H/s/s hes asking like $60 complete whammy and all i could find out more about it if your interested in it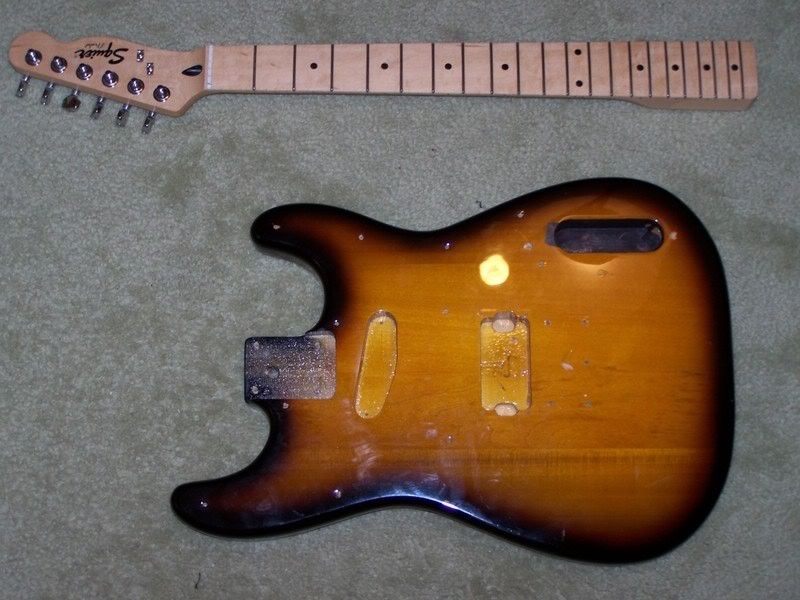 Squier 51, body is partially sanded down to the wood. Let me know