RIP Lance Hahn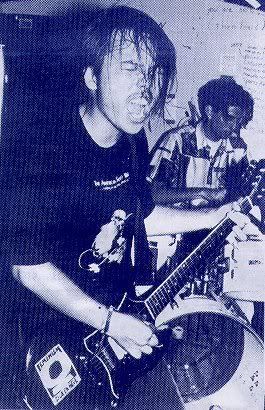 Austin-based musician, journalist and punk rock icon Lance Hahn died Sunday after a long illness brought on by complications from kidney disease.
He was 40.
Hahn was best known for the prolific rock band J Church, which since its inception in 1992 produced dozens of singles, EPs, and albums of sharp, melodic songs mixed with punk attitude. As Hahn was quoted in 1995, "A lot of people write trying to keep track of all the records we put out. I can't even remember." (The band was only three years old at the time.)
Hahn also played in the punk band Cringer from 1984 to 1991, played guitar for the rock musician Beck in 1994, owned and operated the Honey Bear record label, was a long-time contributor to the international punk rock magazine "Maximum Rock n Roll," and published the zine "Some Hope and Some Despair." Many unfamiliar with Hahn's music knew him as a manager at the Vulcan Video store on South Congress.
At the time of his death, Hahn was near completion on a book about the history of anarchist punk bands, portions of which have been excerpted in "Maximum Rock n Roll."
Born in Hawaii, Hahn was of the generation for whom punk rock was neither a just a genre nor a passing fashion, but a way of looking at the world. "He claimed to be the first person in Hawaii with a Mohawk," said his partner Liberty Lidz.
His band Cringer was one of the first thoroughly documented punk bands in Hawaii and - as Hahn put it on the Honey Bear webpage - the first band of his "that anyone really cares about."
After Hahn, by then a California resident, formed J Church, the band became a staple of the San Francisco punk rock community. The group's catchy music, do-it-yourself work ethic and Situationist leanings were both a sharp contrast and perfect fit with hundreds of heavier or poppier acts.
Hahn and Lidz moved to Austin in 2000 so she could attend grad school. The Austin version of J Church included Austin punk stalwarts Chris Pfeffer on drums and Ben White on bass. (David DiDonato served as J Church's second guitarist from 2002 to 2005.) These two line-ups produced three albums, a split LP and additional material.
Hahn was also profoundly well-liked by the American and international punk community. There were benefits held for Hahn around the world after his and Lidz's apartment burned down in 2002, as chronicled here.
This summer, five independent labels (No Idea, Cat Food Money, Vinehell, Jerk Off and Tic Tac Totally) released "Let's Do It For Lance!," a J Church/Cringer tribute CD to help defray Hahn's mounting medical bills. (He did not have health insurance at the time of his death.)
More information about Hahn and J Church can be found at their webpage and MySpace page.
Funeral arrangements have not yet been announced.
He will be missed.
From a myspace post that One Reason made
*-*
This is really sad. I never got a chance to see J Church live and I didn't personally know Lance, but I know Ben from that band and I'm sure the tour he's on right now must be really hard for him. This will probably sober things up at the Fest a little bit.


Join date: Sep 2005
423

IQ
damn. Rest in peace.

or raise hell.

Join date: Sep 2004
220

IQ
Rip

The Ruts guitarist died the other day too.

Join date: May 2004
712

IQ
Oh man, please god, not the first guy to have a mohawk in Hawaii!

Noooooooooooo!!!!!!


Alas, there is no justice.
That's upsetting. I love J Church.

Join date: Jan 2007
110

IQ
That really sucks. I just started liking J Church.

Join date: Aug 2005
240

IQ
1919 Hemphill included a note from his girlfriend when they posted a MySpace bulletin about his death:
GONE

i'm so sorry to say, Lance Hahn passed away earlier this afternoon. he had been in a coma since collapsing at dialysis on friday, october 12th.

as far as the doctors can tell, this collapse was due to a sudden, drastic drop in blood pressure, which in turn was probably caused by a recurrence of the infection he had had in september combined with the stress of dialysis. he received immediate cpr from medical professionals at the dialysis center, but as it took fifteen or twenty minutes to resuscitate him, he suffered neurological damage from lack of oxygen to the brain, leaving him in a coma from which he never returned.

i can't even begin to tell you how much he will be missed. he is much, much loved.