Alvarez

Join date: Apr 2007
100

IQ
Alright, well I used to play alot... ALOT of acoustic stuff, but since my Elica turned to sh*t (inevitable), I usually play my electric, and my classical dude. So, anyways, I was playing my friend's Alvarez, but I'm not sure exactly what it was. It is an Alvarez, and it has a red & black quilted top, sides, and back... and the neck (basically all rad & black quilt). It is a cutaway too. I think I'd really like one, so...

Does anyone know exactly what model it is?
Do they still make them?
How expensive is it? And it it worth the price it is?
Should I invest in something else?
Last edited by Fryer Mike at Oct 24, 2007,
It sounds like the AD60CK model. Here's a pic. If this is the one your friend has, then it's still available. The wood is figured dao. Pretty isn't it?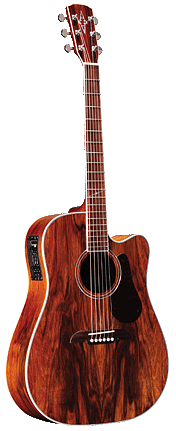 Last edited by LeftyDave at Oct 24, 2007,