3 BC Rich's **Pics**
First guitar is a killer NJ Mocking bird. has a Floyd rose, EMGs, a volume for each PUP, a tone knob and a selector switch. neck through, Flame top. Plays Great, i love it but i need to cut down. Like new except for 1 indent on the side, and 1 small scratch. looking for
$500
OBO .
Next guitar is a really cool IRON BIRD. kinda wierd but it plays great. nice neck, it was a main guitar of mine for a while because i couldn't help but love the feel. cool scale graphic looking for $375
Next one is a pink Platinum series strat style guitar.real cool, $200.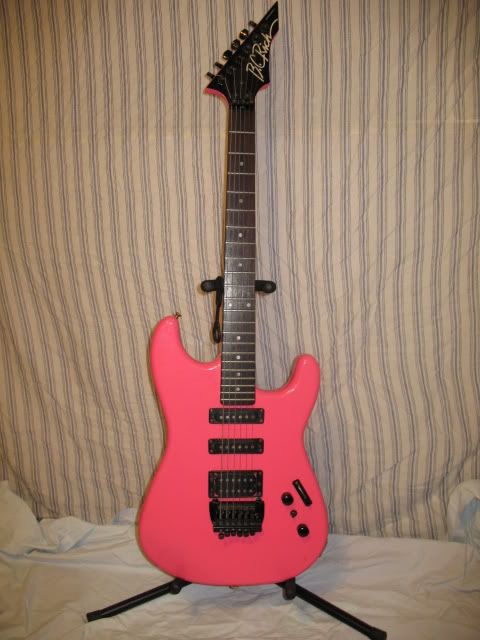 Last edited by iplayanesp at Oct 27, 2007,

Join date: Jul 2007
80

IQ
damn guy, you have so many damn guitars to sell lol, what do you want, a $5000 tele?! lol, i think i might reconsider buying the Ltd- 301 for the mocking bird

it's sexy

I have more but dont wanna get banned for to many threads.
and i dont only want a new tele.

i have crzy gas

Join date: Jul 2007
80

IQ
yeah well you have like 40guitars to sell to make up for it, lol.
i got 2 and i have multiple GAS as well

like a sexy guitar with some Active EMG's (the BCR Mockingbird)
an original horizon style headstock(the LTD-301)
ibanez s series (the coppertop Ibanez)
not to mention my lust for the
Fender American Special Mahogany Stratocaster Electric Guitar (i memorized its full Guitar Center name

.......

)
we'll see though, im havin trouble actually selling the ibanez to my friend who would like to buy it.

Join date: Aug 2007
30

IQ
wow that platnum series is pretty cool
ill get some better pics aswell its more HOT PINK
ill pm all yall. had a long night out.
love the look of the iron bird

how does it sound

how big are the frets?
love the look of the iron bird

how does it sound

how big are the frets?
Love the sound
as for frets idk. plays great nice neck. how do y ou want me to measure the frets?
BUMP For mocking bird price. need to sell. all the ones i can find on MF that compare sell for $700-$800
Would you consider a Jackson Dk2T for that Mockingbird? I would even take it without the electronics if you left the switch.

EDIT: I remember last time you said you weren't fond of it. I would consider trading my Saber for that though.
Last edited by CJRocker at Oct 27, 2007,
can i get pics of both. i look at so much stuff i forget.
By the way, what year is the BC Rich, where is it made, and what type of Floyd is it? If you're not sure of the year, give me the serial. Thanks.
TTT NO trades. need money