Blown Tube (pics Included)
I recently put new preamp tubes in my F-100 head when I bought new tubes for my roadking head. After talking to Erock for quite a while about the redplating tube in my roadking I decided to order new EL-34s for it and just use my F100 in the meantime.
When I put the tubes in my F100 I didn't try it out because, well, the roadking does everything the F100 does and the F100 isn't as appealing in comparsion. I started up my F100, I hear the preamp but not any of the power section.
After testing every 6L6 because they're power tubes, and should be directly correlated with power problems, none of them were problematic... Erock recommend I check the driver preamp tube...
I took off the metal tube case thingy that surround them and noticed the white bulb. This is a sure sign of a problematic preamp tube in mesa boogies....
I pull it out and it sounds crunchy...it was fried...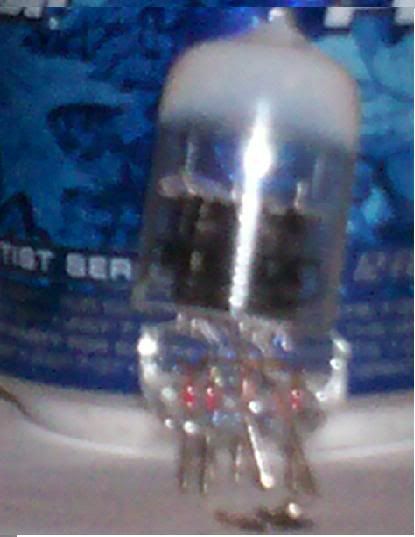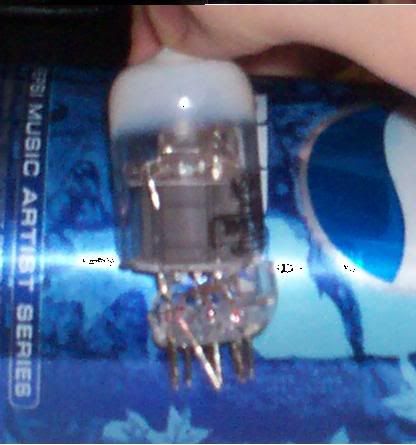 Join date: Jun 2007
326

IQ
HAHAHAHA...HAHAHAHAHAHAH.........AHAHAHAHAAHAHAHA...HAHAHAHAHAHA...........HAAAAAAAAAAAAAA!
Ok, I'm done. That kind of sucks. At least your RK is fine.
Wow, your pictures suck! How did the pins manage to bend like that?
When I pulled it out, basically all the glass was busted, the pins just fell sideways and every other way.

The metal plate actually up in the tube is pretty jacked up because I pulled it out with some pliars by that part.
So you never noticed when it blew? I would imagine it would be (very) audible.
Powertubes are audible when blown. Preamp tubes kinda happen when you don't expect it.
I would look over the socket, clean it, and just buy new tubes
I would look over the socket, clean it, and just buy new tubes
Most definatly.
Luckly all 9 pins stayed in the tube. Good thing about Mesa Boogie is that they're tubes have a 6 month defect warranty.