Custom strat, questions about further mods.
First of i gotta say wasup to all, this is my first post here...
About two and a half years ago i desided to rebuild my mexican strat. Heres what i did to it...
- Refinished the body... stained, painted, added some vintage touches, and finished with nitrocellulose laquer.
- Relocated the output jack to the side.
- Custom built a pickguard out of lexan, painted it black (from the inside).
- Installed two humbuckers, (seymour duncan screamin deamon on the bridge, and a classic 59 on the neck)
- Installed four 500k pots (2 volume, 2 tone) a three way selector, and a three way coil split.
- Added some black straplocks, tuned the bridge to my liking, and i was done.
Heres a picture, its the only one i got on this computer.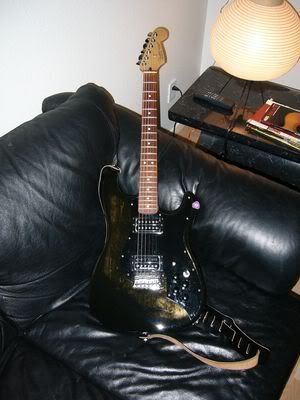 Future mods include a neck with an ebony fretboard...
Now heres my question...
I was woundering if it was possible to build an onboard preamp with a small tube to fit inside the body. Has it been done before? Is it possible? Would it get too hot? Where can i get schematics for sutch a job?
I have seen many microphones with small tubes built in, so i figured its possible to do the same with a guitar, i hope im right, and hope sombody here can help me out...
Thanx alot
Igor
Last edited by vicovaludemerol at Oct 29, 2007,
Join date: Jul 2006
261

IQ
sweet.

i've never heard of an onboard preamp with a tube before. i'm guessing tubes' output impedance are too high? there are preamps using BJTs and JFETs.

my guess is, it wouldn't get too hot. but it might. there are lots of solid state preamps that can drive your whole rig.

Join date: Sep 2006
30

IQ
Welcome to the UG community

Join date: Feb 2006
10

IQ
i dont think its really feasible because of the voltages you would need to operate the tube. all you really have room for with an onboard preamp is a 9 volt and that wouldnt be enough power to run a preamp tube. there are some solid state onboard preamps that you could build rater easily that sound pretty good though.
Wouldn't a tube break quite easily inside a guitar? They're pretty fragile...
Join date: Jan 2004
233

IQ
problems with tubes inside guitars: They typically dont fit in any cavity, they get hot and are in a flammable material, you would need multiple 9v batterys to power the thing, and typically the tube preamps ive seen run on AC.

That being said im SURE its possible somehow.. but probably more of a headache.
More to the cons, I'm thinking that the pickups on the guitar might pick up some hum from the tube, is this wrong?
And since it would go hot, and the guitar is made of wood, you'd had to get it pretty far away from the actual wood.
Ok sofar the tube idea seems to be inpractical... next question... where can i get schematics for a small tube preamp that would fit on a pedalboard?
Join date: Jan 2004
233

IQ
diyguitarist.com geofex generalguitargadgets.. go to google and search for tube preamp effect