Attemped to wire killswitch. Problem! (pics included)
Alright, so i unsoldered my old killswitch in order to solder in a new one. But i have one problem. No sound coming out of the guitar, after i solder the killswitch in. Anybody know why? Help would be EXTREMELY appreciated!!
The two gray wires are hot and ground, and the yellow wire is just something that comes from a pickup, but i noticed it was soldered on my last killswitch, so i soldered it back there too.

Join date: Jul 2006
261

IQ
can u draw a diagram or something? cuz pics help, but i'm too lazy for tracing every wire.
Well, i know nothing about this, i just retraced what the luthier did with my previous killswitch. Also, i dont know where the killswitch's other end is wired to, but i know it's correct, since it worked with my last killswitch and i only unsoldered the side of the killswitch. here's what its like, i think:

Join date: Feb 2007
200

IQ
Maybe the yellow wire is a ground for the EMG.

Maybe it was connected with the other gray wire before.

Maybe the other gray wire is your ground and the one you have the yellow connected to , carries the signal.

Maybe the way you have it connected right now, is permanently killing the signal.

Maybe connecting the yellow wire with the other gray wire will solve your problem.


Maybe.
Alright, thanks someoneyouknew, i'll try this!

Join date: Jul 2006
261

IQ
well, how killswitches are supposed to be wired is: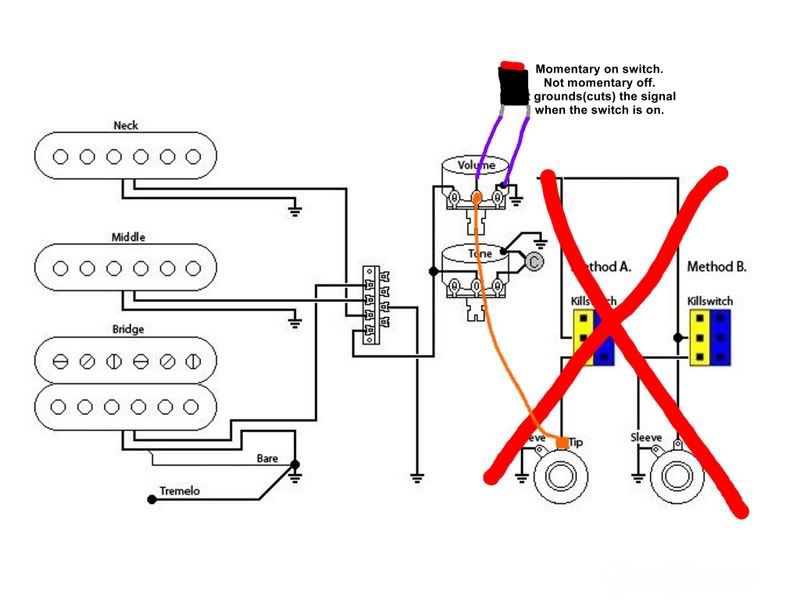 *please the 'X' because this was used with another thread.
basically, killswitch is a momentary on switch that shorts the hot signal from the pickups to ground. it's not a momentary off though.
Thank you both for your help, turns out i just had to switch the yellow wire to the other side. Thanks again a bunch!