my fuzz face with mods build
I think I'm probably the 38572034898457234st person to post a thread like this but whatever.. I'm still quite proud of my build

The board itself is practically finished.. gotta do some wire work for the grounds and some connections and I still need to drill, paint and wire the enclosure and then I hope I can enjoy some fuzzy Germanium goodness

some tech talk:
It has ye olde AC128 Germanium transistors, carbon composition resistors, audio grade Nichiden caps, alpha pots, switchcraft jacks and a true bypass switch. I've modded it to have a tone control and a voltage sag control so I can run it on anywhere between 0 and the regular 9 volts.
anyways here come some pics

all parts on the board but not soldered yet
everything soldered into place
the remaining parts for the enclosure wiring and stuff
a sh*tload of caps I got for free from a guy who used to build tube amps

it's got everything from orange drop and tropical fish caps to those friggin large and especially bloody dangerous 1250V and 2200mF caps

(just a fun pic to post, got not much to do with the thread

)
cool.
Planning on doing anything special with the paint on the enclosure, or just a solid colour?

Join date: Jun 2007
260

IQ
Cool

Wanna post a pic of your perf layout, with all the mods and such?
nice im gonna be building one with the fuller mod soon too.

what gain were ur germanium transistors?

Join date: May 2004
712

IQ
That is awesome.

Is the casing going to be round?
I haven't really decided what I'm going to do with the enclosure.. it will definitely have some sort of graphic on it but it's not very big so I need to design a good but small one. I might be printing the graphics on high quality photopaper (and I do mean HIGH quality, my dad works at Océ so.. ) and just stick it on and clearcoat it
the enclosure is from Velleman.. similar to those standard Hammond boxes.. and it's not round

oh well whatever

And the transistors are the Banzai matched medium gain set, I didn't really have a clue of how much it would be so I just took medium, probably more than good enough so..
Yeah sure I'll post a pic of the lay out as soon as I have time to make one.. I just drew it on a piece of paper and I already tried scanning it but it didn't work out that well because our scanner is a piece of crap

I'll draw one on the computer but it might take a while

it'll probably be Saturday or so
BTW I just found out that I miss the pot for the voltage sag mod.. misordered or something like that

anyways I'll have to put in the sag mod later then..
I'm off to school now.. thanx for the replies!

im gonna post the pic of my fuzz face here before you!!!

but mine's gonna sound better!!!

Last edited by Lauke_101 at Nov 6, 2007,
ba-bump (sorry for the double post btw...)
oh and an update:
been wiring everything up last saturday and now wiring is almost done so I can check if it sounds any good

Then I'll be drilling and painting/otherwise adding graphics to the enclosure and presto! one fuzz face

catching up!!!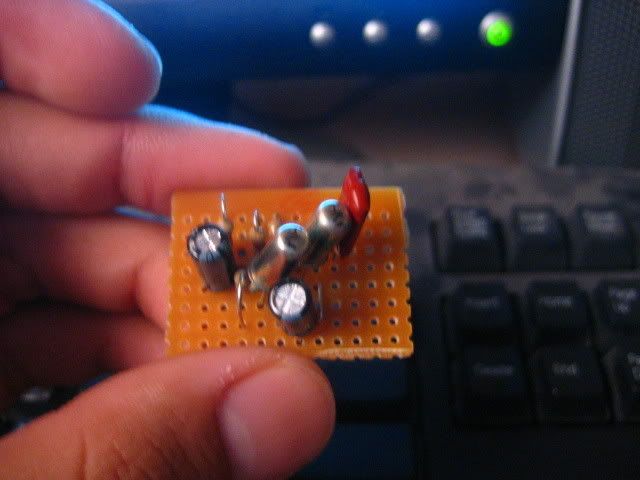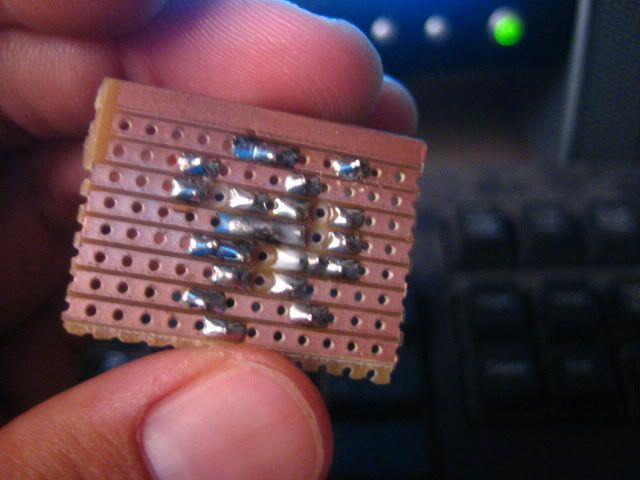 Join date: Jun 2007
260

IQ
Hahah nice EC. Can I have the layout?
update

(finally...

)
Finally, after more than two hours of stripping wires and stuff I have temporarily wired everything up

I do that because if something's wrong with it I now still have easy acces to it.. I'll have to take the pots off again once I put it all in the enclosure though..
I think even Spiderman couldn't make a web this complicated

(sorry

)
I haven't tried it out yet because my dad won't allow me to put power on it before he has made a final check..
Once he has done that and there are no problems whatsoever then soundclips will be up soon!

and then it's off to cramming it all into the enclosure.
Last edited by Lauke_101 at Nov 21, 2007,
nice man. i'm done too!!! these are pretty cool. when it's warm. right now, pretty cold here, it's uh... not fuzzy hahaha.