suggestions for repairing my guitar...
well usually i take really good care of my guitar (its a classical) but today i did something retarded and while walking with it i accidentally hit the side of it on the corner of a wall and put a small crack in it.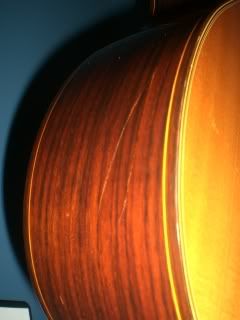 i was just wondering cause it doesnt seem like it did any damage and its still in tune but i dont like having the crack there. what can i do to fix it myself or how much would it cost to get it fixed. is it alright to have the crack there will it do any damage to the guitar?
thanx for any help
I say fix it, the crack can grow, it did on my guitar, and is superhuge now. It sucks.
alright but how should i go about fixing it would it be better to get it done professionally or can i do it myself?
I really don't know how to fix it, so if I were you, I would either learn how to fix it, and do it, or just go to a pro.

Go to some guitar store, and check how much you'd have to pay to fix it.