The Wonders Found in the Depths of Ebay
My fellow pitmonkeys, I come to you with a proposition...
Ebay is the world's largest online marketplace. People from all over the world sell many strange and intriguing items. During my time spent frolicking through the virtual isles of Ebay, I personally have witnessed the attempted sale of an air guitar, a fart in a jar, and various other weird and mildly amusing objects.
And now getting to the point of this thread!
Go forth unto the lands of Ebay, my friends, and return with tales of unusual and amazing items which are up for purchase. Please include the following in your post:
A short description
A picture
The current cost of the item
And finally a link to the page where you found it
To kick this thread off with a bang, I have discovered the ultimate in "Shoop da Woop" accessories... I bring before you
Statua Oxolite L'URLO
(It's in another language).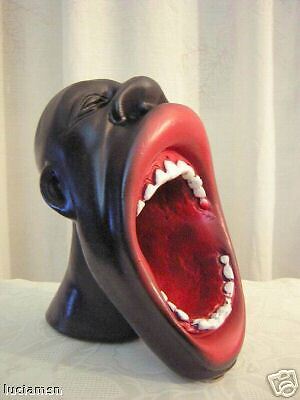 I believe it is safe to say he is charging his laser.
For a measly 19.90 Euros this sculpture could be yours!
Here is where I found it,
http://cgi.ebay.com.au/Statua-Oxolite-LURLO-Moderno-soggetto-di-arredamento_W0QQitemZ140176540984QQihZ004QQcategoryZ355QQssPageNameZWDVWQQrdZ1QQcmdZViewItem
And I wish to confirm this isn't spam. I am not the person trying to sell this item, and am in no way affiliated with them.
So what are you waiting for?!?! Get to Ebay, find some funny/unusual stuff, and post it!!!!!