Purplestain's and Professor Fate's Flying V Build
Myself and Dr. Fate here, attend the same school and must build a guitar for our final physics project. Here we will be posting our ideas, pictures and thoughts.

It will be a bolt on V.
The neck is pre-bought (Off an old beringher, cuz we are short on money), and we have a block of Ash. We must also build our pickup completely from scratch, which will be a challenge, but we already have many ideas. Very excited to start working on it, and looking forward to everyone's feedback.

Much love,
Purplestain.

Any suggestions or comments, feel free.

Join date: Jan 2005
100

IQ
damn dude, wrapping the wire around the pickup will take many hours

Join date: Oct 2007
400

IQ
Make a Pickup winder, there pretty straight forward.
Idk if u wanna do this, but buy a pickup winder off of Stewmac.com. I think u can use it to get an idea of what u need to build a winder. And Stewmac.com also has kits for humbuckers and single-coils with unwound bobbins.
Maybe you could make your own kind of tremolo? I'm sure that would get you lots of points

a homemade trem would take wayy too much time, and we only have about one and a half months. tried posting the pics, yet had some trouble, will be posting them soon. Our wood may be a little shorter than normal flying-V dimensions, so it's probably going to be a mini-v. sounds cool?
If your block of wood's too small for a full-size V, perhaps you could get one full size fin and one smaller fin out of it? Like Randy Rhoads Vs.

Join date: Oct 2007
30

IQ
Sounds awesome dude, I can't wait to see how it goes.

I'm probably going to be doing a similar project when I take woodworking next year.
sounds like a really good idea. i think we may have to go w.a randy rhoads v just for tonal properties, other than that, building our own pickup's going to be hard. does anyone have any websites for making a winder from extra household items? because we dont have the funds to go out and buy a winder.

Join date: Nov 2005
10

IQ
thanks for the help guys. the counter really helped, just building our winder now. any more suggestions would be greatly appreciated
What type of magnet are you using for the pickup? Or are you just going with the stew-mac kit?
we're using a Neodynium-Iron-Boron Magnet. We bought it from Efston Sceince in downtown toronto. It's a rectangle big enough to be on the bottom of a pick-up.
heres the progress on the pick up, and the block of untouched wood
sorry bout the photo of the wood, didnt fit proportions of photos allowed, but thats the whole piece
let us know what u guys think,
please not the pickup doesnt have the magnet glued to the bottom yet.
the frame of our pickup was built today (/\ Pics above) and it took us a good hour on the dremel. it looks nice and polished now and ready to by glued together
Are those just really big screws or is your string spacing a bit close? Neodynium magnets are pretty hot, so it shouldn't take as many winds as a AlNiCo magnet.
they're pretty big screwes, but i kinda messed up drilling holes. new update we got the pickup to work, unfortunatly i ran out of wire so i had to do 350 coils of 0.1mm wire and electrical taped it, hooked it up to a volume knob and straight to the amp, and it works, mind u i had to place it infront of a guitar as our body isnt routed yet. so thats one down.

Join date: Jun 2006
411

IQ
your physics project? surley you mean product design right?
no, surprisingly enough our physics project. pictures of the pickup should be up within the hour. It work's very well. We also finished dry wiring the setup and everything works. Now for the woodwork. We decided to go with a Randy Rhoads V. Going to be a little smaller than to scale, but it's going to look fabulous.
What's the DC resistance of the pickup? Neodymium's a pretty cool thing to use, it's high output and high clarity, so it's good for uber-hot metal pickups.

And btw I also advise you PM the member CorduroyEW on here - he runs a pickup making business, so he should be able to tell you if you've done it right, etc.
Cool, looking good so far!
What finish are you thinking of?
Here's the shape of our V sanded and smooth, with 80 Grit sandpaper and the neck cavity routed in so the neck slides nicely in place.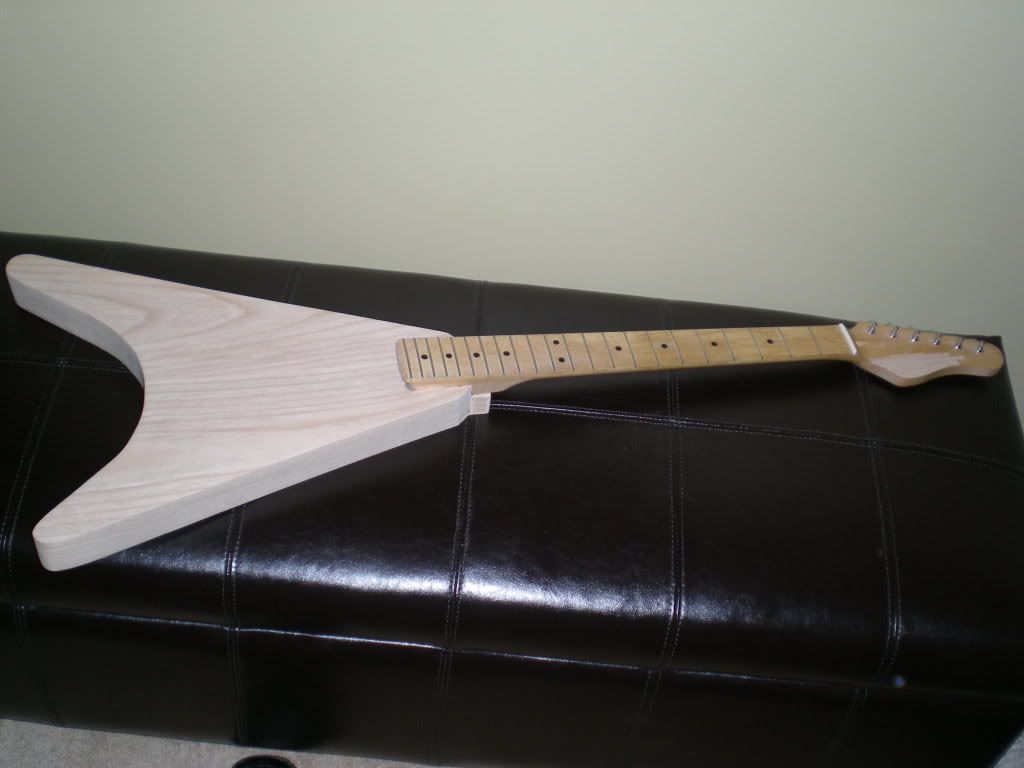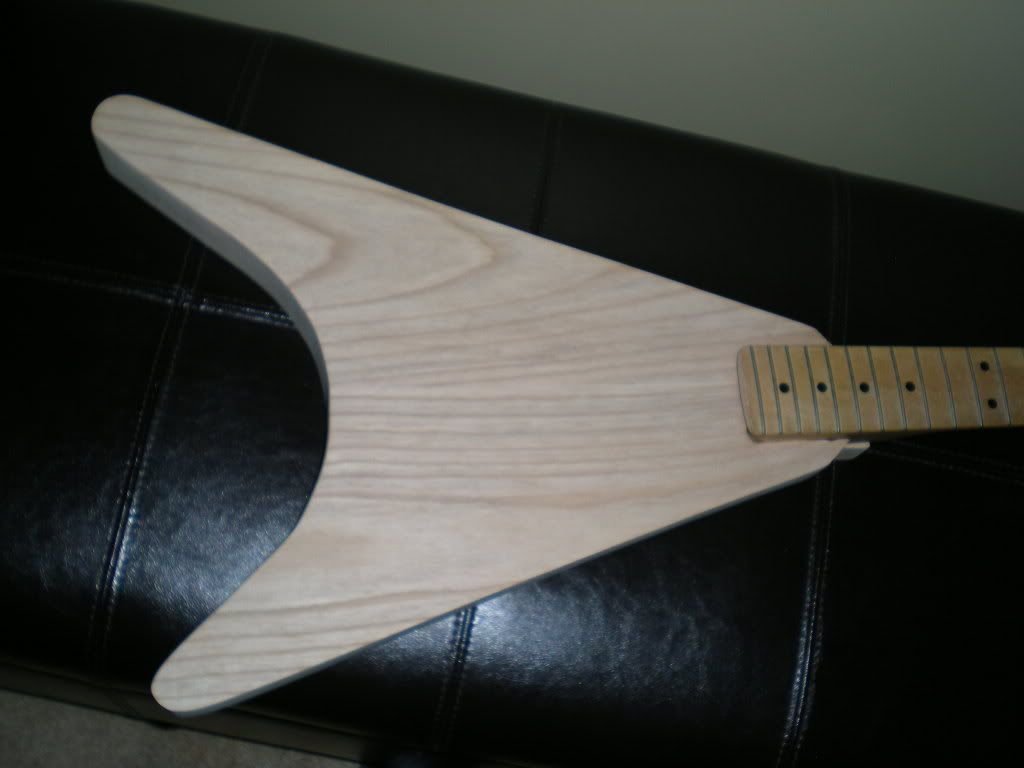 Hope you like.
Lots of work being done this week so KEEP POSTED!
You know where you bought that wood? Looking to do something similar. What color are you planning ?
we have no idea what colour or finish we're going to put on the body. Prf. Fate got the wood, I'll ask him and let you know, but it's ash just incase you were wondering.
To be honest, I don't really like the round shape. But it's not my project, so whatever

Nice piece of ash though..
I personally really like the round shape, thats one of the nicest V's I've ever seen (shape wise).
we have no idea what colour or finish we're going to put on the body. Prf. Fate got the wood, I'll ask him and let you know, but it's ash just incase you were wondering.
Thanks. If I could suggest something I'd make it maybe a dyed top with natural back?
I personally really like the round shape, thats one of the nicest V's I've ever seen (shape wise).
+1, normally im not much of a V fan, but this type is REALLY cool!

Thanx a lot guys. dyed top w.natural back is a good idea, i'll suggest it. But we wont be doing finished probably until next week, so we have a while to decide
purple's a little too psycadelic... we were thinking of maybe a red dye... it'd be different
hey i got the wood from a place called "century Mill" up in stoufville ontario... they have all kinds of wood, this is actually two pieces glued, but i recall they had honduras mahogany thats one piece good for a guitar at
http://yellowpages.ca/bus/Ontario/Stouffville/Century-Mill-Lumber/341260.html
and there is also exotic wood.. i think thats the name of the company, they ship premade pieces from AAA quality wood.. decent price for a blank compared to stewmac.

Join date: Dec 2006
40

IQ

Join date: Jun 2006
30

IQ
Probably very comfortable to your right leg when sitting down. Keep up the good work.
Thanks for the answer PF!
+1, normally im not much of a V fan, but this type is REALLY cool!
+1. I usually don't like V's much, but this one looks pretty awesome.
ive seen this thread alot of times but for some reason i didnt click it but here i am, and im impressed, thats a unique looking V and its very very nice,im not a fan on V's but i'd buy that.
Thanks for the support everyone! It is a weird looking V, but a beautiful one for sure! We're almost finished routing the bridge, pickup and switch cavity. Pictures posted by the end of the weekend. Still undecisive of which colour to stain it. I was thinking an orange might look nice. Any suggestions?
I think a nice amber/orange would definately look good.

Maybe you could match the headstock too?