Marshall JCM800
Im looking to buy an older one off ebaay, but all of em' are from the 80's. Is this toooo old? Will it still sound good? I don't wanna spend 600$ On an antique that sounds like crap. I'll be playing Classic Rock and **heavey pantera like metal**, so will it be good for this?
Last edited by Pinky19 at Nov 9, 2007,
No, it is not too old. Yes, it will sound incredible. Yes, it is perfect for classic rock and hair metal but you might need an OD.
probably want to check when the tubes were last replaced
Sorry, I didn't mean hair metal, I meant heavey, pantera like metal. And Megadeath.
You will want an OD pedal for heavier stuff. As said, check how old the tubes are, also make sure the transformers are stock. just make sure theres nothing funky about it.
Transformers? If they are not stock, then what do I do? What will them not being stock do? Can you name me a good OD pedal?
Transformers? If they are not stock, then what do I do? What will them not being stock do? Can you name me a good OD pedal?
If they're not stock the amp will sound different, possibly a lot different. The stock transformers that those amps came with (drake) are thought highly of, they sound good. Also if they're not stock, the amp will decrease in value significantly, I doubt a JCM800 with different transformers would sell for more than 500.
As for OD pedals, tubescreamers, fulltone OCD and Fulldrive 2, boss SD1 or BD2.
So the transformers should be Drake?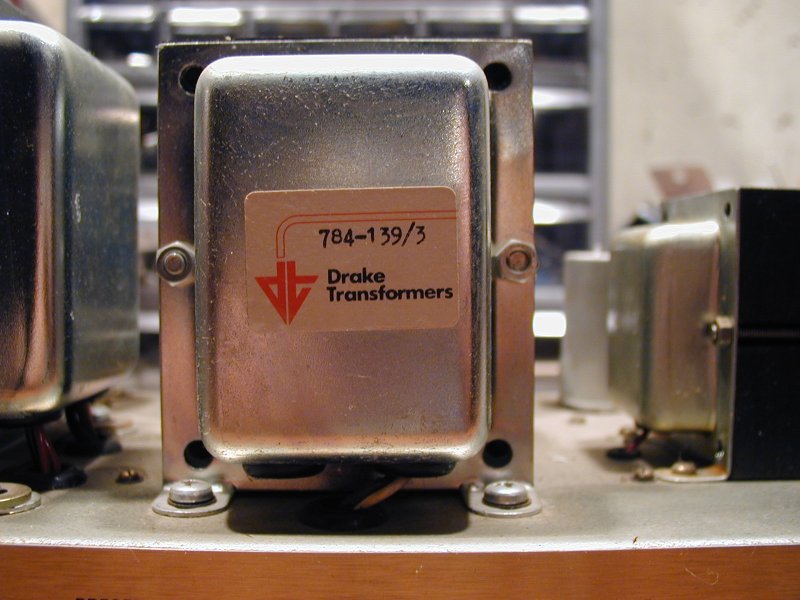 Yes, the label should look like that.
its quite possible you saved me a ton of money.
Are you saying that it doesn't have drake transformers?
Are you saying that it doesn't have drake transformers?
I haven't found one yet,but I never knew about all this stuff. So I might have bought one without asking =) Is their anything else I should look for? LIke a certain type of tubes or something?
Nah, tubes are changed periodically and the stock tubes will be damn near dead if you find one with the original tubes, but even if you do, its not big deal because tube changes are very common.

I forgot to mention one thing, depending on the year of the amp, the transformers should be drake or dagnall. Drake are the more coveted ones but a JCM800 with dagnalls will still sound very good. Just make sure its either of those brands because those are what came stock, anything else means the transformers have been replaced and the amp decreases in value.
I meant if there was a type of tubes that should be in it for the best sound.
NOS (new old stock) tubes are preferred by a lot of people, but they're expensive and can be hard to find. I use JJ's in my amps and a lot of people on UG like them, TAD is a new brand that impressed me, but I haven't played them enoughto form an opinion.
I checked out you Surf-O-Strat, very nice. I want a srat like that one day. And when you say a "tad" expensive, is that a few hundred, or what?
also, should I get it as a head and cab, or a combo? Were are the tubes at in the seperate pieces, and how would I connect them? Im sorry for asking so many questions, but wasting alot of money doesn't seem like a good idea.
Thanks, I'm really happy with my strat.
I've never seen any NOS tubes go for that much and personally I wouldn't even spend my time or money on NOS tubes. It's not worth the difference. JJ's are really nice, the guy who sells them online (
www.eurotubes.com
) is very smart and helpful. They sell full retube kits for like 70 bucks, you can email him and get a specific kit for the sound you want and he won't charge you extra.
K, but still. Combo or get them seperate? I like the look of having them seperate, but I don't know if it would be to hard or more difficult than a combo.
It's personal preferance whether you get a head or combo, they're both nice. A combo will be easier to transport. A head an cab is more flexible, if you will. It's easier to use different speakers, more speakers, etc. You can connect a cabinet to the combo though. Basically whatever is easier to get and/or whatever is cheaper. Thats how I would look into it.

As for tubes, there are no tubes in the cabinet, the tubes will only be in the head or if you get the combo they will be up in the top of the amp hanging down. You connect the head and cab with a speaker cable and the tubes just stick into they're sockets on the amp, they literally just pop right into place.
I checked out the eruotubes website and read something that made me cry: It was people asking about how to get high gain at low volumes. My amp right now will be for practice in my room, which means low volumes. But later I will want a gigging amp, meaning this, and I'd love to get it now to have some good sound, but I like distortion. And I like low volumes. Does this mean I should get a really low watt amp? Or will this work as long as I get a pedal? Im such a nub at this, and it annoys me.
You can stil get great overdriven tones at low volume. The amp has a master volume and can get some pretty serious gain on its own at low volumes. With an Od pedal you won't need to worry about gain, trust me.
its quite possible you saved me a ton of money.
If it's a 50w Marshall it should have both a Drake choke, and Drake transformers.
If it's a 100w Marshall it should have a Drake choke (the small one), and Dagnall Transformers (look for the "DE" symbol for Dagnall Electronics)
This is the way Marshall's have always been for the most part. Drake & Dagnall Transformers and Chokes are both highly regarded. Even in Hendrix's day he had Dagnall & Drakes in his 100w Marshall's.
I woulld be willing to bet that the transformers and choke in the amp you are looking at are original since those things last forever.
You guys have helped so much =)