"The Requisite" - British 5 Piece Rock Band
Update
New
Myspace
layout! Check it out and let me know what you think.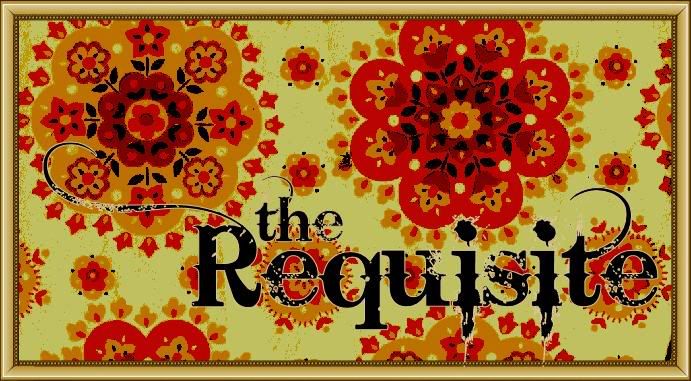 We are
The Requisite
, based in Derbyshire of the United Kingdom. We've been going for just over two years now, and have started recording our first album. We've currently recorded five songs (three of which are available at the above link, one of which is available on my UG profile only!) and plan to record at least five more this christmas. Our sound is pretty much straight up rock; aspects of classic and modern styles, a nod to 80's metal (most notably
Iron Maiden
), with elements of pop - mainly in the form of our vocal harmonies, which we always strive to re-create live.
Choose your prefered website:



MySpace

/

Facebook

/

UG Artist Page
(Don't forget to add us as a fan on MySpace/Facebook/UG!)
The reason we've divided up the recording sessions is because we're all based in different universities at the moment; which is also the main reason we don't have many gigs lined up. We intend to get more serious and perhaps give it a shot when we're all done with learning, but until then the songs are just for our and your listening pleasures (or not, as the case may be!).
Band Members:Lead Vocals
- Edd Ingham
Guitar and backing vocals
- Matt Mason (Me! I generally take most of the lead parts)
Guitar and backing vocals
- Alex Rennie
Bass
- Alex Botting
Drums
- Jason Smith
Track listing:
SmallTown - Written by Alex Rennie. Kind of pop, almost pop punk, chorus harmony is the hook here.
Nothing Wakes You - Written by Matt Mason. Darker than most of our other stuff, implements effects a lot more too.
California - Written by Alex Rennie. Our most "American rock" song, I'd say. Also pretty pop, with a bit of a classic rock edge.
Going Nowhere - Written by Alex Rennie. Our power ballad! Simple, straight love song. Only available on my UG profile!
Wasting Time - Written by Alex Rennie and Matt Mason. Another much darker song, with a rather defining erie intro. Will only be available on the album.
+ 5 tracks or more to be recorded soon
If you wish to crit individual songs, visit the three links in the bottom of my sig (however, I can be incredibly lazy in my crit return... don't get me wrong, I will get round to it, but you may end up waiting a few days. Just a heads up.)
Last edited by Mathamology at May 12, 2008,