wininit.exe owned me
processlibrary.com :
Description

wininit.exe is added to the system as a result of the WOLLF.16 virus. It is a backdoor Trojan horse allows unauthorized remote access to an infected computer.

Click to run a free scan for wininit.exe related errors.

Recommendation

Disable and Remove wininit.exe IMMEDIATELY. This process is most likely a virus or trojan. It is highly recommended to Run a Free Performance Scan to automatically optimize memory, CPU and Internet Settings.

Result:
Well, first of all, the SYSTEM was running the process, not my username. But I was getting latency problems, so I decided, "What the hell!" END PROCESS.
/blue screened
the blue screen wasn't even working either, I got like 4 lines of words and not the whole package, lol.
PULLED TEH PLUG

What do you guys think?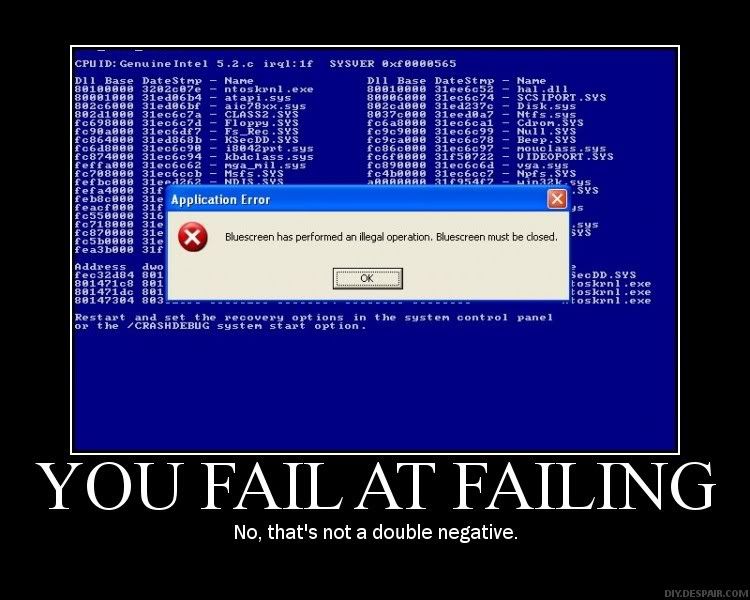 This feels appropriate.
More like LOSEinit.exe!
Hilarious.

Join date: Jun 2006
657

IQ
Whenever I get a virus, I don't trust the warning telling you to download free scans because 9 times out of 10 that is spyware. Stick with the anti-virus that you trust and everything should be fine.
Join date: Mar 2005
20

IQ
backdoor trojans are my fav, i dont know what you are complaining about

Join date: Mar 2007
140

IQ
You didn't notice the bogusness? I get those pop-ups all the time. Maybe you should hire an internet babysitter who sits next to you when you go online, and tells you what's safe and what's not.

Or maybe not. Looking up porn would potentially be extremely awkward.

Join date: May 2007
36

IQ


Or maybe not. Looking up porn would potentially be extremely awkward.
ahaha "uhhh, maybe you could leave and i'll take it from here for a few minutes. like just sit outside and ill yell for ya in a few"