guitars
Im selling my
Schecter S1-Elite
Its in like a next to mint condition, theres no scratches and its been taken care of.
Theres nothing wrong im selling it cause, theres a sale at my local guitar shop this friday, and my paycheck isint alot this week. Im looking to buy a Schecter C1 Hellraiser. With the 81/85 combo and lighter feel to it.
If your willing to trade a hellraiser that could work but im looking for cash.

Epiphone Lespaul
Its got a few scratches but is still in a nice condition, it has a problem the back pickup doesnt really get any sound on distortion it only gets a low clean, ive heard that it could be the pickup or a wiring problem, but i have not the slightest clue. Ive never went to check it out on the account of after i bought the les paul i started playing death metal.
Other then that its an awesome guitar as im sure everyone knows. Im looking to sell this or trade it for anything of equal value thats more geared for metal. But again i perfer cash. This item comes with a hardshell case, strap locks, and black gibson strap.

I also have these items on another couple of forums, as for i need to sell them quickly. So if one of these sells ill post. I hope everyone is interested.

Join date: Mar 2005
10

IQ
Some indication of where you live?
united states sir

a small state called Connecticut
what are you asking prices? maybe post some pics because that will be the next request from someone
Trade this for the Epi?
Peavey Nitro Made in the U.S.A. custom painted... EVH style.
Im kinda looking for cash so sorry for no trade.
Heres a picture of the epi...
and theres the picture of my schecter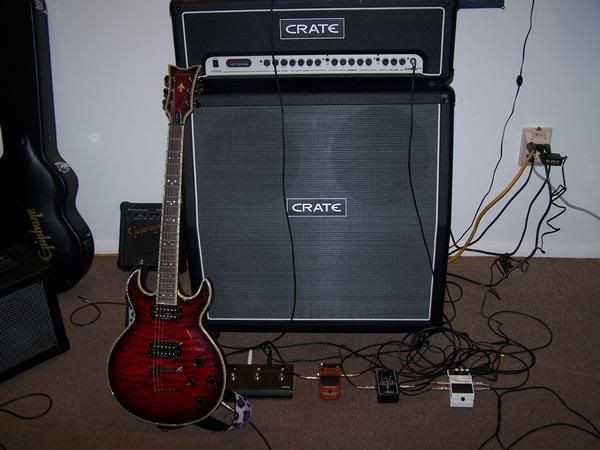 I can throw in $100 cash... But if not, good luck to you.
yea man i dont think i want it

Join date: Mar 2006
51

IQ
how much for the schecter?