******** action
so i just recently decided to stop using uber-heavy gauge strings.

so a week ago i changed strings, regular guage, now when i play my 15th fret on my A string, its dead, no note, just sort of the 16th fret note.

then, also now right around the 14th/15th frets on the g/b/e strings, i cannot bend notes, or they die.

obviously its my action....right? so how does i fix this?

its and Sg style guitar btw, w/e kind of bridge is standard for those.
It would involve truss rod adjustment. seeing as you don't know what you are doing, get it done in a store, and ask to watch so you can do it yourself next time.
if you went from really heavy guage to regular, your intonation i think needs to be adjusted
first try raising the action at the bridge.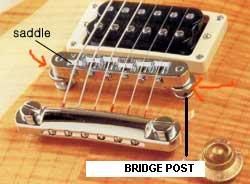 detune a bit. loosen the screws on the top of the bridge post. then you'll be able to raise the thumbwheels, pointed to by red arrows. then tighten it all up again.
awww not again, i hate this guitar, also, would the weather have anything to do with it? cause it just recently went from nice and warm to mind numbingly dry cold.
no, it's because you changes string gauge.

so you try to raise the bridge a little and then if that doesnt work, repost.
i did that, its not working.
actually now everything is buzzy i think i killed my guitar.
ok then fret the Low E first fret, at the same time
fret the Low E last fret, where the neck and body meet.

with both places held, look at the middle frets, 7-9th.

if the string lays on the wire there, you dont have enough bend,.
if the string is more than a credit cards thickness up from the wire there, you have too much.

measure and repost.
yeah they're either on the fretwire or about a teensy away out of it.

i'm saying out cuz it doesnt look like theyre touching
see the really heavy strings pulled the headstock very tight, so the neck was bent like a banana.
once you released all that tension by swapping for lighter strings, it relaxed straight, and the strings are really close to the wires and buzzing.

are you comfortable with making a neck adjustment?
don't think i have the tools, plus i have anxiety and i'm not qualified enough to be trusted with a lego building.

thats a no
LAf, ok well it's just a very short 1/8" counter clockwise turn of the truss rod nut, by an allen wrench, after you detune the strings.

if that seems really out of reach, then heavier strings will help bend the neck again.
also, there's a chance some of this buzz is coming from the deep cuts in the nut made by thick strings, so there's that to look at as well.

repost if you change ur mind and decide to adjust something.
well i'll probly be able to do that tomorrow night cause i'll have gone to my moms and have my tools there.
ok well make sure to detune first.

dont force the turn. and just make the 1/8" turn, retune if you wish, and then let the guitar sit an hour before you remeasure.

remeasure and if needed turn the nut again 1/8" counter clockwise, after detuning.

retune, and let it sit an hour to see how it sits for you.
oh sicksick i just finished tightening my strings so i can practice today, my bends are working now, its just the a string dead note deal now, so even though she ain't poifect, i'm pretty content.
ok cool, hope it works out.

if you have about $25 go get your guitar set up at a shop if you dont want to do it.
if you have about $25 go get your guitar set up at a shop if you dont want to do it.
its funny you mention that, at my local GC they charge you 70 bucks to do a full setup.