Ibanez Painting
Hey guys idk if you are old enough to remember the custom shop series of Ibanez RG's but here are some pictures: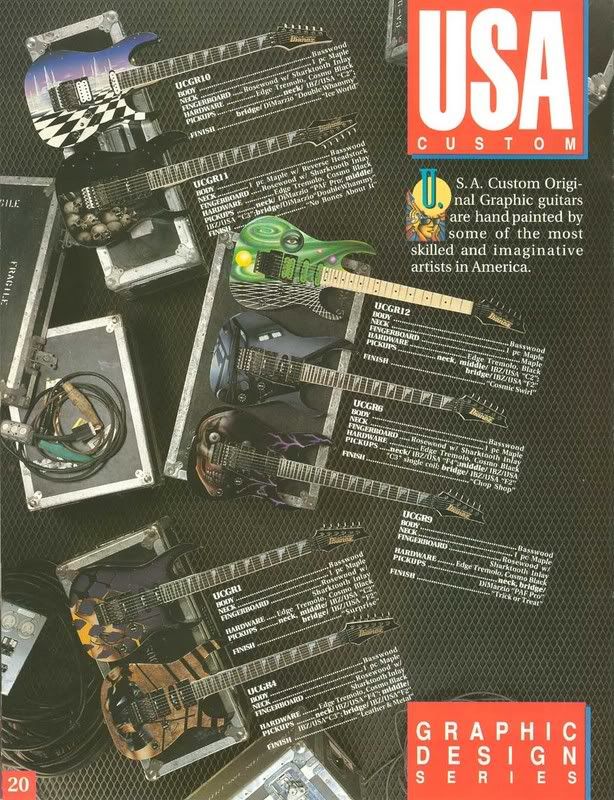 Anyway do you know any company or independent person who would be able to paint something like that on my guitars?? Im looking for someone form Cali or US generally price range is ok if its under $700
Ah, colourful guitars...I miss the 90's...

A lot of custom shops would probably do it. Just look for guitar luthiers in your area. If you're in california, that's a huge advantage.

If you can't find any, then just get anyone who's experienced in airbrushing to do it. It's the same technique regardless of what you're painting: cars, computers, guitars, etc.

Just look in the phone book

Join date: Jan 2007
110

IQ
back when ibanez' werent all blue or black
Hmm it seems that there are no luthiers in my area (SD), so do you know any big companies that do custom airbrushing on guitars?

Join date: Mar 2006
418

IQ
Many places do it, just find out a semi-big luthier (like wayne charvel's new company? Wayne guitars).

Also if that SD means san dimas. . charvel?
SD means San Diego - Carvin :P

Join date: Jun 2006
140

IQ
you could easily find an airbrush artist at a car parts store or get a recommendation of one.
So i talked to some airbrush gurus at my place :P and they said they can do it, but my only concern now is that dont you need some special kind of varnish or something on your guitar so it doesnt peel off or flake??!?