Dean Dimebag Razor Yellow Devil
Well, it showed up this afternoon! I was so excited to pop open the box and then I saw a hole about 2" around in the case!!!!!

I thought to myself OMG the guitar is trashed. When I opened the case the hole was no where near the guitar itself and it was fine.

I called MF right away and there was no way I could return the case for a replacement because they just do not have any in stock. They gave me a discount so I guess I will live with the hole and maybe try and cover it or get it repaired. I'll post a better review and more pics laterI just want to play it for a few hours.LOL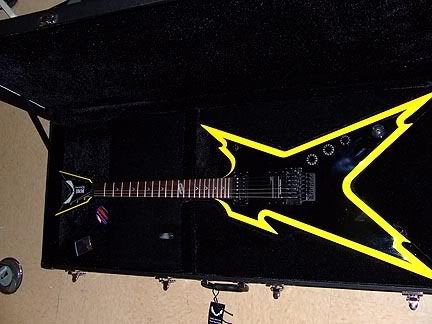 Case Damage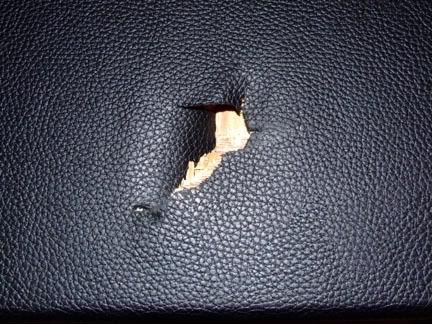 John

Join date: Jun 2005
121

IQ
Congratulations I guess?

Well, alright then. Thank you for sharing
I'm not a huge fan of Razorbacks, but that one looks pretty cool.
So, how many guitars do you own now? 30?


Join date: Dec 2006
205

IQ
congradulations on getting your hole, and I'm sorry about your guitar.

Join date: May 2006
40

IQ
something about the sharp edges scares me. i always feel like that would be dangerous onstage. imagine you spin around or something and stab someone in the nuts with that thing. hahaha

Join date: Aug 2007
90

IQ
I love Razorbacks. IMO they are beautiful guitars. I would get a 255 for myself though. Not too fond of the dimebucker. But they all play like a dream.

Join date: Dec 2006
30

IQ
Well, my fingers are bleeding so I had to stop playing. LOL I heard people say the Dimebucker was muddy I do not hear it at all. This guitar screams. It definitely needs a decent set up the factory settings are not all that great plus it probably got bounced around during shipping.

I will post some detail pics in a bit.


John
Just duct tape the hole in the case, that way it gets fixed, re-waterproofed, and looks badass
Duct tape, the 21 century cure all! LOL I buy that stuff by the case!


John

Join date: Oct 2007
40

IQ
That is one sick looking razorback. Congrats on buying it, keep it well.

Join date: Aug 2007
90

IQ
I once made a guitar completely out of duct tape and rubber bands. It didn't sound so good... but ohh man was it comfortable.

Join date: Sep 2006
60

IQ
I already have several V type guitars and when I saw the deal they gave on this I just couldn't pass it up. For a while I thought I was shut out someone must have either refused shipping or payment didn't go thru and I got thier guitarinside was the original packing slip with another name on it. I like Pantera and Dime but not a huge fan and I didn't buy this because Dime's name is on it but the fact it was limited to only 100 copies it came with a print of Dime's original drawing, Case and Wall Hanger. I thought this guitar was going to be heavy but it's a decent weight for it's size.
Here are the pics I promised: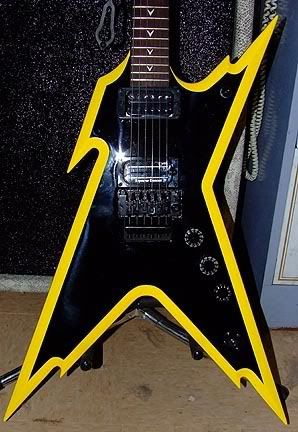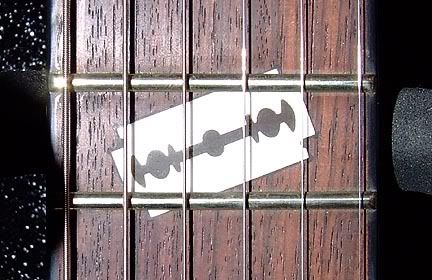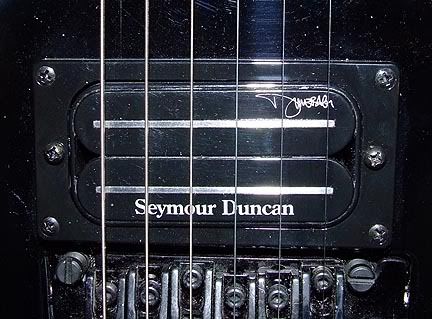 This is one of those guitars you should use caution with like running with scissors! LOL :stickpoke I have to say it really sounds better than I expected. From what people said about the Dimebucker.
John

Join date: Nov 2006
190

IQ
Wow , looks awesome.
The yellow edges are good as a warning sign that you shoulf be careful swinging it around and ****.

Dude that hole isnt too bad , just glue it or something.
It IS a case after all , it's just supposed to shield the guitar .
Well at least the case you got was big enough for the guitar.