Lets see your studio

Join date: Jan 2009
3,299

IQ
timbit's current shit studio
My studio is extremely ****y. I recently had all of my cables stolen from me so all I have for XLR cables is one 10 footer. Not included in the pictures is a Kenwood amplifier and a Behringer 32 channel mixer(Can't be bothered to remember the name right now.)
You have no idea how hard it was to take this picture... Webcams...
I use Cubase AI4 as my DAW. It's pretty much Cubase 4 but with an AI before the 4. The two speakers aren't connected at the moment as my Kenwood amp needs a couple capacitors replaced so the left channel will work properly.
My mixer is a Yamaha MW10C. Honestly, at the price point and what I wanted to do, if I had my current knowledge I would've gone for an 8 input firewire interface and bought a used mixer. It can do two channels recording at a time, I just have to split them to the Left and right. I found drums easy to do with this setup using three mics. Two overheads on the left and right then the kick mic right down the center.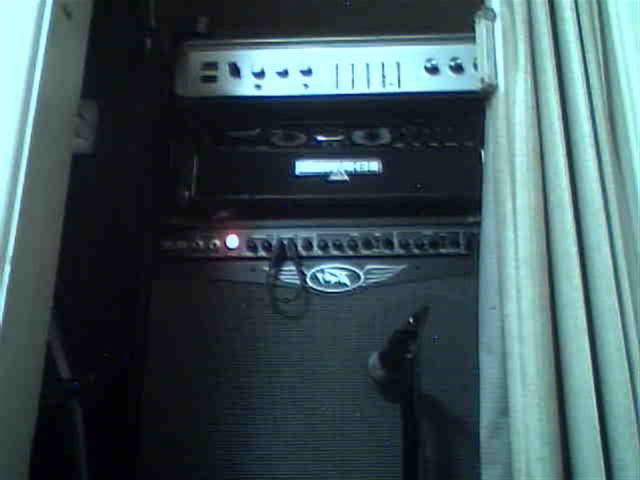 Here's the top half of my amp closet.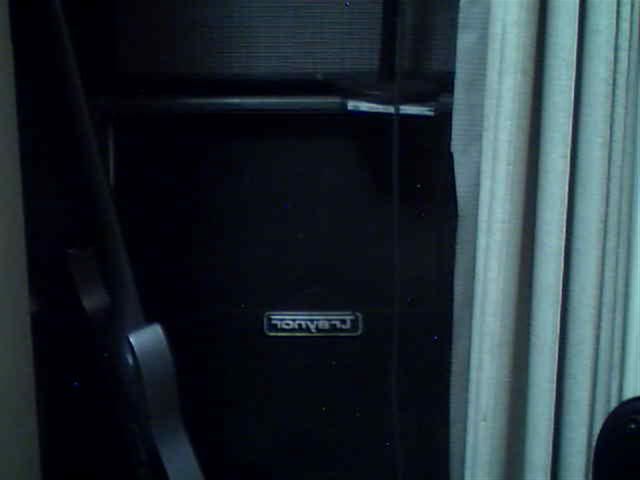 ...And there's the bottom half.
The Behringer head is currently connected to nothing. I was using it as a headphone amp. The top silver head is a Traynor G-3. It's my main amp even though it's sketchy as ****. The top plate for the amp is missing so you can see its' bare circuitry. It's connected to the non-original Traynor cab shown in the second picture.
The Valveking is cool. I like it.
The mic pictured is a Shure PG48. Normally I use this mic paired with a condenser but unfortunately all my cables were stolen and now I have one.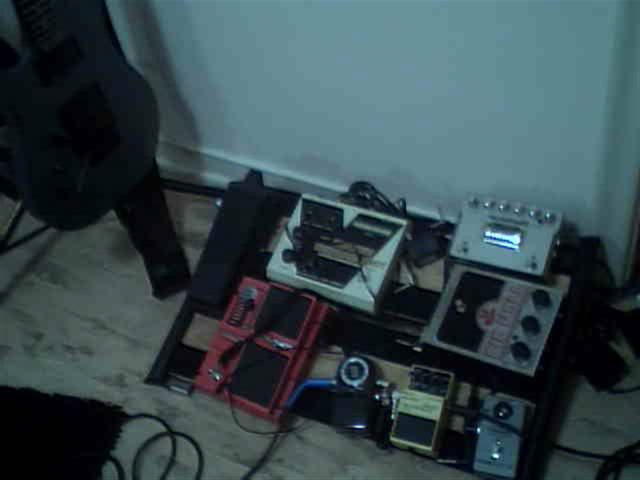 Lastly, here's my pedalboard. I really only ever use three pedals on it. The Boss Dual Overdrive, tuner, and Blackstar HT-Dual. I love the Blackstar pedal. It's perfect for silent recording. I take the line from the emulated speaker output on it and go directly into my mixer. Beats the shit out of Amplitube any day. I also have a '77 Ampeg VT-40 but I left it back in my parents house in my home town when I moved. It needs capacitors replaced in it and I cannot afford to do that any time soon. I love that amp to deth.
I haven't really had any gear upgrades for about two years now, just had gear taken away.
My studio itself is 3/4s of my bedroom. The other quarter is mattress. Quite a downgrade from my old studio at my parents place. I had two large rooms, one was my bedroom and across the hall was my jam room. Computer was in the bedroom and the noise making stuff was in the other. I even had a couch. It was awesome.
And there's my computer. I built it myself last year. I'm going to half-ass the specs.
16Gb RAM
Six Core AMD Processor
EVGA decent graphics card
360GB HDD(For OS and recording programs)
2TB HDD
1TB external(Power adapter was stolen so it's out of service until I can afford a new one)
By the end of 2014, I have a goal to complete my studio setup allowing me to record 16 tracks simultaneously. Probably sinking 1200 into that setup which is a very reasonable goal.
I really half-assed this whole post. I wanted to post it so when I do get my actual studio setup, I can look back and laugh at how terrible my current setup is.