Lets see your studio

Join date: Aug 2008
30

IQ
Here's my gear:
Click on the thumbs to bring up a bigger image.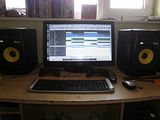 KRK R6 Monitors (active) and a 24" Technika TV which is serving as a monitor. Using a wireless keyboard and mouse and the picture from my macbook feeding in with a VGA cable.
[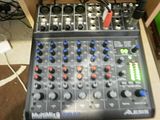 This is the desk I'm currently using. It's an Alesis multimix 8, it works as an interface via USB, 4 XLR in and 2 stereo channels. The TV feeds into one of the stereo channels at all times so I can use my monitors with my playstation.
[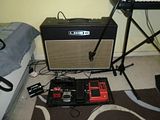 Amp & Pedals. Using an SM57 for recording guitar at the moment, sounds great with the music I'm making at the moment.
This is a cheap Behringer condenser that I've been using, it's by no means a pro mic but it's served me well as a back up and I've gotten a fair share of good recordings from it.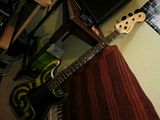 A cheap squire bass with a ridiculous paint job my mate inflicted on it when it got left at his house for a while. It looks like ass but it's got real personality and it doesn't sound bad at all after processing. On the Desk is an Xdirect D.I box, a handy piece of kit as kit due to its low pass filter.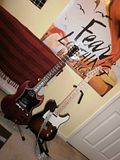 Obligatory guitar pictures, Gibson SG special in faded cherry and a USA telecaster in sunburst with a maple neck. Couldn't really want (or afford) a better combination at the moment

Also not in any pictures is an old yamaha keyboard with MIDI ins and outs which I'm using as a controller at the moment!