The Ultimate Bass Forum FAQ
Hello everyone, I made a thread for this question, but deleted it because I decided this is the best place to ask. Basically, my intonation is off, when i fret the 12th fret, the note is sharp when the open string is in tune.

From what I understand, I should be able to fix this by moving back the saddles. I tried that, but even when I move the saddles back as far as they can go the note at the 12th fret is not changed at all and remains about 1/4 step too sharp. How can I fix this issue??

I need my bass to be in tune all along the neck
This problem is not at all uncommon to electric basses. Fear not; for all is not lost.
First, what kind of bass do you have? Some basses (Ibanez makes a lot like this) utilize bridges with very little room for saddle adjustment. This is often the culprit for the problem you describe.
If it is, then there is an easy fix - but you do have to shell out a few bucks for a new set of strings.
What you do is, you buy a set of Tapered Bass Strings. These are strings that have a "bare wire" end on the wound strings. They look like this: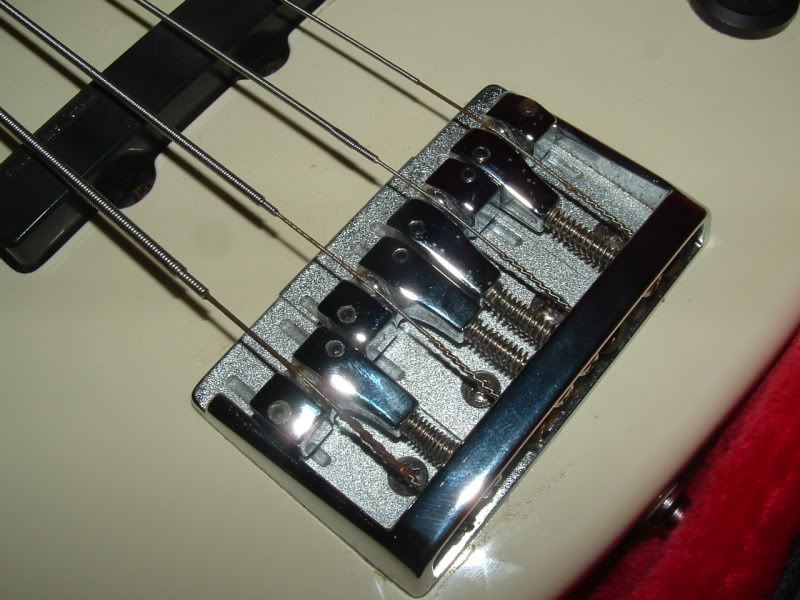 These allow for more precise intonation settings. Put a set of these Tapered Core Bass Strings on your bass and adjust the intonation. You will be surprised how easy it is to to it with these strings.
Now, what if you decide that you do not like Tapered Core Bass Strings? No problem. When it comes time to change the strings again, you just go back to your old style of strings. But then the intonation will be off, you say! Actually; no. It won't. It will still be spot-on. How is this possible? I have no idea, but I have done it to enough basses with short-travel bridge saddles to know that it works.
Most string manufacturers make Tapered Core Bass Strings. I recommend the Dean Markley SR2000 Tapered Core Bass Strings:
http://www.deanmarkley.com/products/by-subcategory/2-catalog/295-sr2000-bass
Last edited by FatalGear41 at Feb 7, 2015,