Q&A for string changing
question:
i just swapped my heavy strings for some mediums. well it sounds like my strings are touching some frets when i play. They are in tune (electric tuner). i know my guitar instructor messed with the bridge last year when he put on the heavy ones. should i raise my strings or maybe they arent on tight enough?

my neck looks like its level and my bridge is about half a mm off the body.
yeah u need to raise the bridge a little. heavy strings pull really hard on the headstock, so when u put on lighter strings, the neck relaxes and straightens out, and the strings fall closer to the frets. this causes buzzing.
what type of guitar is it?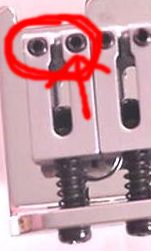 a strat type, u lower these two screws to raise each saddle. u use a tiny allen wrench to turn them.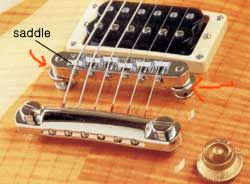 a gibson type TOM bridge u loosen the top screw and turn the thumb wheel, pointed to by red arrow. roll it up to raise the bridge.
Last edited by jj1565 at Jul 10, 2006,
thanks, ill try that.

last time my strings were changed i know something was added to the fret board to make it last longer, some wood protectant stuff....i didnt see that mentioned in the thread. anybody else do this?
most of the time its a fretboard oil, natural linseed or lemon.
dunlop, gibson, martin all make $4 fretboard cleaner conditioning oil.
if its a maple fretboard, its already finished, so u just use a guitar polish on it.
the same companies make guitar polishes for guitar Bodies, cost about $4 too.
examples of different products...
http://www.music123.com/search/Default.aspx?src=cleaner&o=1&x=14&y=14
ok i raised my strings but im still getting a lot of frett buzz...
maybe i should adjust the tension on my neck?
what strings and what frets are buzzing?
E - 2nd thru 4th
A - 2nd thru 8th
D pretty much all
Fret the Low E at the first fret. at the same time,
Fret the Low E at the 17th fret.

while both places are held, look at the 7-8th fret.

if the string rests on the fretwire there, u dont have enough bend.
if the string is more than a credit cards thickness up from the fretwire there, you have too much bend.

measure and repost.
ok its not touching....thers a tiny space between the string and the fretwire
if u dont think u can squeeze a credit card in that space, or even a couple of med. guitar picks, you probably dont have enough bend in ur neck.

you can either put on heavier set of strings, to naturally bend it it forward again.

or u can detune the guitar, take an allen wrench of the correct size, turn the truss rod, 1/8" of an inch COUNTER CLOCKWISE. thats a very small amount.

then let the guitar sit an hour.
retune and remeasure. adjust again if needed.
dont force the turn.
repost if u have any questions.

Join date: Jul 2006
112

IQ
n00b here
I restringed my first guitar today

Sounds tonnes better, easier to play and I lowered the action in the process

very happy now

i took mine in to the shop today. the guy adjusted the bridge, messed with the neck, messed with the height of strings and tuned it (took 10-15min) and pretty much all of the fret buzz is gone. all for free. local shops kick ass.

Join date: Dec 2005
170

IQ
i took mine in to the shop today. the guy adjusted the bridge, messed with the neck, messed with the height of strings and tuned it (took 10-15min) and pretty much all of the fret buzz is gone. all for free. local shops kick ass.
Yes indeed

I have a Squire Strat standard, and attempted to change the strings for the first time today. I bought Elixir .010-.046 coated lights, and got them on ok, though a bit messy.

The bridge is lifting HARD though. When I sit the bridge flush to the guitar, so theres a bit of slack on the strings, and then tune the strings starting with one end, by the time I get to the other end, the first end is out of tune. So I tune it up again, and again, and then I noticed that the bridge was sitting up about a half inch. And the strings were still out of tune.

No idea what the problem is. It's pretty damn embarressing, but the local shop keeps guitars for a minumum for two weeks for restrings, which is a bit long.

Any ideas?
turn the guitar over, tighten the two screws in the back cavity.
it will lower the bridge and help it stay in tune longer.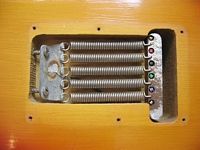 example of a strat cavity with 5 springs and two screws.
if u need more help, u can even add a spring.
turn the guitar over, tighten the two screws in the back cavity.

it will lower the bridge and help it stay in tune longer.

example of a strat cavity with 5 springs and two screws.

if u need more help, u can even add a spring.
Thanks for the help. I'll try tightening those screws in the back. The Squire only comes with two springs, but I'm wondering if I should get more, as I never use the whammy bar.
Any idea why the bridge is lifting now, when it wasn't before? Are the strings I bought a larger gauge or of a higher tension?
well most of the time ull want 3 springs.
u put them in a
\l/
"V" shape. this will hold it the most stable.
u probably had on lighter strings, but even if the springs on the back are weak and are starting to give, adjustments will come up from time to time anyway.
an easy way to get a spring on, is to detune a bit, pull up on the trem, to compress the springs in the back. like that, the springs are easier to add and move around.

I have a problem (dont laugh at me :P). I i restringed my guitar for the first time last night. Wrapping the string around the tuning post was tough, so its not very neat.

Anyway, the High E thru D string works fine. It just the Low E and A string thats a problem.

When i was tuning them, the Low E string sounded higher then the A string. *note* Today, i tried to change both the Low E and A strings again, and it still sounded the same. So i tune the A higher, until it eventually snaps (im stupid). Well im not sure what im asking, but whats the problem here?
are u using an electronic tuner? there are different octaves so there can be a lower A than the low E, if that makes sense.
anyway, compare the strings tones to these online tones.
http://www.gieson.com/Library/projects/utilities/tuner/
get the strings to sound close, then use the tuner to confirm the readings.
Thanks for the link, but i cant get that low sound. I only get the higher sound. If i go lower than the string starts to unravel.

and im using an electronic tuner
Ill try that and let you know how it works.
Does anybody know a guide to string a Floyd Rose that has pictures to follow along with?
Oh man, that video is perfect. Thanks so much.
yeah, i stole madpickin's thread, he's got floyd setups all written out nicely.


Join date: Aug 2006
10

IQ
I'm not sure if this question has been posted before and quite frankly (please don't kill me), I don't quite have the time to check through ten pages just to check, so...here we go.

I just re-strung my first guitar today (hah! with no instructions whatsoever! -.- knowing me, I probably screwed up) but I checked out a few minutes ago that acoustic guitars (I have a Kawasamy cuz I'm a cheapo like that, haha) have this period of a few days where the strings will be stretched out and you just have to keep working with them. Hence, meaning that you (I) won't be able to use the guitar for the next few days, or at least until the strings stop stretching.

Can anyone verify this?
that's actually not the case.
when they suggest u stretch the strings, thats because new strings fall out of tune faster than strings already broken in.
so play away, break in the strings, tune it up a few times and it will stay in tune for u after a few tunings. (as long as u strung it up correctly that is.)


Join date: Aug 2005
30

IQ
I use 12's, and I thought i'd point out that it takes a considerable amount longer for them to stretch than medium/light strings. I find it takes a few days for them to fully stretch, but once they do, they stay in tune better than thinner gauges.
This has probably been posted before (if not then it's about time).
Found this little guide while aimlessly surfing the PRS site.
This is now how I string up my vintage tuners (yes I've decided to start calling them that now

)
http://www.prsguitars.com/csc/tuners.html

Join date: Apr 2006
20

IQ
I wish I had known this was here a while ago. About a month ago I couldn't find somehting like this and I wound up taking apart my entire strat becuas ei didn't know it even had a back plate to take off. It has never sounded the same. Anyways, great thread.

Join date: May 2006
80

IQ
whats so ****ing hard about changing strings?
idk. what's so ****ing hard about helping people who need help?
I just got a Ernie Ball gauge 13 for my acoustic to replace my E. I've managed to wind it and up but now I'm paranoid to wind it too tight. Basically, I've tuned the string about 3 winds but it hasn't tuned to a E yet.

How can I ensure I don't snap the string whilst tuning it? It already feels quite tight and I'm not sure if I should tighten it anymore.
Last edited by fBb at Aug 18, 2006,
its not the amount of winds around the tuner. instead its how much slack uve left.
in other words if uve left too much slack, 3 turns might not be enough to get the string in tune. if u didnt leave enough slack, then 3 turns might not even be possible.
u already wound the string. so my suggestion is to use an electric tuner. to tune it up slowly and to check often.
if u dont have an electric tuner then go here, and listen to the low E for reference.
http://www.gieson.com/Library/projects/utilities/tuner/
any more questions repost.

Join date: Jun 2006
120

IQ
I need some help with my friends new guitar. I have always played an ovation celebrity viper, my warlock, stratocaster.s stuff liek that. But what are the steps in tuning a peg guitar. one with the pegs in the bridge.
I need some help. I was replacing strings, it all went well until the high E string, when I was tuning it, part of it snapped off, then I tried to push it out. I'm on an strat guitar also. Anyway, currently, it's jammed in there, I can't pull it out. :S
Rakojin, remove the back plastic plate. look with a small flashlight. see if u can fish out the string end.

if not the poke it thru from the other end with something resembelling a chop stick.

be carefull not to get anything else stuck in there. and do not restring until u get that other bit out.
jj, thanks it worked. :P I decided I should just push it out with a toothpick, and it worked somehow.