Low E String Rattle
Every time a play the low E on the first or second fret, it rattles a lot making a nasty noise. Should i replace the string? On a side note, i went to get my action lowered today because it was too high, and found out that the nut on the Low E was not drilled low enough. He did something else to it to lower it, but im wondering is that may contribute to the problem.

Join date: Dec 2007
50

IQ
Its more then likely that you lowered your action too much.
yeah i just picked through all the frets. they lowered my action too much on the first 3 strings.
what type of guitar is it?
dean vendetta xm. it's seems like a steal 80 for dual humbuckers, but you realize why its that much after a while. The craftsmanship is not that great. i thought i'd be keeping it for a long time, but seeing how things are, i'll probably replace it in a few months when i start getting good.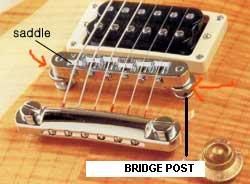 detune a bit, loosen the screws on the top of the bridge posts. and raise the thumbscrews a small amount (especially on the buzzing side.)
the thumb screws are pointed to by red arrows.
then tighten it all up again. and dont let anyone file the nut cut. you'll end up with fret buzz.