Strat HRR - Bent trem posts?
Hi all,
I've scored a lovely '91 Jap 60's Hot Rod Reissue on the 'bay. Original Floyd Rose and a DiMarzio (S3?) at the bridge.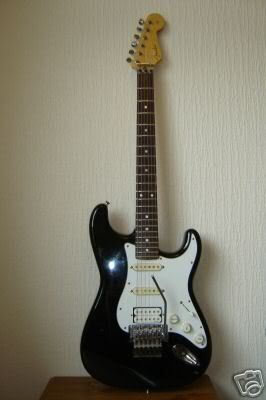 It's in great shape overall but I'm concerned about the Floyd (which I'm new to). The trem posts are sitting quite far forward, and can't go any lower because they're fouled by the edge of the pickguard (actually I'm not sure if they
should
go higher/lower when adjusted or just the blade..)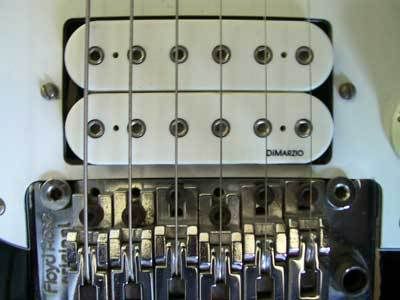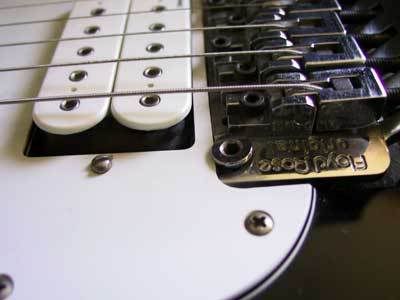 The guitar has been well set up for correct intonation at current string height, and the base plate sits nice and level. In a pinch I can just leave it as it is and play but ideally I'd like to take the action down a bit.
Is this positioning indicative of bent trem posts/cracked trem post mounts/something else? Can I fix it? Will I be hurting the guitar by playing it as-is?
Many thanks for any help you can offer, and let me know if any more photo angles would help.
Best,
Iain
Last edited by coldcity at Jan 27, 2008,
it looks like the pickguard goes a little bit too far into the trem cavity. i would try to shave it back a little bit. you might take the bridge out if the posts concern you, and see if they wiggle at all, i'm not sure what to do then, but me personally if they did wiggle i would put wood filler in the holes and re-insert the posts, or just have a tech check it out
Thanks Chad. I've got another pic that shows it more clearly: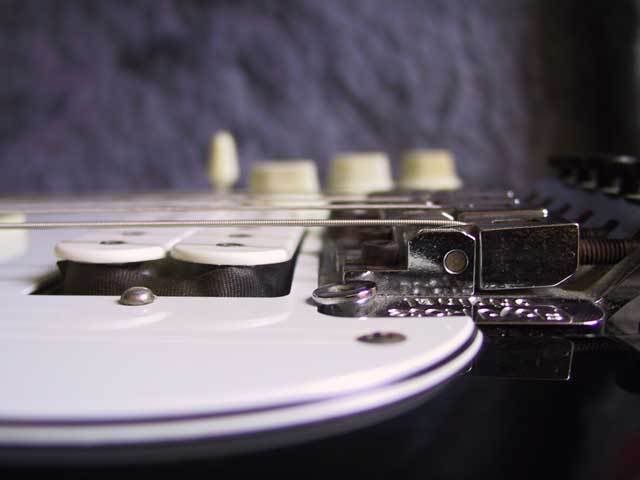 My left arm's in a cast at the moment (broken 5th metacarpal

) so playing's out... might as well do some one-handed guitar maintenance :/
Last edited by coldcity at Jan 27, 2008,
Hi all,

Out came the bridge - and while the posts aren't bent, the holes they sit in have widened under pressure.

I was able to push them vertical; will applying wood filler in the gaps be strong enough? If so, will a normal DIY-store wood filler work?

Would little wood wedges be any better?
OK guys, weighing it up, the guitar in the link above had got
some
mileage out of epoxy before needing the "proper" fix.
I'm about to go ahead and fill it for now. Before I do, I'd love to hear from anyone who's been in the same boat!
A pic of the situation: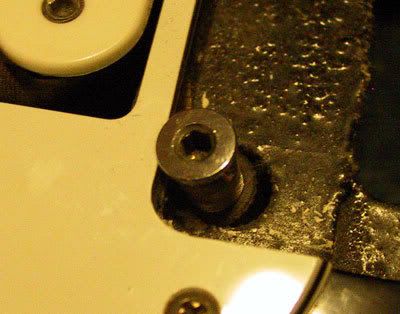 Aw, no takers? I'm trying to choose between wood filler and Araldite. Thoughts?