Ghost videos?

Join date: Jun 2006
20

IQ
While screwing around on the internet I found a site with ghost vids. Some look very real and some looks terrable. Do you think any are real?
http://www.ghostvideos.ws/
No, because I'm not retarded.

Join date: Dec 2007
10

IQ
Well, since they're supposed to be depicting ghosts... no, they are staged.
After watching the first video I saw "Unexplained Figure Walking Down Hallway Caught on Tape" I'm going to have to say no and if you do think it's a ghost, you must've been lobotomized as a child. Several times.

Join date: Feb 2006
100

IQ
hallway thing seems fake cause I dont think ghost has a shade, or do they?

Join date: Jun 2006
30

IQ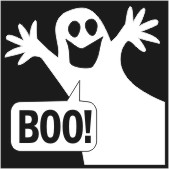 THIS is a ghost.

Join date: Jun 2006
20

IQ
there's like one or two that look sort of real. The hallway one, the hitch hiker, demon, swing, and most of the other ones area epic fails. I forgot what one it was but it looks real.