Bass Whammy Bar

Join date: Mar 2006
51

IQ
I just got a new bass, so I've decided I'm gonna pimp the hell out of my old one. I've carved off the frets an it actually worked and sounds amazing. Is there any way I could throw a whammy bar on there to?

Thanks

Join date: Mar 2006
353

IQ
Y'know something, I've never seen - or heard of - a bass with a whammy bar :|

That'd be ****ing sweet, if anyone can find a picture of one then post it on here!!
its definitely possible les claypool from primus has one

Join date: Nov 2007
10

IQ
Yeah its do-able but you've just got to make sure you have the right hardware on it to support a whammy system


Join date: Jun 2007
20

IQ
hipshot makes trem bridges for bass, they're pretty expensive but id say you probably get what you pay for. warmoth has them
here

Join date: Aug 2007
20

IQ
Kahler makes bass trem units too, they are a bit pricey though just like their guitar models. I don't think it will really be worth the effort and money just to add a bass whammy for the heck of it.
I just got a new bass, so I've decided I'm gonna pimp the hell out of my old one. I've carved off the frets an it actually worked and sounds amazing. Is there any way I could throw a whammy bar on there to?

Thanks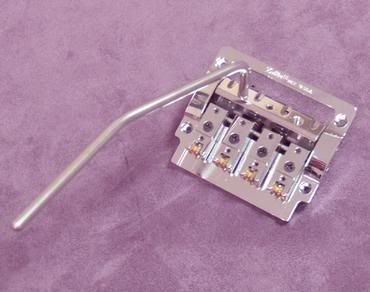 Join date: Jun 2006
150

IQ
I'd definitely go kahler, it's expensive but there's no routing big holes for a spring cavity, just measuring and drilling a few holes.
les claypool and victor wooten have the kahler ones i think im gonna put one on the next bass i make idk yet but yeah
the one les claypool had was crazy (from the videos ive seen) it ws like a little paddle or something that he pressed on