FS: C-1 Elite in amber with Hsc and Jackson Dx-7
Ok Boys and girls, Here is what I Have.
1) The C-1 elite. It is in overall great shape plays and sounds great. Electronics are in perfect working order, the push pull coil-tap on the tone knob has no noise to it when switching(this happens a lot), The frets have tons of life left to them, The neck is dead straight and even, tuners are stock grovers and it stays in tune forever-(unless I go on a mad bending spree, I never need to tune it) and it intonates perfect!
It has that one nick at the bottom of the back (Obviously not noticeable from the front) and a half mood shaped dent that is not even thru the clear coat, you probably cant see it in the pics but, it is about 3in up from the nick and to the left on the back. In the front all looks mint except for a bit of clear glu left over from a synth pup. I am very confident it can be lightly sanded and buffed off but its clear, and is barely noticeable. None of these tiny imperfections affect its playability one bit. Comes with A dimarzio click lock black Strap (shown)
I also have a HSC that has been through the mill! It is old and beat up on the outside but still soft and nice on the inside, It is big too, I took this guitar to my drummers house once and was able to fit in the case the following all wrapped in hand towels(to protect the guitar) 2 boss pedals-3 3' patch cables-a stomp tuner- a Wah-2 21' inst. cables and its strap. Latches still work fine and the handle is strong.
I love this guitar except the neck is a bit narrow for me.
Looking for $350 shipped for the Schecter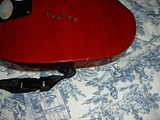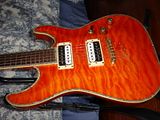 Jackson Dx-7. Case in picture also included, its a roadrunner hardshell soft case. The guitar came to me hurting and in need of TLC. I installed all new electronics, new pups, strings, did a bunch of inton. and truss rod adjusting and cleaning and now it is tip-top shape. Comes with-stock duncan des. pups, case, 2 packs of 7-string 10's and a bright in your face orange strap. The pups in there now are Guitarheads hexpole high output. For $40 pups these things scream, very loud and clear.
$250 shipped
I also have the following for sale:
Boss RC-2 looper- $125
Proco U-dirty RAT-$75
Crybaby Classic-$35
Ibanez Cf-7-$35
Electroharmonix Dr.Q Nano-$30
Conus only-Paypal only
Im in CT so locals I will meet Half-way.
Only trades I am interested in Is A Prs with a trem, Mid level 6-string Jacksons or Carvins. Maybe........A nice Ibanez.
PLEASE SEND ALL INQUIRES TO: JLC9909@YAHOO DOT COM, I dont check the boards that often.
Last edited by fuzzyDXMG at Feb 2, 2008,

Join date: Nov 2006
10

IQ
250 shipped for the 7?**** i might get that if i get my money back but i doubt its gonna be soon.
yeah bro i need to move these so i can by a usa jackson or a prs
is the schecter bolt on neck or neck-thru?
neck thru (set neck to to be honest) c-1 elite. probably the best upper access of any guitar I have had!
I cant believe Not one taker???????? I Am confident the prices are right.
Fuzzy is a standup guy, I've dealt with him twice with no problems at all... that said, i might have to snag that jackson from you, if you still have my number give me a call dude.
I've been wanting that 7 since atreyurock9 was selling it (is that the right username?) but he flaked on a trade and still owes me for shipping costs/cancelling(doesn't respond to e-mails anymore either)

I'd want to buy this but don't have much cash, how much would you go for shipped to Canada?
never shipped to Canada bfore. Check shipping rates and add it to the price os the guitar. I was putting $20 for shipping. Sorry u had problems with atreyurok9, He was very communicative and strait forward with all dealing w/me.
Jay , good to hear from you! Just found ur # i will call u at a normal Hour.
How is the fretboard on the Schecter? Is it all light brown and dry and crappy? That's a deal breaker for me. I like the high quality dark rosewood.
all of my guitars get lemon oil on the fretboard, it is as nice as it can be. (I am a cabinet builder, I know how to care for wood) It is far from dry and crappy.
Join date: Sep 2007
40

IQ

Join date: Feb 2007
100

IQ
how much is the Schecter in pounds sterling and shiping to the uk? I'm really interested in this as I have an Elite-5 in Honeyburst and this would look awesome with it!
I am located in the US-CT to be exact
the shipping is about 90 pounds sterling
the cost of the ax would be about 180-200 pounds.
shipping on the schecter 34711.

edit: nevermind, 350 shipped
Last edited by xJawsh at Feb 20, 2008,

Join date: Feb 2007
70

IQ
hey there man. i got an offer for you. I'll trade you my wonderful Schecter Avenger A-7 elite and 100$ for both those guitars. Also you don't need to any include any of the electronics for the DX-7. My A-7 is the last production year model, an 01-02 i believe but it's in great condition, with only one small dent in the clearcoat. I had the electronics professionally done, replacing pots, switch, and jack. Also i put in a dimarzio PAF-7 and a Dimarzio D-Activator7. It's a mahogany body with a maple neck. hardtail bridge with graph-tech saddles. Let me know man. Cause i'm GASin for that C-1. i had the white one a few years back and i sold it; biggest regret ever. anyways, let's make a deal man. thanks

Rob
also, i'll pay part of your shipping costs if need be