For sale ESP LTD EX-400
For sale is a Like New ESP LTD EX-400 in olympic white($600 Value) with EMG Pickups. Also Included is a Gator GW-Extreme Guitar Case ($124 Value). Guitar looks and plays like new! With Case for $450, I will sell it without the case for $390! I will consider resonable offers!
Technical Specs
# Construction: set neck
# Scale: 24.75"
# Body: mahogany
# 3-piece maple neck
# Rosewood fretboard
# 22 extra jumbo frets
# Dot inlays with name at 12th fret
# EMG-81 (bridge) and EMG-60 (neck) active pickups
# Volume, tone, 3-way toggle controls
# Black hardware
# Earvana compensated nut
# Grover tuners
# Tune-o-matic bridge with stop tailpiece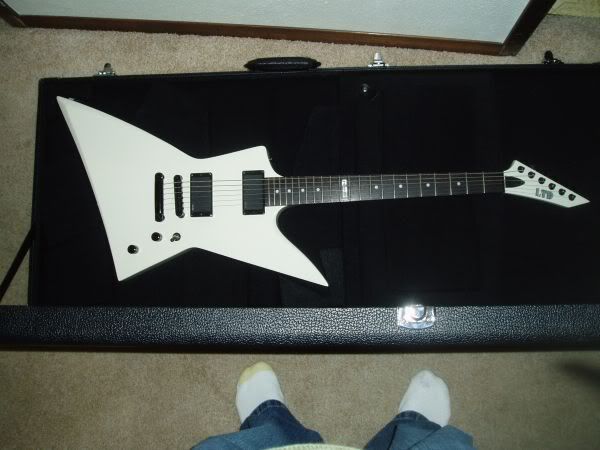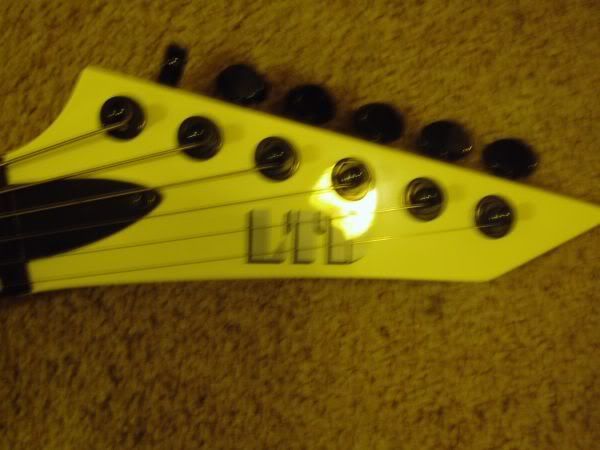 Last edited by headofahessian at Feb 6, 2008,
If you would like a picture of specific things on the guitar let me know

Join date: Jul 2007
54

IQ
will you accept trades for the esp
nope no trades money only sorry

Join date: Oct 2003
675

IQ
hmm, i just bought a static-600 off of ebay, but , lets see what cash i can still muster (im the master at scrounging cash). lets see if i can sell a **** load of cutco this weekend, if so im all over this like freaking white on rice.
Hahah alright just let me know!

Join date: Sep 2007
750

IQ
that is sweet..... i dont think i can afford it yet but might be able to gather some cash within the next few weeks.

can you tell me the cost of postage to sydney, australia?

cheers
it would be very expensive that much i know

Join date: Sep 2007
750

IQ
when i bought my hellraiser from the u.s, the postage costed around $100ish but with the hardcase it might be around $150

Join date: Apr 2005
273

IQ
I've been thinking about buying that exact guitar forever now. I don't know how I'm doing on cash though. I could give you $250 + a Weeping Demon Wah for just the guitar? Or see if I could get more money. Ahh so pretty.
sorry i just want money no trades of any sort

Join date: Dec 2006
626

IQ
well atreyus pretty much my fav band

and i really really really want this guitar


450 is that like with shipping
and do you do paypal

Join date: Nov 2006
202

IQ
Just curious, is this guitar neck heavy?

I know that many Explorer bodies are this way, and so I would expect it (I have leather straps to compensate). But I'm curious. Thanks!
Yes the guitar is a little top heavy like all the explorer styles

Join date: Aug 2007
635

IQ
I kinda wish I was still DEEP into metal. That thing is beautiful but Im more into classic rock and blues these days. Pretty though

Join date: May 2005
664

IQ
did you see that pm i sent you over the weekend, cancel that.
Last edited by GnGonzalesjoe at Feb 11, 2008,

Join date: Feb 2008
10

IQ
did you get my pm?
love the guitar man!

Join date: Mar 2005
1,244

IQ
How much would shipping to Sault Ste. Marie, Ontario be? I'm able to pay you via PayPal.

Join date: Apr 2008
444

IQ
I sent you a Pm, defenatly more then interested in this guitar. . .