guitar problem
when i plug my strat in to my amp it doesnt make any sound just a buzz or simply nothing. however when i plug my washburn in it works WTF is wrong please help
Could be a problem with the electronics in the strat. Good place to start would be the input jack of the guitar. Jenny has a picture of it around here somewhere... lol. Gonna look for it or she'll beat me to it.

Join date: Feb 2005
230

IQ
The wires in your output jack may be disconnected from the guitar. Either the solder has been broken off, or the wire is snapped on the inside. That would be your best bet to look at first. If its not that, maybe try different pickups to see if maybe a pickup has a bad wire. Also, it may be common sense, but check the volume knob on the guitar. Ive seen that happen to people before too. Good luck man.
Found it!
Credit of course goes to Jenny for the pic.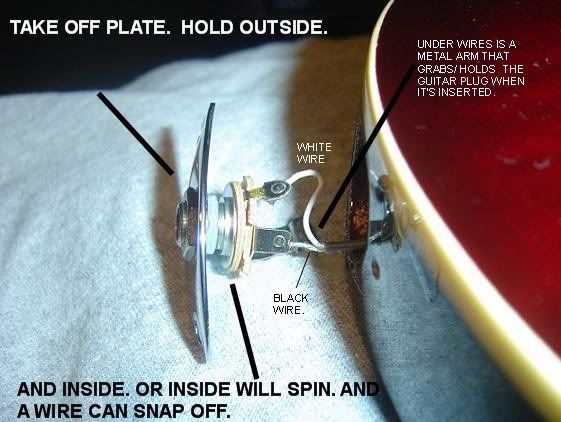 It's possible that one of the wires has gotten disconnected and needs to be resoldered.
thanks hakael and toastinator its not the volume. all three pickups dont work. i got it to work now but its got me paranoid.
the wires seem fine WTF its not working again gar...
Is the cable, when connected to the guitar a little loose? Does it move around a lot? Is it almost too easy to pull out?
yeah i think its the cable. i pushed the cable a bit harder into it and it started working. thanks hakael.
If you remove the input again, and look closely at it... you'll see a little bent metal tab. With the input off the guitar, you can stick the cable in, and see how the input jack "holds" onto the end of the cable.

If it seems loose, you can (very gently) bend that little tab just a bit more, so it hangs on to the cable much tighter.

Jenny had another picture of it somewhere, but that one I'm not quite able to find at the moment.

I hope I'm not too confusing.
nah its not that. its working fine ATM tho.
Cool!