Scrap local canadian punk band
Check out these guys there from my town. They sound alot like Rancid. There from Red Deer Alberta.

I can't get the link to work so search Srap on myspace

Join date: Oct 2007
50

IQ
i was gonna help you out, but their are 71 pages of 'scrap' on myspace music, good luck.
Sorry guys Try an advace search or something use where they live. I'll try to get the link.
They're kind of fun. I would have loved them a year or two ago
Haha, bands need to stop trying to sound exactly like Rancid. Even Rancid can't pull it off. Time Again certainly can't, and neither can these guys.

That being said, I'd probably go see them if they played in Calgary.

In fact, if there's all ages punk shows happening in Red Deer or any of the other small towns in Central Alberta, I'd be willing to drive up to support them. Any info?

Join date: Jan 2005
212

IQ
Dude, Time Again are aces.
Just ask Vodka

Wow, it looks like there's some cool stuff happening in Red Deer actually.

When I start putting on shows, I'll have to focus on getting some of these groups down here.

Join date: Jan 2007
60

IQ
they sound completely like a rancid ripoff, but they also sound like they have potential.
Sargasm you should come to red deer. We've got some decent shows here, and my band should be playing here once we've got are **** together.
I will. You should introduce me to Red Deer bands so I can get them to play in Calgary too.

Let me know of any upcoming red deer shows.

My only problem is transportation. Greyhound to red deer is like $60. Sometimes I can borrow my dad's car, but not always. I'm thinking the best way would be to hitchhike, but I wouldn't want to do that home in the middle of the night. Are there any punkhouses in RD where I could crash?
Yeah man I don't know. Anyways the only good punk bands in red deer are Scrap(witch play quite a bit), Who goes to hollywood?(wich is kinda indie rock and not really punk) and the rest are bunch of posers who think there punk when there playing My checmical romance style ****, but there is not a bad number of punks here i guess. I'm only 15 so I don't go the the 18+ Shows. I'll let you know when Scrap is playing wich will probably be really soon, and we could hang out or something.
Sounds good.

I'll probably drive up, but try to find people with sleeping accommodations so I can hitchhike the next time. I hate driving

I saw a band from red deer(ish) called No More Parachute. They were really bad, and they were talking **** about the sound guy even though the feedback was their fault.
Last edited by sargasm at Feb 12, 2008,
No More Parachute sucks. I listened to thier Cd and hated it. You know of any other punk bands here.
I found that band called Tipping Stilts through Scrap's myspace. I think they're pretty good. Other than that nobody comes to mind.

You should check out the Career Suicide show in Calgary next month. It's gonna be off the hizzle.

Join date: Oct 2007
50

IQ
Everyone lives in calgary!

Must move to calgary!


Career suicide are the sickness i would stage dive multiple times.
Is it all ages?
Yes!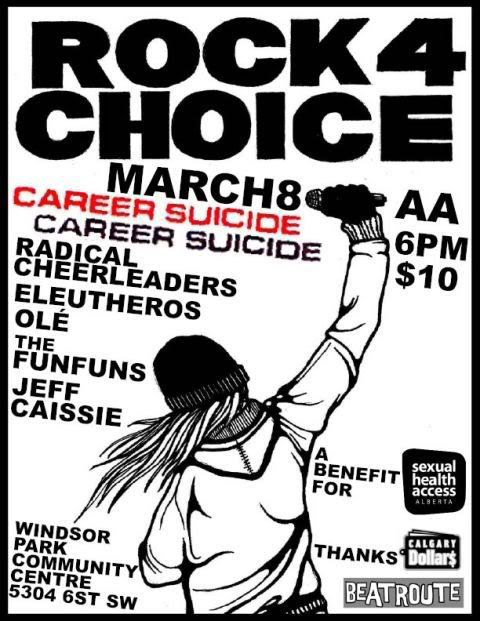 Everyone lives in calgary!

Must move to calgary!


Career suicide are the sickness i would stage dive multiple times.
Descendent lives in red deer, which is 1.5 hours away from calgary. It's the closest somewhat-large town though.
And yes, i plan on doing much stage diving at Career Suicide, as this venue actually has a stage! That's unusual.