Intonation
Hey,
I recently changed my strings on my RG, they were the same gauge and it has a fixed bridge so I didn't need to do much adjusting to it. But I've noticed that when I play a bend* it sounds out of tune (there is a lot of oscillation) and when I fret any string on the 12th, the note is always sharp and not on fully in tune.
So, would me altering the intonation make any difference or is it an error of my own? If I do need to alter it, is there a specific way to do it?
*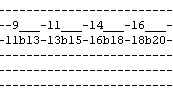 u should try a different gauge before changing intonation or stretching ur strings
If the note is out of tune on the 12th fret, then yes you do need to alter the intonation. The way I did it was to get the open string in tune (using a tuner), then see how the 12th fret harmonic relates to that (sharp or flat), and then adjust the bridge screws accordingly. Sorry that I'm a bit vague, I'veonly done it the once.

Join date: Feb 2008
10

IQ
Yeah if it's off on the 12th fret, something's up. You should be able to fix it just by adjusting the bridge. Since it's sharp, you'll just need to adjust your bridge so that the saddle is moved back (away from the neck). If it gets to the point where the saddles are fully pushed to the back and the string is still sharp, then it's best to just take it into a shop and have them set it up.
Hope that helps

.
Ok, thanks guys, help is much appreciated.