FS: Ibby RG7620 body, Dimarzio pup, Grover tuners
So. Heres what i have
a Ibanez RG7620 body, refinished to Desert Yellow, with single humbucker route. I will include the electronics that I have, but no pickup. It has a jack, control cavity plates, a pot/knob (nice QParts knob at that)
The paintjob was done by me and my dad, so it isnt a professional job. Might wanna consider re-doing it if you are super picky about like small peeling around the routes, and slight blemishes that are only seen in light up close. The finish is also like satin-y feeling, I thinkwe just used a spray can clearcoat. Its decent though, Ive had it painted like this since summer and its been alright. I can get more pics for you if you want.
(neck, pickup and BRIDGE not included here)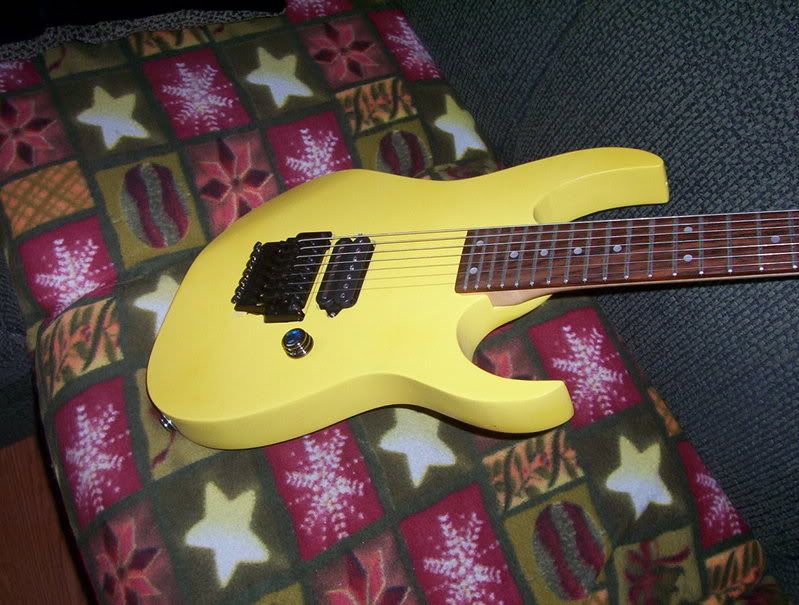 Looking for maybe $110 US shipped in North America for all mentioned??
The Dsonic 7 in the pics above, I am also selling. $60 US shipped
I have a 6-set BLACK In-line (Normal headstock) UNOPENED pack of Grover mini tuners I dont need anymore. Heres a set of them on a website.
Buy Grover 205BC6 Mini Rotomatic Guitar Tuners (Black Chrome) (Set of 6/Inline) At Sam Ash
$40 US Shipped
I also have another set, I think its 6 grovers that are Reverse.. I'll have to dig them out of my closet to double check, but im pretty sure they are reverse mini grovers.
$25 US shipped
Some Ibanez INF pickups from a Ibanez RGT. Black pole pieces. Bridge+Neck set.
$40 US shipped
PM me if Interested in anything

Join date: Dec 2005
40

IQ
hey there, sweet guitar man. Suprised you'd sell it, it's got a cool look to it. just wondering would you take a new condition Dimarzio D-Activator7 bridge pickup for that D-Sonic7? hopefully we can work something out.
Rob
sorry. just sold a Dactivator.. only looking for Duncan distortion7 or jazz7 for pups now.
any trades?
no trades except for duncan distortion or jazz 7 string pups.
Unopened grovers for $35

Body with parts for $80

Ibanez INF set for $30

BUmp!

Join date: Feb 2008
60

IQ
Would you consider selling the whole guitar with neck pickups and tremelo.

Join date: Feb 2008
60

IQ
hey slushe can you anyway sell the guitar with a neck and pickups and bridge like shown in the picture just wondering
no. Just the body/pot/control cavities

buy the body and find a neck for it
Slushe! you never responded to my email. i will use a usps money order for them. just give me your mailing adress and i will get your moneyorder to you in 3 days! for the reversed groovers!

Join date: Apr 2007
10

IQ
ill give you 50 shipped for the body without anything, no knobs or elctronics. lmk