5150, Les Paul, MIM Strat
First, i have an early 90s Peavey 5150 Block Letter head. this is an amazing amp. i just prefer Marshall tone. this head is 120watts with 4 12AX7s and 1 12AT7(to make it smooth) in the preamp and 4 6l6 power tubes. everyone knows that this amp doesnt do the best cleans but you wont find a heavier Gain section. $700 OBO
Next, is my Les Paul. it is a 95 studio les paul. i removed the pick guard years ago. it shows normal wear and tear considering its 12 years old. the paint is wearing away on the top where my arm has rested for many years. $725 OBO
Last, is a 1996 Fender MIM Stratocaster. it started off with 3 single coils. but i have added a Seymour Duncan Distortion pickup in the bridge. i have also changed the white pickguard, pickup covers, and all knobs to black. this guitar looks great and sounds great also. $275 OBO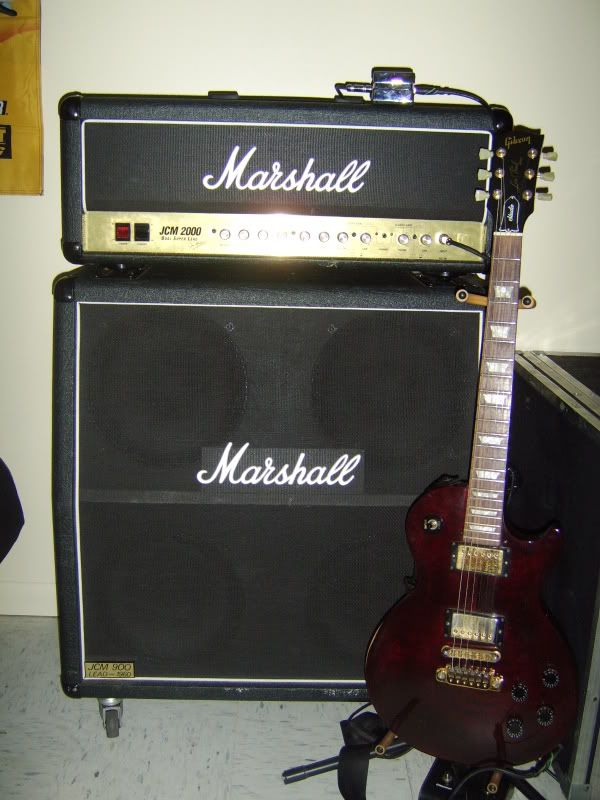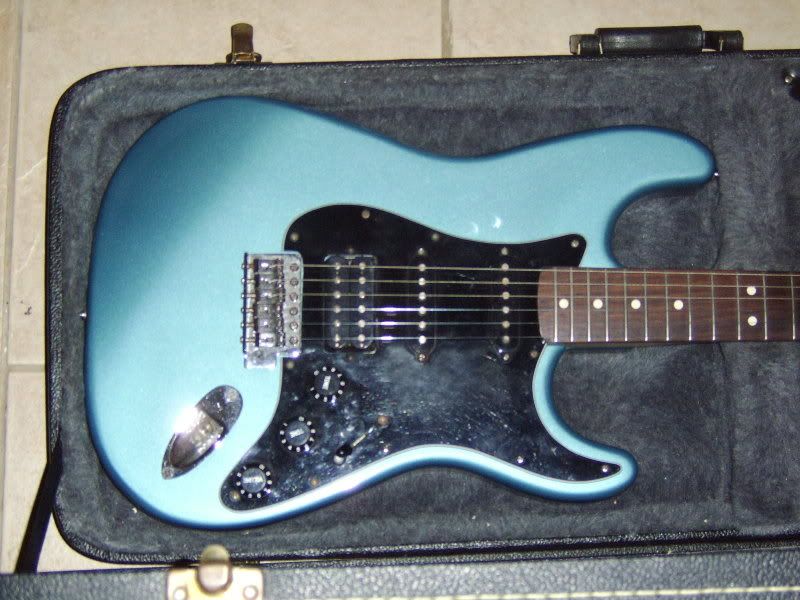 Last edited by xnatex at Feb 19, 2008,

Join date: Jan 2006
460

IQ
no ebay or craigs list links I believe.
well it doesnt say anything in the rules about Craigslist links.....but i went ahead and changed it anyways
pretty far......im in shreveport louisiana USA

Join date: Jan 2008
60

IQ
Dude....I wan't you marshall head.

Why do you use 2 Boss Noise suppressors?

BTW If I get some stuff sold I'll probably be contacting you about the 5150.
strings-N-stuff......make me an offer i cant refuse

Vanquish......one pedal is a noise suppressor and the other is a graphic EQ. they both make the amp sound amazing.
Just wanted to say that eBay is the only thing that you can't post on here if you're selling something. I don't think you're allowed to advertise any sites either, but I've seen people here post sites with stuff like their boutique pedals, random gear for sale, etc. I'm almost positive Craigslist links are allowed.

On a side note I'd love that Peavey but I just got a new amp >_>
thanks.......but i wanted to avoid any interarguments. thats why i changed it
im looking to buy a 5150...but i dont have all the money at the moment. i could have it in probably a month or 2. you probably dont want to hold it that long though lol. i might be able to convince the parental units to help me out and i can pay them back

holy crap dude! i live right outside baton rouge!
just let me know......we could always meet half way. actually my band is booking some shows i NOLA and BR so i could always sell it to you down there.
alright man. keep in touch. ill let you know in a few days if ill be able to get the money quick lol. also, are there any/have there ever been any problems with it?
no problems with this head. its great.....i just prefer the Marshall tone

Join date: Apr 2007
10

IQ
interested in the strat. do you think you could hold it until sunday, it's my birthday and i'll be getting quite a bit of money.
awesome. i just need to play on it before i make a decision. thats just how i am. cant buy stuff blindly lol. actually, if you could make a video of you hittin some chords and junk that would be great. like start clean, turn some knobs randomly, turn on the crunch, rbight, whatever switches, switch to lead, do some random stuff. i know how the amp sounds, if not i wouldnt be trying to buy one haha. i just need to know it sounds like it should and doesnt make any weird noises, etc.
i dont have a video camera. so thats pretty much out of the question
well, you seem like a pretty honest, honorable guy.

haha. does everything work as it should? i knwo you said it has no problems...but...you know? lol

Join date: Feb 2008
20

IQ
Would you be willing to ship the 5150?
ok i just went back and looked it over and played through it. mechanically and sound wise there is nothing wrong. on the outside there are only 2 minor tolex tears then there are some scuffs here and there. it shows good wear considering that this amp is 15 years old. this head has been taken care of.
Would you be willing to ship the 5150?
only if the buyer pays for all shipping and paypal charges
well my parents are willing to lend me the extra money until i can save up enough for the head, so i can pretty much buy it anytime now
ok let me talk to the wife and figure out when a good time for a road trip would be
oh you are married? awesome. im only 17 haha. whats your bands name? do you have a myspace? id like to check it out
cool man. when are the shows you are playing in br?
dont know yet....my bassist is hooking that up
do you think it would be like in the next month? or 2 - 3 months? or like no idea whatsoever? and is that when you were planning on trying to make the sale?
we are trying for some time in march. do you want me to just hang on to it until we play down there?
yeah that sounds good. see im gonna get my parents to lend me the money and ill pay them back. but i still have a problem: no cab. so i have to save up enough for the head and a cab, so waiting a little while isnt too big of a deal for me

edit: i gotta go get some sleep. ill get on tomorrow and replay then. later man